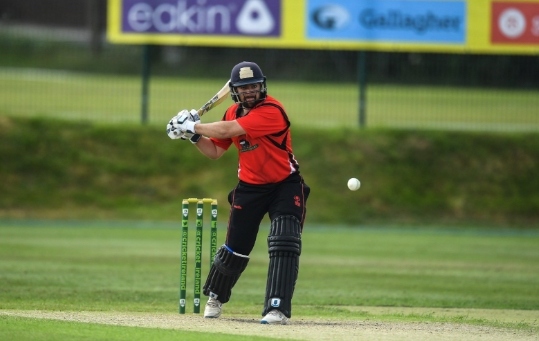 Ireland Provincial 2022 | Munster Red continue their unbeaten run at the end of Round 1
The Northern Knights lost to Leinster Lightning on May 29 at The Green, Comber. Notably, the T20 match marked an end to Round 1 of the ongoing Ireland Inter-Provincial T20 Trophy 2022.
Munster Reds remains the only undefeated side as they light up their 2022 campaign with a successful reboot after a disappointing cellar-dwelling performance from last season.
Defending champions North West Warriors find themselves in the second spot, closely followed by Leinster Lightning. Meanwhile, Northern Knights are yet to register their opening points, suffering heavy defeats across all 3 of their Round 1 games.
Here's a brief summary of Round 1:
North West Warriors vs Northern Knights
The 2022 Ireland Inter-Provincial Trophy began with a match-up between the two best sides from the previous edition, the North West Warriors and the Northern Knights. The Warriors upheld their reputation and pipped the Knights by seven wickets and 21 balls to spare.
Chasing Northern Knights' 149-8, the defending champions overhauled their target in 16.3 overs. Opener Stephen Doheny whacked an unbeaten 74 from 49 balls in an innings littered with five boundaries and five sixes. The right-handed batsman also won the 'Player of the Match' award for his run-chase special.
Munster Reds vs Leinster Lightning
Tim Tector's 44-ball 62* lifted the Lightning to 188-6 from their 20 overs. Munster Reds, who finished their previous campaign at the bottom of the table, shrugged off their tag to blow away the Lightning with a lightning-inspired run-chase.
Despite losing their openers for ducks within the first over of their response, the Munster Reds chased down their target in just 14.4 overs, with six wickets still intact. Tyrone Kane's 29-ball 62, Kevin O'Brien's 27-ball 64* and Gareth Delany's 23-ball 42 brought down the thunder on Lightning bowlers and made a successful launch to their new season.
North West Warriors vs Leinster Lightning
After two lopsided match-ups, the 2022 Ireland Inter-Provincial T20 Trophy finally received its thriller in the form of North West Warriors vs Leinster Lightning. Batting first, the Warriors charted 159-5 from 20 overs courtesy of Stephen Doheny's 34-ball 46 and Graham Hume's sparkling 10-ball 29*.
Despite Lightning's lightning resistance from Lorcan Tucker and Harry Tector, they ended up falling one run short of their target. However, Graham Kennedy inspired his side to this narrow win with a match-winning spell of 3-30.
Munster Reds vs Northern Knights
The Northern Knights 2022 campaign escalated from bad to worse as they suffered another defeat, albeit an even bigger one this time around. Batting first, the Knights fell, slipped, coped and finally dragged themselves to a mere 108.
Cousins David Delany (3-13) and Gareth Delany (3-10) paired up and floored the Mark Adair-led side, while Reds all-rounder Fionn Hand (21*) delivered the knockout punch in a critical chase to script a 3-wicket win for his side.
Munster Reds vs North West Warriors
Munster Reds' dream season continued as they thumped the defending champions by 100 runs, thus finishing their Round 1 crusade with an unbeaten streak. Tyrone Kane (27-ball 53*) and Gareth Delany (18-ball 40) found themselves amongst runs at the top of the order. Meanwhile, Kevin O'Brien and Curtis Campher delivered sparkling cameos, thus providing the finishing touches to Reds 206-5.
The North West Warriors' chase never took off, losing four wickets within the Powerplay and getting shot out for just 106. Delany, who scored 40 with the bat, also captured two wickets with the ball to headline his side's big win with a 'Player of the Match' award.
Leinster Lightning vs Northern Knights
In a battle to avoid the "wooden spooner" tag, the Lightning came out on top with a 39-run win. Batting first, they registered 176 from 20 overs off the back of Andrew Balbirnie's 34-ball 58.
Simranjit Singh later spun his way to collecting figures of 4-21 to restrict the Knights to just 137, thus concluding the Comber leg of the season.
The Irish T20 action will now shift to the Bready Cricket Club Ground at Magheramason for the next set of matches. Round 2 will begin with the North West Warriors taking on the Northern Knights on June 10.