Cummins' Australia Aim At 'Triple Champions' Title After WTC, ODI World Cup Triumphs
---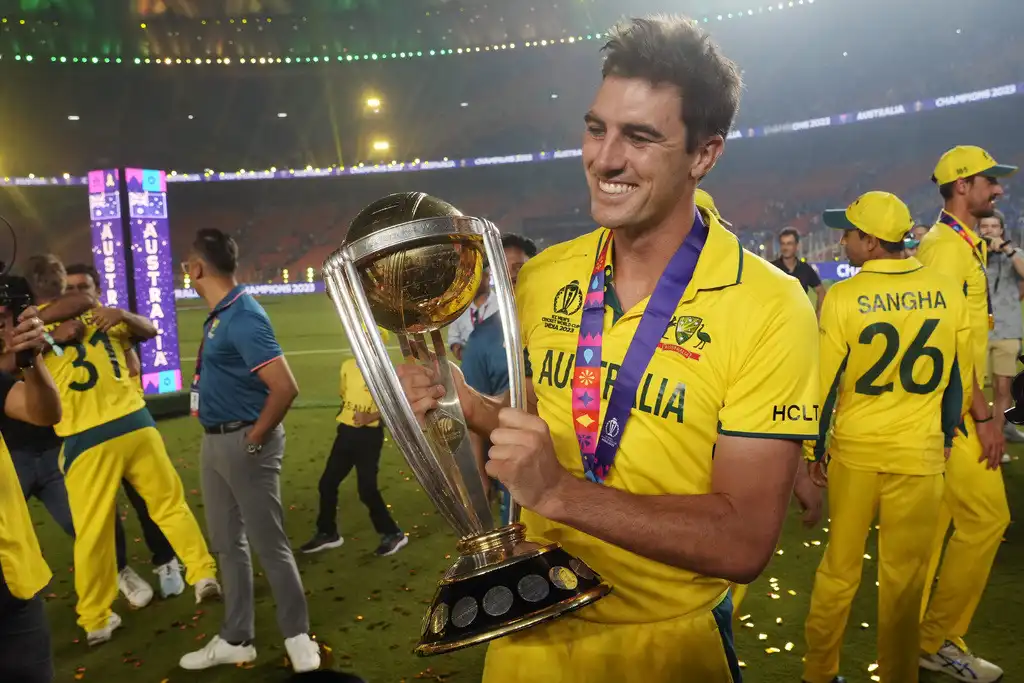 Pat Cummins holding World Cup title on Sunday night (AP Photos)
A lot of criticism was directed at Pat Cummins when he decided to take a break from the IPL 2023 due to a hectic international cricket schedule ahead of him. Now those who questioned have gone silent, as Cummins delivered two World Cup titles within five months. There was the World Test Championship (WTC) first under his leadership, and now there is the ODI World Cup under his belt as well.
A standing ovation is all that is required to laud Cummins' leadership in turning Australia into 'double champions'. Yes, England, who won the World Cup in 2019, indeed achieved the same tag after becoming T20 World champions last year.
However, what Australia achieved under Cummins will remain forever exceptional, considering they cruised past everyone in game's two 'actual' formats, Tests and ODIs.
As a supporter of cricket, all I can say is that Cummins demonstrated what a gutsy mindset looks like in both finals. On both occasions, they were not only the superior side on Sunday against the Men in Blue, but also better prepared in all departments.
Coincidentally, India, under Rohit Sharma, were at the wrong end of Cummins' success both times. And there is no denying that Travis Head hurt them more than anyone else in the finals. However, in front of nearly one lakh spectators at Narendra Modi Stadium, the juggernaut displayed a fearless attitude and appeared more balanced on paper with more options in their mix.
What next for Cummins? The goal is obviously the T20 World Cup, which is scheduled for the West Indies in 2024. And if he gets success there as well, he will become the 'triple champions', an elusive feat that has yet to be achieved by anyone so far.
Go for it, Cummins. Since you have the reinforcements with you, all you have to do is keep up the excellent work.