'You Are Experienced and Should Know Where to Bowl': Sunil Gavaskar Blasts MI Pacer
---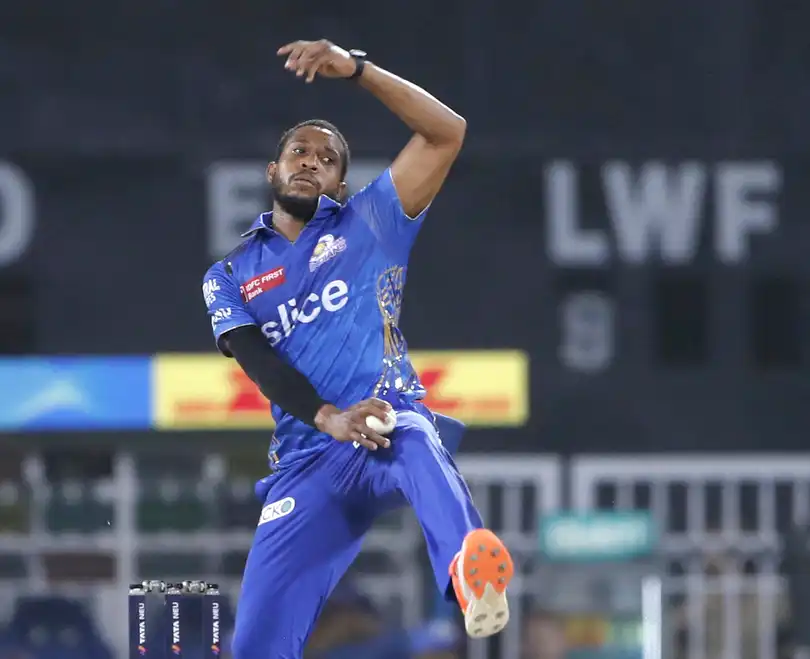 Jordan leaked 50 runs in 4 overs [AP Photos]

Former Indian skipper, Sunil Gavaskar, pinpointed Chris Jordan's expensive over as the pivotal moment that led to Mumbai Indians' (MI) defeat in a pulsating against the Lucknow Super Giants in Match 63 of IPL 2023 on Tuesday.
Taking centre stage at the Ekana Cricket Stadium in Lucknow, MI won the toss and elected to field first. As the innings progressed, LSG found themselves tethering at 123/3 after 17 overs. However, it was during the crucial 18th over that the game's narrative took an unforeseen twist, with Jordan at the centre of attention.
Known for his susceptibility to leaking runs in critical situations, Jordan suffered the wrath of the LSG batsmen in his final over. In a disastrous turn of events, he conceded a staggering 24 runs. Marcus Stoinis unleashed a barrage of two sixes and three fours, capitalizing on Jordan's inability to find the right line and length and turned the tide in LSG's favour.
While speaking to the broadcasters after the game, Gavaskar deemed Jordan's over as the most significant turning point, underscoring that bowlers with experience should possess the knowledge of where to deliver the ball when assigned the crucial 17th or 18th over. He questioned Jordan's choice of deliveries, highlighting that he bowled in the batsmen's preferred hitting zone.
"The biggest turning point. If you are bowling the 17th or 18th over, you are experienced and should know where to bowl. Where all [did] you bowl? He bowled in the slot, a full toss at a perfect height, and then on the leg side where the fielders were inside the circle," said Gavakar.
Gavaskar further suggested that the lacklustre performance by the Englishman in a critical over indicated that experience does not translate into effective execution. He pointed out that this was not an isolated incident, but rather a recurring pattern.
"It implies experience did not mean anything. He is an impact player who makes an impact on his team. It has not happened for the first time. It has happened to him every time. We have seen it in the IPL and when he plays for England as well, his last over goes for a lot of runs," added the Indian veteran.