Sachin Tendulkar Congratulates MS Dhoni on 5th IPL Title Via A Special Message
---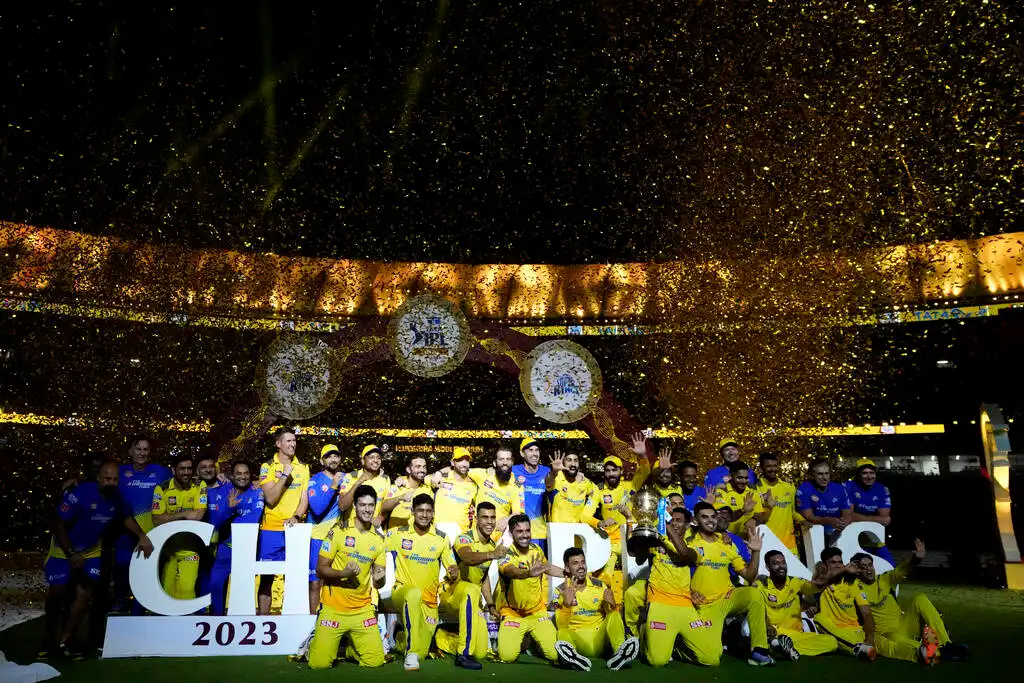 CSK equaled Mumbai's record of most trophies in IPL (AP Photo)
Under the leadership of MS Dhoni, Chennai Super Kings (CSK) secured their fifth Indian Premier League (IPL) title, matching the record, in a captivating final showdown against the Gujarat Titans (GT). The IPL 2023 final, held at Ahmedabad's Narendra Modi Stadium, showcased a thrilling spectacle replete with drama, accentuated by a notable two-hour rain interruption.
The match reached its climax with Ravindra Jadeja stealing the limelight, delivering an incredible performance. With 10 runs required off the last two deliveries, Jadeja's exceptional batting skills came to the forefront as he struck two vital runs to secure the victory. However, amidst the celebrations, all eyes were on CSK's skipper, MS Dhoni, who confirmed his return for the upcoming IPL season, promising more excitement for the fans.
Following the match, legendary Indian batter Sachin Tendulkar showered praise on CSK, highlighting the team's batting depth as the decisive factor in their victory. Tendulkar lauded Captain Cool for his leadership and also extended appreciation to the Gujarat Titans for their commendable efforts until the very last ball.
"What a finish to one of the most enthralling IPL seasons ever! Both Chennai and Gujarat fought fiercely, but Chennai's batting depth proved to be the winning factor, just as I had mentioned. Choosing a winner was no easy task given the exceptional performances of both teams from the very beginning. It was only fitting that the match unfolded with nail-biting intensity until the very last ball. Congratulations to MS Dhoni and the entire Chennai team for clinching yet another IPL title," Tendulkar wrote in his tweet.
"Must also acknowledge the Gujarat Titans for their commendable efforts till the very last ball. Unfortunately, there must be only 1 winner but both teams won all our hearts! Well played, everyone!"
The victory of CSK and the outstanding display of cricket in the IPL 2023 final will be etched in the annals of Indian cricket history as an extraordinary chapter, with MS Dhoni once again leaving an indelible mark on the sport.