Top 10 finishes by MS Dhoni in ODI Cricket: A Legendary Legacy
---
MS Dhoni celebrating his hundred. (Twitter)
Renowned as a cricketing legend and former captain of the Indian team, MS Dhoni has left an indelible mark on the history of the sport. With his extraordinary performances and unmatched ability to steer his team to victory, Dhoni's reputation as a master finisher is second to none.
Throughout his illustrious career, Dhoni has demonstrated nerves of steel and a remarkable aptitude for thriving under pressure. His unparalleled proficiency in sealing matches in One Day International (ODI) cricket has consistently propelled India to triumph, owing to his exceptional batting prowess and shrewd decision-making.
In this article, we explore the top 10 finishes by MS Dhoni in ODI cricket, which not only highlight his mettle as a true match-winner but also serve as a testament to his enduring legacy in the game.
10) Dhoni guides India to last-over victory
In a challenging run-chase against West Indies, India was set a revised target of 159 runs from 22 overs due to rain interruptions. Dhoni, displaying his astute game sense, promoted himself to No.3 and orchestrated a masterclass in pacing an ODI run-chase. From the outset, Dhoni focused on maintaining a steady strike rotation to keep the required run-rate from escalating. Despite facing some formidable death bowling by the West Indies and the loss of Rohit Sharma's wicket towards the end, the visitors found themselves needing 11 runs off the final over for victory.
MS Dhoni played a masterclass vs West Indies to take the team home in the last over (Source: Twitter)
Yusuf Pathan took a single off the first ball of the over, allowing Dhoni to face the remaining deliveries. With remarkable composure, Dhoni unleashed a colossal six, reducing the equation to 4 runs off 4 balls. From thereon, it was business as usual for the Indian captain. Dhoni's unbeaten 46 off 34 balls not only sealed a remarkable 6-wicket victory but also secured a 2-1 series win for India.
9) Dhoni's Adelaide Heroics vs Australia in 2012
In the thrilling encounter between India and Australia at Adelaide in 2012, MS Dhoni showcased his exceptional finishing skills. Coming in to bat at 178 for 4 while chasing 270, Dhoni embraced the pressure and brought the game to a nail-biting climax.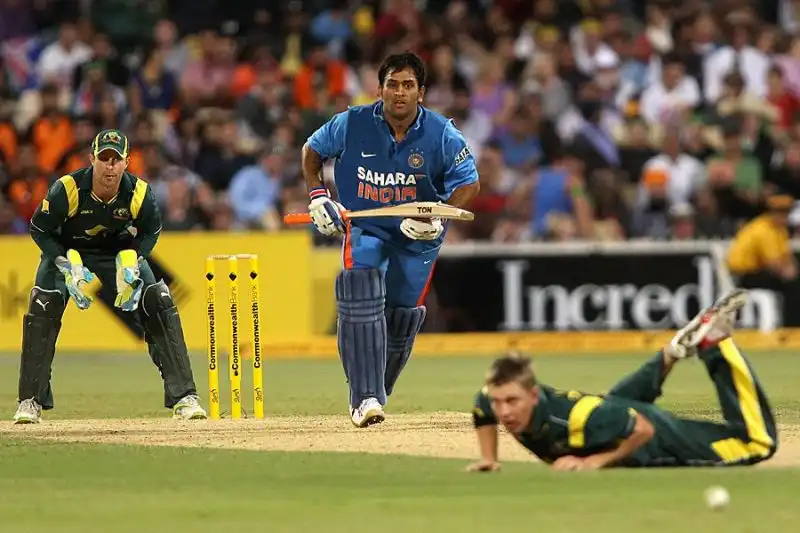 MS Dhoni smashed a 112-metre six in the last over to ease India's equation (Source: Twitter)
With 13 runs needed off the final over, and 12 required from just four balls, Dhoni displayed his immense power by launching Clint McKay's half volley for a massive 112-meter six. McKay, visibly shaken, bowled a crucial no ball, but Dhoni's subsequent catch at deep square leg left him in anguish. However, Dhoni's determination prevailed as he pulled the next ball with conviction, guiding India to a remarkable victory.
8) Zimbabwe denied victory by Dhoni
In the gripping ICC World Cup 2015 group league match, India's relentless winning streak faced a test as they aimed to conclude the first round triumphantly. However, Brendan Taylor's farewell game showcased his determination, as Zimbabwe set a formidable target of 288. With India struggling at 92/4, their hopes of victory were fading, but the indomitable spirit of Captain Cool sent a clear message to his rivals - his venomous prowess still burned within.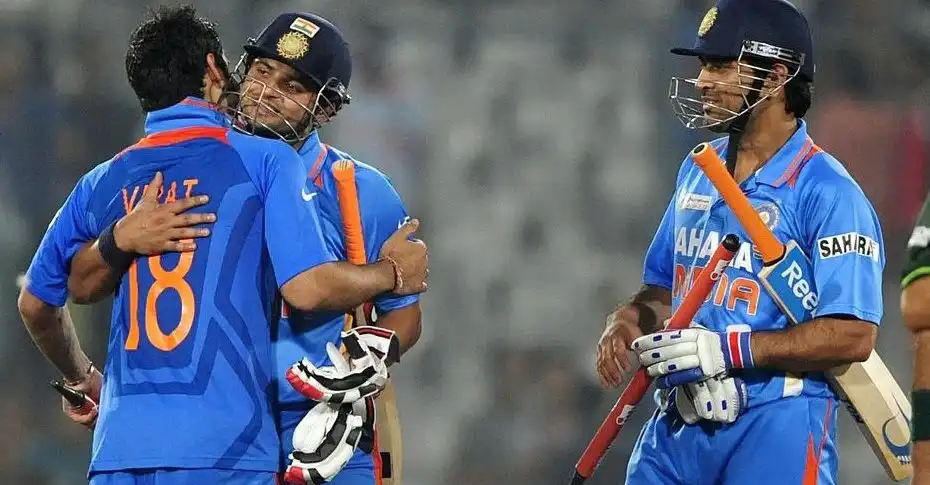 MS Dhoni played the perfect aid to Suresh Raina and took India across the line vs Zimbabwe in 2015 (Source: Twitter)
Alongside Suresh Raina, Dhoni resurrected India's innings from the depths of despair, gradually rebuilding their momentum. Then, Dhoni unleashed his attacking brilliance, crafting a magnificent 85* off a mere 76 deliveries, embellished with 8 fours and 2 sixes. Once again, he masterminded an unlikely triumph, defying the odds. Dhoni's unbeaten knock of 85 concluded with a resounding six, as he pulled Panyangara into the stands, sealing a memorable victory.
7) Battle with Malinga at the Adelaide Oval
Chasing a modest target of 237, India found themselves at 4/118 when Dhoni joined Gautam Gambhir at the crease. The experienced duo built a solid partnership of 50 runs, seemingly guiding India towards victory.
However, a disastrous mix-up resulted in Gambhir's dismissal, leaving India requiring another 59 runs. Subsequently, a flurry of wickets fell, leaving India with just 9 runs to win off the final over with only 2 wickets remaining.
MS Dhoni managed to score 3 runs of the last ball and tie the game against Lasith Malinga at his peak (Source: Twitter)
Facing the challenge of scoring 9 runs in 6 balls, particularly against the formidable Lasith Malinga, proved daunting. Failing to find the boundary in the first 5 deliveries, India now needed 4 runs off the last ball, with Dhoni standing on strike.
In a stroke of fortune, Dhoni managed to miscue Malinga's full and wide delivery over extra cover, securing 3 runs. Dhoni concluded the match with an unbeaten 58 off 69 balls, ensuring the thrilling encounter ended in a tie. While he couldn't guide his team to victory, his valiant effort against a peak Malinga was commendable.
6) Dhoni Dhaka Dhamaka
Following their early exit from the 2007 ICC World Cup, the Indian team faced a low point. Their defeat to Bangladesh in the tournament's opening match had been a shocking blow.
Determined to reclaim their pride, they embarked on a three-match one-day series in Bangladesh shortly after the World Cup. However, in the first match, as India found themselves struggling at 144/5 while chasing a target of 251, the spectre of another humiliating loss loomed large.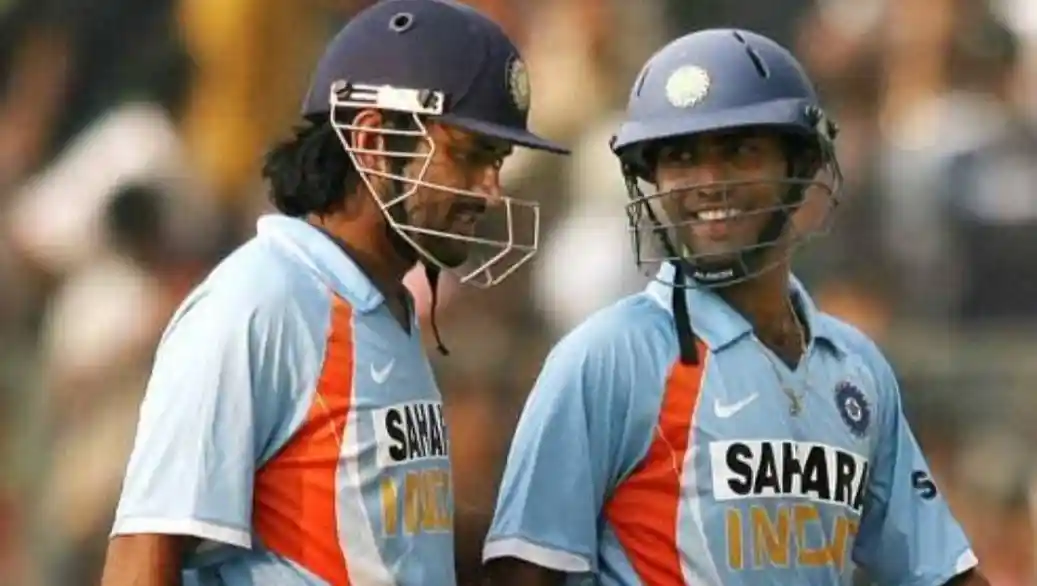 MS Dhoni and Dinesh Karthik steered India to victory (Source: Twitter)
Yet, in a display of extraordinary composure, Dhoni, elevated to the No.3 position, crafted an unbeaten innings of 91* from 106 balls. Supported by Dinesh Karthik, he steered India to a remarkable 5-wicket victory, thwarting the prospect of yet another upset within a mere two months.
5) Dhoni's ice-cold brilliance crushes SL hearts
In a thrilling climax to the series finale, India found themselves in a precarious position while chasing a modest target of 203. With their ninth wicket falling at 182, all hope seemed lost. However, the ever-resilient MS Dhoni had different ideas. In the final over, with India needing 15 runs for victory and just one wicket remaining, Dhoni took charge.
Although he missed the first ball, Dhoni quickly regained his composure and launched the following delivery over the bowler's head for a maximum. Undeterred, he then expertly guided the third ball through the point region for a boundary.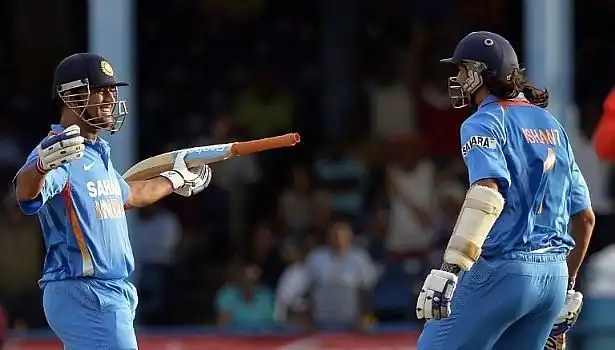 MS Dhoni finished off the match when India needed 15 runs of the last over with one wicket remaining (Source: Twitter)
With the tension building, Dhoni unleashed his skill once again, smashing the next delivery over extra cover, sealing a remarkable triumph and propelling India to clinch the tri-series title. Dhoni's masterclass in finishing under pressure not only exemplified his remarkable composure but also solidified his status as one of the greatest finishers in the history of the game.
4) Dhoni's explosive onslaught decimates Pakistan
In a high-stakes match against Pakistan in Lahore, India faced a challenging target of 289. Once again, it was the remarkable prowess of MS Dhoni that proved decisive in securing victory for the Men in Blue.
The Indian team encountered a disastrous start, losing two early wickets with only 12 runs on the scoreboard. Sachin Tendulkar, holding firm at one end, narrowly missed out on a century, falling just five runs short. Soon after Tendulkar's dismissal, Mohammad Kaif followed suit, leaving India with a daunting task of scoring over 90 runs in the final 15 overs.
Yuvraj Singh and MS Dhoni ensured that India won the match against Pakistan (Source: Twitter)
Undeterred by the pressure, Dhoni teamed up with Yuvraj Singh to form an unbreakable partnership, adding an unbeaten 102 runs. Dhoni's exceptional performance saw him smash 72 runs, including an impressive tally of 13 boundaries, ultimately sealing a memorable victory for India.
3) Dhoni's crafty 77 against the arch-rivals
In the final match of the five-match series, India aimed to conclude on a high note despite already securing an insurmountable 3-1 lead. And indeed, they did so in remarkable fashion, thanks to the exceptional performance of MS Dhoni.
Displaying his signature flair, Dhoni smashed a breathtaking 77 runs off just 56 balls, including 6 boundaries and 4 sixes. His blistering innings played a crucial role in India's successful chase of 287 runs with 3 overs to spare.
While Yuvraj Singh remained unbeaten on a remarkable 107 off 93 deliveries, earning him the well-deserved Man-of-the-Match award, it was Dhoni's incredible stroke play in the closing stages that left the Pakistani team completely demoralised.
With his dazzling display of power hitting, Dhoni added the finishing touches to the match, ensuring a convincing victory for India.
2) Dhoni Goes Berserk against Sri Lanka
During a series against Sri Lanka in December 2005, India witnessed an extraordinary performance by MS Dhoni. In the third ODI, chasing a formidable target of 298 set by the visitors, Dhoni was once again promoted to the number 3 position.
What followed was a breathtaking display of power hitting, surpassing even his remarkable innings against Pakistan.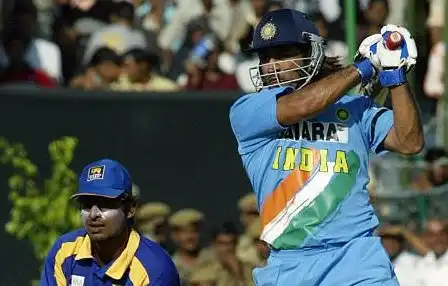 MS Dhoni's 183 still remains the highest individual score by an wicket keeper in an ODI innings (Source: Twitter)
Despite battling cramps and relying on a runner for the final 53 runs, Dhoni showcased his exceptional batting prowess. He remained unbeaten on a staggering 183 off just 145 deliveries, which included an impressive tally of 10 sixes and 15 fours.
With nearly 4 overs to spare, India emerged victorious in the match. Notably, Dhoni's innings stands as the highest individual score by a wicket-keeper in ODIs.
1) Mahi Mumbai Mayhem
Regarded as one of MS Dhoni's greatest innings, his remarkable performance came to light in the 2011 World Cup final against Sri Lanka. With India facing a challenging target of 275, the Men in Blue found themselves in a precarious situation after the dismissal of Virat Kohli at 35, leaving them at three down for 114.
MS Dhoni finished off with a six as India won the ODI World Cup after 28 years (Source: Twitter)
In a surprising move, Dhoni, who had not contributed significantly with the bat in the tournament, walked in ahead of the in-form Yuvraj Singh and immediately took charge against the Sri Lankan bowlers. He registered his first half-century of the tournament and formed a crucial 109-run partnership with Gautam Gambhir for the fourth wicket.
Although Gambhir fell agonisingly close to a century, Dhoni and Yuvraj Singh ensured that India stayed on track. With just four runs required in the penultimate over, Dhoni unleashed a momentous six over long-on, etching an iconic moment in cricket history and ending India's 28-year-long wait for an ODI World Cup title.