[Watch] Ravindra Jadeja's Wife Reactions Goes Viral Embraces After CSK's IPL 2023 Triumph
---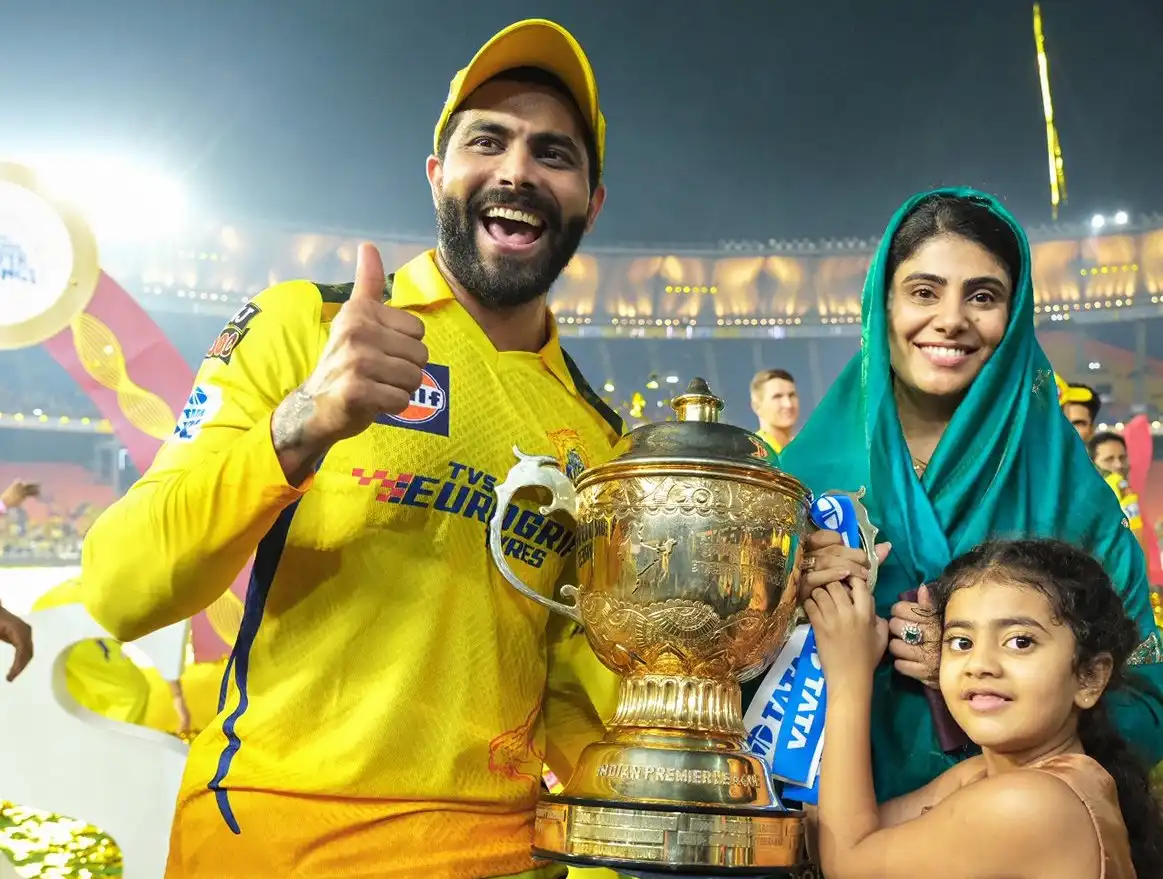 In a truly awe-inspiring feat, Ravindra Jadeja orchestrated an extraordinary triumph, leading the Chennai Super Kings to a glorious victory over the Gujarat Titans in the highly anticipated Indian Premier League 2023 (IPL) final on the momentous day of Tuesday, May 29.
In a rain-curtailed match, CSK successfully chased down a challenging target of 171 runs in just 15 overs, showcasing an impressive team effort and making it one of the most memorable finals in IPL history. Jadeja emerged as the hero of the match, smashing an unbeaten 15 runs off just six deliveries to stun the crowd with a remarkable finish.
The exhilaration of the moment was evident as Jadeja celebrated by sprinting across the field, holding his bat high in the air. He joined his teammates in jubilation and received a heartfelt embrace from skipper MS Dhoni, who lifted the triumphant all-rounder in a heartwarming gesture.
Jadeja's wife, Rivaba, joined the celebration at the boundary lines. At the Narendra Modi Stadium, Jadeja's embrace with his wife melted the hearts of fans, and a video capturing the emotional moment quickly circulated on social media.
Jadeja Dedicates Memorable Final to Dhoni
Following the celebrations, Jadeja dedicated the final victory to MS Dhoni and expressed his gratitude to the CSK fans for their unwavering support throughout the season.
"Feels amazing, winning my fifth title in front of my home crowd. I'm from Gujarat, and it's a special feeling. This crowd has been amazing. They were waiting for the rain to stop till late at night, I'd like to say a big congratulation to the CSK fans who came to support us. I'd like to dedicate this win to a special member of the CSK side, MS Dhoni," Ravindra Jadeja expressed.
In another heartwarming moment, Dhoni invited Jadeja and Ambati Rayudu, who was playing his final IPL game, to lift the coveted trophy together, marking CSK's record-leveling fifth IPL title.