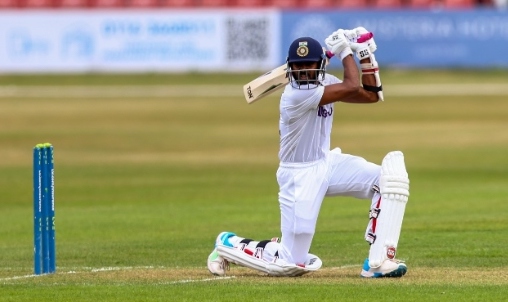 I didn't get the chance: Hanuma Vihari on missing out on playing County Cricket in England
England have difficult Test pitches, and many Indian cricketers have turned in to play in the domestic English red-ball tournaments to level up their skills. Indian veterans like Ravi Ashwin and Cheteshwar Pujara have often toured England to participate in the County games and hone their skills.
Pujara was one of the star performers in the County season this year. The Indian batter scored a truckload of runs on the English pitches to impress the Indian selectors and earn a place back in the Indian Test team.
Following a series of poor performances, the 34-year-old was dropped from the playing XI for the two-match Test series against Sri Lanka. However, he has now been included in the squad for the one-off Test match against England, scheduled from July 01 to July 05 in Birmingham.
Apart from Pujara, Hanuma Vihari was another Indian player keen on playing the County matches this season. However, the batter doesn't form a part of the Indian Premier League and thus spent his free time playing the Dhaka Premier League and domestic leagues in Chennai.
Vihari opens up on missing out on a County Cricket contract
Speaking about his County plans, Vihari revealed that he wished to be a part of England's domestic red-ball league but couldn't find a good deal.
"Honestly, I tried a lot. But I didn't get the chance. So I was happy playing in Bangladesh (Dhaka Premier League), and then coming back to Chennai and playing First Division is something I relish. My game develops a lot when playing here because there is the pressure when you are playing as a professional,"
"And the wickets and standard of cricket are quite good. In Dhaka, it is an entirely different structure. It helped me to get into the groove.
"Looking forward to the India tour now," Hanuma Vihari said while speaking to the New Indian Express.
The 28-year-old also highlighted his struggle to make it to the top in Indian cricket. The road to the white jersey wasn't easy for Vihari as he had to prove himself in the domestic league consistently. As a result, the batter has been often in and out of the Indian team, and he needs to be consistent with his performance to earn a permanent spot.
Hanuma Vihari has so far represented India in 15 Test matches since his debut in 2018. He has scored a total of 808 runs at an average of 35.13. The middle-order batter also has five fifties and one hundred to his name.
"I'd to struggle in domestic cricket for a long time. I've been performing consistently in the domestic circuit to make it to the national team. So I know how to be patient in terms of waiting for my opportunities. So that journey itself shows I have been waiting patiently for a chance by performing well for years together. I would say I've earned my place in the Indian team," Vihari concluded.