Junaid Khan Questions Shaheen Afridi, Shadab Khan or T20 Blast participation in a World Cup year
---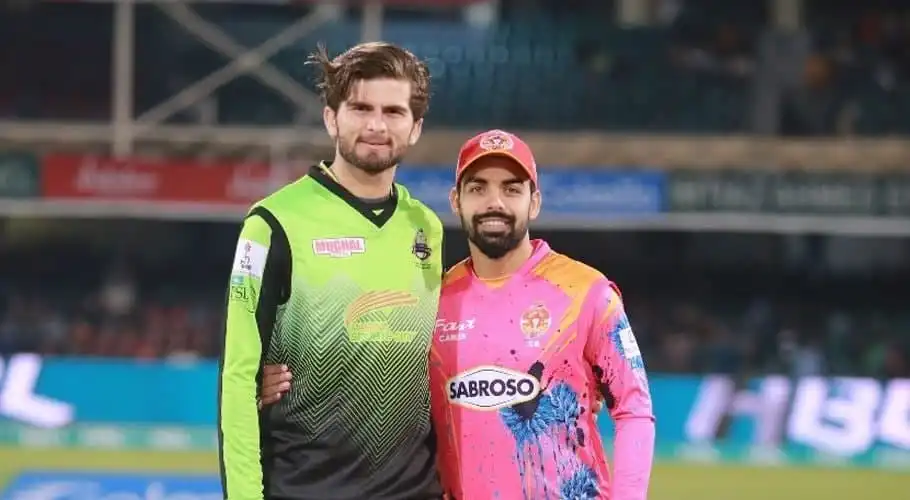 Shaheen Afridi with Shadab Khan during PSL 2022 (Twitter)
Pakistan cricketer Junaid Khan has expressed his disappointment over Shaheen Afridi's participation in the ongoing T20 Blast in England. Khan believes that the young speedster may well jeopardise his fitness ahead of the upcoming 2023 World Cup in India.
The 33-year-old also slammed current Pakistan vice-captain Shadab Khan for participating in the England-based T20 competition.
Junaid Khan urges PCB to manage players
While speaking on his YouTube channel, Junaid Khan questioned Shaheen Afridi and Shadab Khan for prioritising T20 Blast competition in a World Cup year. The cricketer-turned-administrator believes that the two youngsters should have utilised this time to rest and work on their fitness instead.
Junaid justified his claims by highlighting Shaheen Afridi's recent recovery from an injury, and pointed out Shadab's fitness issues off late. He said:
"Shaheen Afridi is playing in all three formats for the PCB. He recently returned from an injury, and you must have seen that he has played only two matches so far, and has struggled in both games. Shadab already has some fitness issues, and he has also been allowed to play in the league."
Junaid Khan later stated that the Pakistan Cricket Board (PCB) should carefully handle the national players especially in a World Cup year. He believes that the board should not have allowed Afridi to play T20 matches in England, considering he is the "backbone" of the Pakistan team at the moment.
"In my opinion, it would have been best if the board didn't allow Shaheen Afridi to play and advised him to work on his fitness and take some rest because the World Cup is near, and there are more series ahead, and we need him. He is not needed in the league; he is the backbone of the Pakistan team."
Shaheen has so far played four matches for Nottinghamshire this T20 Blast 2023 season and claimed a wicket in each of his outings. Meanwhile, all-rounder Shadab Khan failed to make much impact for Sussex in his debut last weekend, and was involved in a nasty collision with teammate Nathan McAndrew while attempting a catch.