Pakistan Agree To 'NOT' Ask For Hybrid Model In World Cup 2023 Amidst Asia Cup Deadlock: Reports
---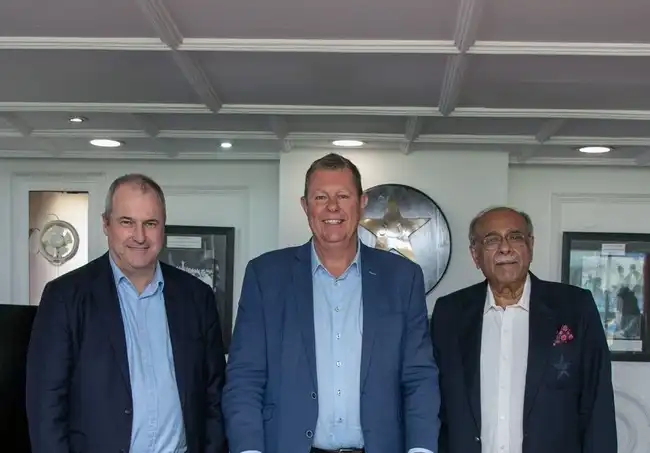 ICC Chief Executive Geoff Allardice and President Greg Barclay with PCB Chairman Najam Sethi [Source: Twitter]
The high-ranking International Cricket Council (ICC) officials - Chairman Grey Barclay and CEO Geoff Allardice - are currently in Lahore for their two-day tour of Pakistan. Both officials met with Pakistan Cricket Board (PCB) Chairman Najam Sethi on Tuesday and discussed Pakistan's plans for the upcoming ICC World Cup 2023, which will be held in India.
According to a report in PTI, Barclay and Allardice have sought guarantees from PCB to ensure their participation in the global event, and not push the implementation of a hybrid model. PCB has made its stance clear on not visiting India for the marquee event if the Board of Control for Cricket in India (BCCI) does not allow its national side to visit Pakistan for Asia Cup 2023.
Sethi has confirmed that if Pakistan's government does not give clearance for touring India, PCB will ask ICC to hold their matches at a neutral venue.
Here's what the source said
"The ICC and World Cup hosts, the Board of Control for Cricket in India (BCCI) are concerned with the hybrid model being pushed by Najam Sethi who heads the cricket management committee of the PCB."
"Although the hybrid model has been suggested by Sethi for the Asia Cup which precedes the ICC event, the concern remains that once accepted for the regional event the PCB might also then ask the ICC to implement it for the World Cup when it comes to Pakistan playing in India."
The PCB has also threatened to pull out of the Asia Cup 2023 if Asian Cricket Council (ACC) awards hosting rights to other nations.
It is imperative for ICC to ensure that Indo-Pak matches happen at global events like World Cup or Champions Trophy, for them to earn big money and make the tournament a success.