Top Five Indian Cricketers With Most Catches in Test Cricket
---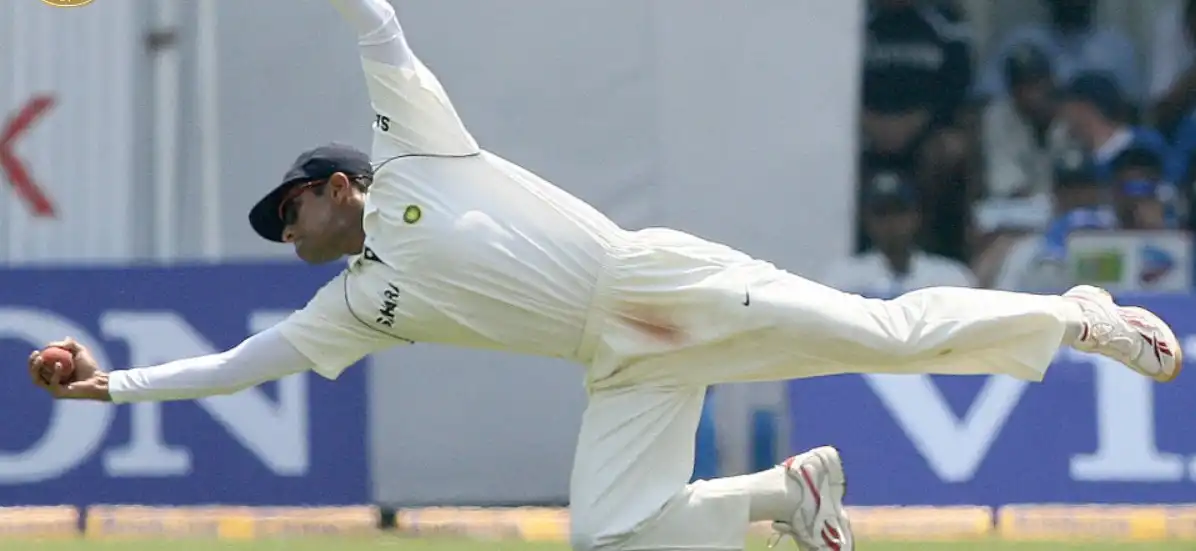 Rahul Dravid holds the record for most catches by a fielder in Tests (ICC Twitter)
Cricket, a sport often lauded as a gentleman's game, encompasses a plethora of skills that go beyond batting and bowling. Within this fabric lies the art of fielding, an indispensable facet of cricket that possesses the potential to sway the tides of a match.
The ability to snare catches, whether executed with acrobatic finesse or routine efficiency, is an art form that demands a blend of athleticism, focus, and precision. In the purest form of the game, a format that embodies the pinnacle of endurance and skill, Indian players have left a massive mark in the field of catching.
In this article, we take a look at the top five Indian players with the most catches in Test cricket
5. Sunil Gavaskar – 108 catches
Ranked fifth on the illustrious list of Indian cricketers with most catches in Test cricket is the legendary Sunil Gavaskar, who revolutionized the art of opening the batting. Yet, Gavaskar's multifaceted contribution to Indian cricket transcended his extraordinary exploits with the willow.
Displaying an unparalleled acumen as a slip fielder, the stalwart routinely towered above his peers as he plucked catches with panache. With his extraordinary agility and foresight, Gavaskar garnered a remarkable tally of 108 catches across 125 Test matches. Notably, this prodigious feat translates to an impressive average of 0.5 catches per innings.
4. Virat Kohli – 109 catches
Virat Kohli (Twitter)

Renowned globally for his unparalleled fitness levels, Virat Kohli, started a paradigm shift in fielding within Indian cricket. Placing paramount importance on physical conditioning, he astutely transformed the team's ethos by espousing a culture of dedication to fitness through his own exemplary conduct. Kohli's extraordinary physical prowess has not only elevated him to the echelons of an elite athlete but has also conferred upon him the distinction of being a formidable fielder.
As a result, it comes as no surprise that he clinches the fourth spot amongst Indian cricketers with the highest number of catches in Test cricket. Astoundingly, Kohli has ensnared a staggering 109 catches throughout the course of his illustrious Test career spanning 108 matches. This achievement is quantified by an enviable average of 0.526 catches per innings.
3. Sachin Tendulkar – 115 catches
When it comes to cricket, one name that resonates with fans around the world is Sachin Tendulkar. Known as the "Master Blaster" for his awe-inspiring batting prowess, Tendulkar's impact on the game extends far beyond his remarkable records. Often celebrated for his incredible fielding abilities, Tendulkar's presence in the slips was nothing short of exceptional.
Earning his place among the pantheon of legendary Indian fielders, Tendulkar, secures third position on this list, having plucked 115 catches during his illustrious tenure spanning 200 matches. Calculated with a discerning eye, this feat reveals an average of 0.314 catches per innings which shows his consistency as a fielder.
2. VVS Laxman – 135 catches
Ensuing an air of elegance, VVS Laxman surpassed the area of batting prowess with his multifaceted brilliance as an exceptional fielder. Renowned for his graceful strokeplay, Laxman's versatility extended to his remarkable skills in the slip fielding position. A testament to his agile finesse and faultless catching abilities, Laxman's performances in the slip cordon solidified his reputation as one of India's most reliable fielders.
During the span of his illustrious 134 Test career, Laxman amassed an awe-inspiring tally of 135 catches at an average of 0.544 catches per innings. This remarkable statistic attests to his consistency and commitment to his craft, establishing him in the position of legendary fielders in the Indian cricketing landscape.
1. Rahul Dravid – 209 catches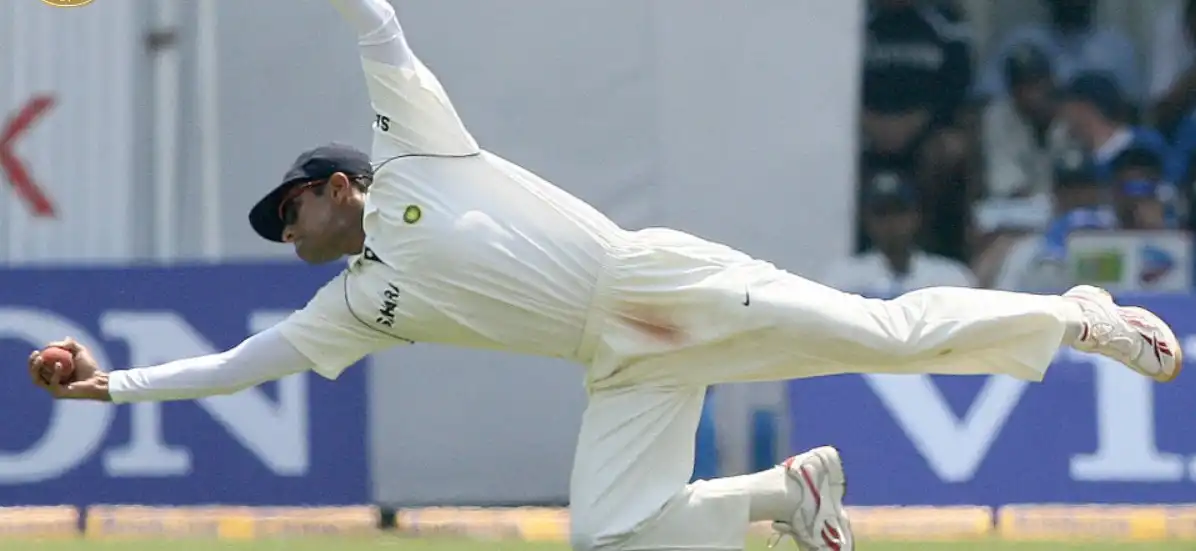 Rahul Dravid (Twitter)

Renowned as "The Wall," Dravid's understanding of the game and batting prowess was complemented by an innate ability to anticipate the trajectory of the ball, while his hands seemed to possess an irresistible magnetism, effortlessly catching every ball his way. His flawless positioning, sharp focus, and gravity-defying leaps transformed seemingly impossible catches into brilliant displays of skill and athleticism.
Over the course of his illustrious Test career, spanning 164 matches, the maestro amassed a staggering 209 catches (most for a non-wicket-keeper in Tests) at an astonishing average of 0.698 catches per innings. With each grab, the legendary batter not only demonstrated his unrivalled catching skills but also played an integral role in shaping India's cricketing destiny.