When Former Indian Players Pranked On Virat Kohli; Sachin Tendulkar Reveals
---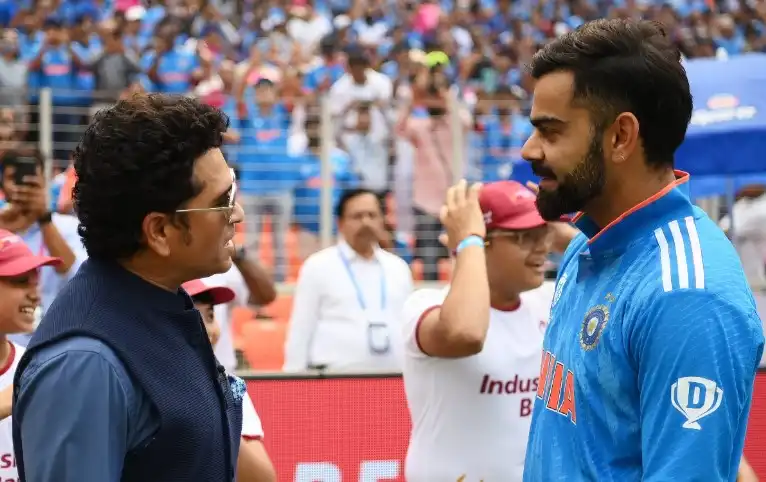 Sachin Tendulkar and Virat Kohli during the 2023 World Cup (x.com)
India's batting maverick Virat Kohli burst onto the international scene back in August 2008, shortly after leading the nation's Under-19 troops to a World Cup win in Malaysia. Aged 19 at the time, the cricketer would go on to scale remarkable heights across all formats, upstaging even his batting idol Sachin Tendulkar for a number of records.
Both Kohli and Tendulkar even lifted the World Cup together in 2011, and shared the Indian dressing room for a notable period until the latter announced his retirement from international cricket in 2013.
Interestingly, Kohli was subjected to a hilarious prank from teammates at the time of his debut, one which involved the legendary Sachin Tendulkar in the dressing room. The contents of the prank went public when the former cricketer divulged details about the hilarious incident during the closing stages of the 2023 World Cup in India.
When Sachin Tendulkar recalled prank on Virat Kohli
Virat Kohli, in his 15th year of international cricket, usurped his batting idol Sachin Tendulkar for the unthinkable record of shaping up the highest number of centuries in ODIs. Kohli went past Tendulkar's tally of 49 tons by slapping a match-winning century for India in the semifinal of the 2023 World Cup.
Notably, Kohli did so in front of a capacity Wankhede crowd in Mumbai, in the presence of the legendary cricketer at the venue. As one can expect, Tendulkar congratulated the modern-day legend during the innings break, and shed light on a hilarious incident that occurred during Kohli's international debut back in 2008.
Speaking with the World Cup 2023 broadcasters, the batting icon said:
"The first time I met you in the Indian dressing room, you were pranked by other teammates into touching my feet. I couldn't stop laughing that day. But soon, you touched my heart with your passion and skill. I am so happy that that young boy has grown into a 'Virat' player."
Watch: Sachin Tendulkar reveals prank on Virat Kohli
Though Tendulkar did not specify the names of the culprits, it could be assumed that individuals such as Yuvraj Singh, Harbhajan Singh, and Irfan Pathan orchestrated the harmless prank on Kohli.