WI vs IND | Here Are All The Records Suryakumar Yadav Shattered In His Blistering 83-Run Knock Against West Indies
---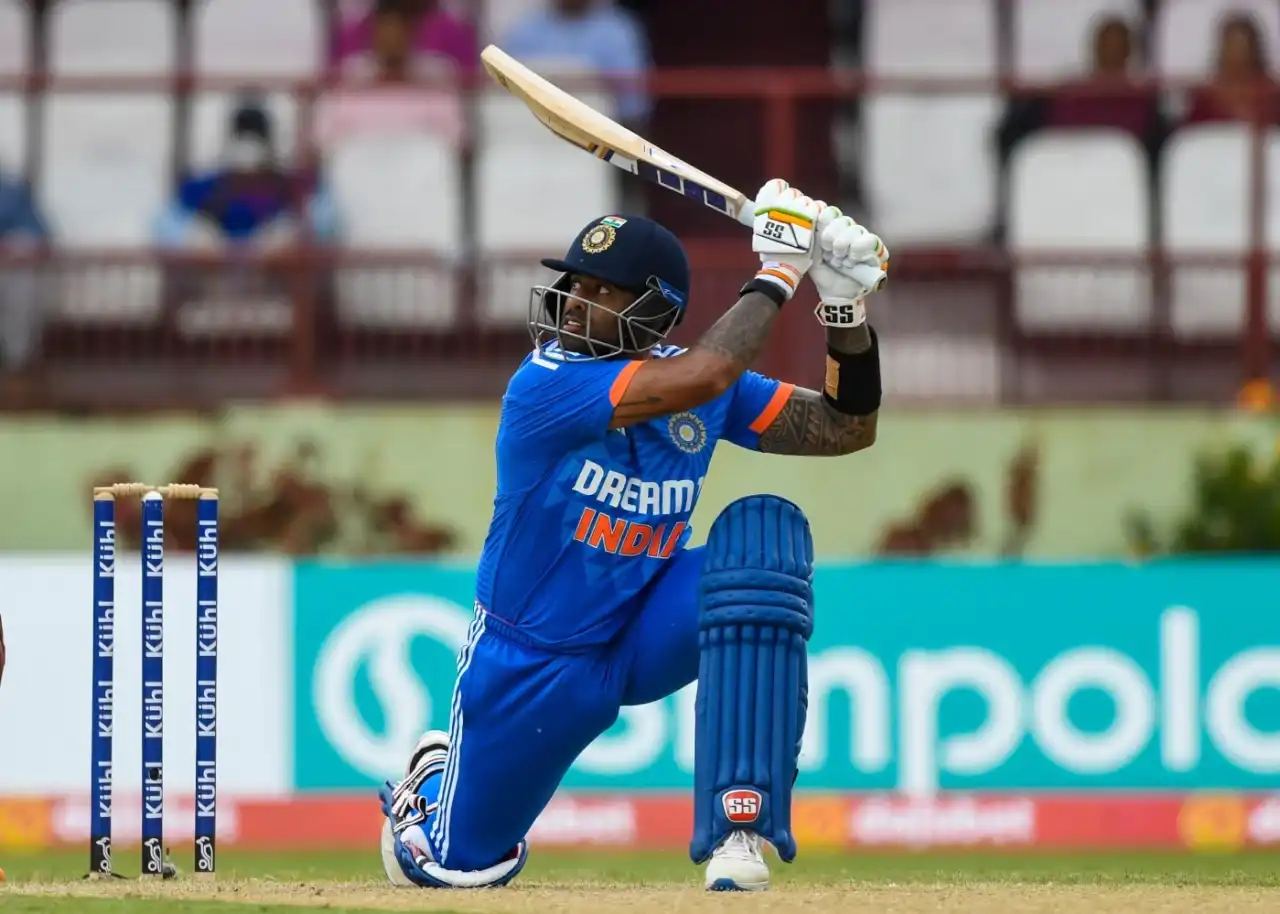 Suryakumar Yadav in full flow against West Indies (Twitter)
Suryakumar Yadav recovered his mojo with a stellar batting display against West Indies in the third T20I in Providence. The seasoned campaigner unleashed a 44-ball 83 in a tense run-chase, as Team India reduces their deficit by a game this five-match series.
The innings marked his first half-century of the tour, thus concluding his extended dry run with the bat in international cricket. The 32-year-old also broke several batting records with his latest match-winning effort, including milestones previously set by Rishabh Pant, Virat Kohli and Rohit Sharma.
List of records Suryakumar Yadav scaled in Providence T20I
The batting veteran charted 10 boundaries and four sixes in his 44-ball knock against West Indies. Through his six-hitting spree in Providence, the right-hander completed 100 maximums in T20I cricket, becoming only the third Indian after Rohit Sharma and Virat Kohli to do so.
Notably, Yadav is also the fastest among the three batters to get to the landmark figure, achieving it in only his 51th match. Overall, he is one of only 14 cricketers in the world to have 100 or more T20I sixes in their credit.
Yadav's 83 also marked his second T20I half-century against West Indies in West Indies, thus taking him past senior teammate Virat Kohli for a rare record. Rohit Sharma, Rishabh Pant and Tilak Varma are among other Indian batters to have registered a 50-plus score against West Indies in the Caribbean, alongside Kohli himself, with each doing so once in their careers.
The batting legend also eclipsed his own 2022 effort to register the highest T20I score against West Indies by an Indian in an away game. Last year, the cricketer whacked 76, which itself bettered Pant's unbeaten 65 from a 2019 match.
The Indian team will now move to Lauderhill for the final two matches as action shifts to the USA leg of the tour. The two games will be played on back-to-back days, on August 12 and August 13.