[Watch] Rohit Sharma Survives Early Scare; Gets Going With 'Lucky' Four
---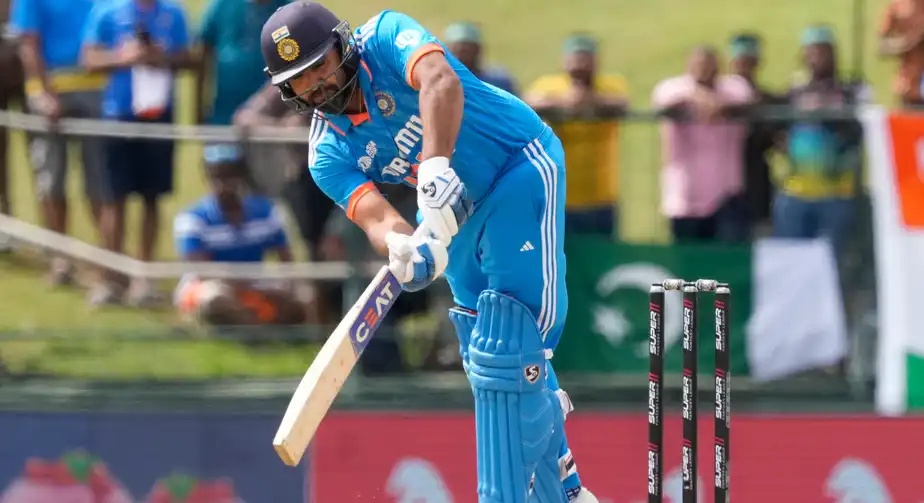 Rohit Sharma smashed a four against Shaheen Afridi (AP News)

In the scintillating India vs. Pakistan clash at the Asia Cup 2023 currently underway at the Pallekele Stadium, Rohit Sharma has once again displayed his impeccable timing. With a splendid boundary, elegantly threaded through the field, Rohit signals the start of what promises to be a fluent innings.
Watch Rohit Sharma's video


Facing a full delivery that had strayed towards the leg side, Rohit with a graceful flick of his bat, directed the ball towards Fakhar Zaman at the deep square leg region, resulting in a well-deserved boundary. The exquisite timing of Rohit's shot left spectators in awe, however Afridi, had faltered in terms of line and length on this particular delivery. The wayward delivery gave Rohit an opportunity, and he capitalized on it brilliantly.
Afridi, striving to find the ideal line throughout the match, fell short on this occasion. Rohit Sharma's boundary not only put him off the mark but also kick-started India's innings with style and panache.
The Indian supporters erupted in cheers when Rohit scored his first runs with a boundary. Interestingly, the fielder at square leg made a valiant attempt to catch the ball by diving to his left, managing to touch it with both hands but ultimately couldn't secure the catch. Skipper Babar expressed his displeasure with the fielder's effort.
As India kicks off their campaign with this high-stakes face-off against Pakistan, Rohit Sharma and Co. are under serious pressure, to not just register a win, but win against the Green contingent.