Bazball bites Pakistan yet again as Multan gets breached, series win for England
---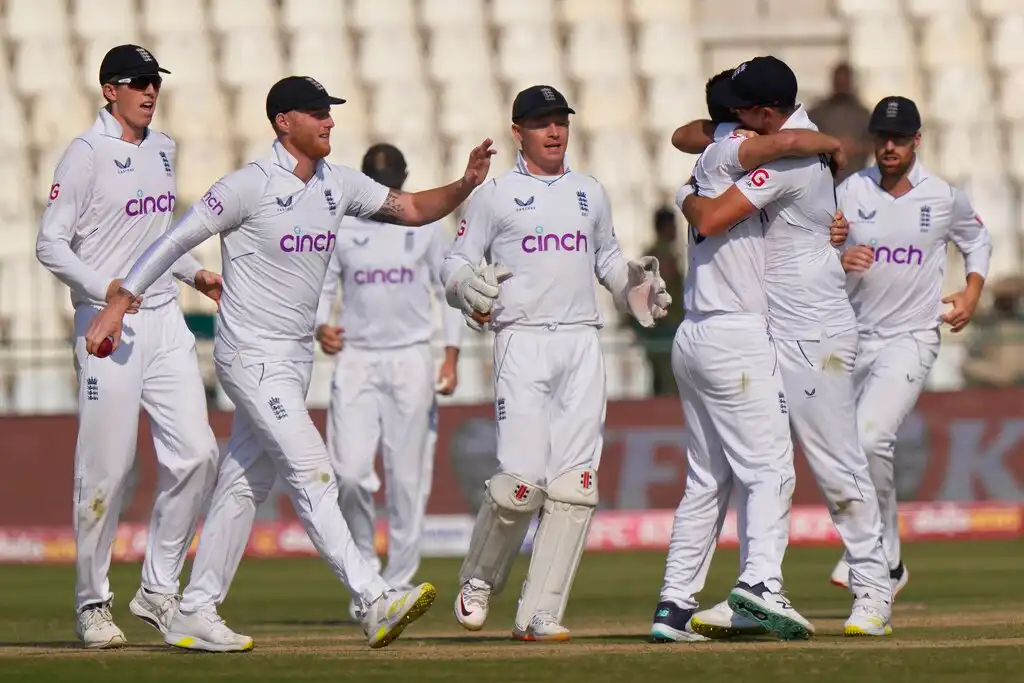 England have won a series in Pakistan after 22 years

Test cricket was operated at the sky-scraping best on the fourth morning at Multan as England, despite being almost out of the game, pulled off a heist to win the Test series with a match still to go.
Late in the first session, the spicy and pacy spell of Mark Wood was introduced and take magical wickets from nowhere. His short-ball burst was too good for Mohammad Nawaz and Saud Shakeel.
The Babar Azam-led side needed 157 runs with six wickets in hand, and Shakeel was well-set at 54 on the crease. For Pakistan to seal the series, they just had to play the first session firmly and the victory would have been theirs - but unfortunately, it didn't happen for them.
A floated delivery by Joe Root did Faheem Ashraf in the sixth over of the day. That opened a slight door for England but Shakeel, in the company of Nawaz, ran the hard yards and brought down the target to under 100.
However, late in the first session, Ben Stokes recalled Wood with a brilliant plan of action. With three fielders on the fence - at fine leg, deep backward square leg and thirdman - the speedster operated just with short-pitched deliveries down on the leg-stump line.
The plan worked like a charm, as both Shakeel (93) and Nawaz (45) were caught down the leg side by the keeper, Ollie Pope.
At Lunch, the game was hanging in between; Pakistan were 64 runs away and England were three scalps far from banking history. For the home side, the debutant Abrar Ahmed - who took 11 wickets in the match - threw his bat around to get four boundaries off Wood. But he played one too many strokes and was sent back by James Anderson.
Although Wood caught Zahid Mahmood off guard, Salman Agha tried his hand at giving Pakistan some hope with the last wicket standing. However, the final twist in the tale was produced by Ollie Robinson, who made Mohammad Ali knick behind to bank the final wicket for the Three Lions.
With this enthralling win, the Englishmen have clinched a Test series on Pakistan soil after 22 long years.
---
Read More: 'Blind Cricket, what's that?' - A tale of Blind Proteas Men