WPL 2023 Live Blog: GG-W vs UP-W, Match 17 - Tweets, Videos and More
---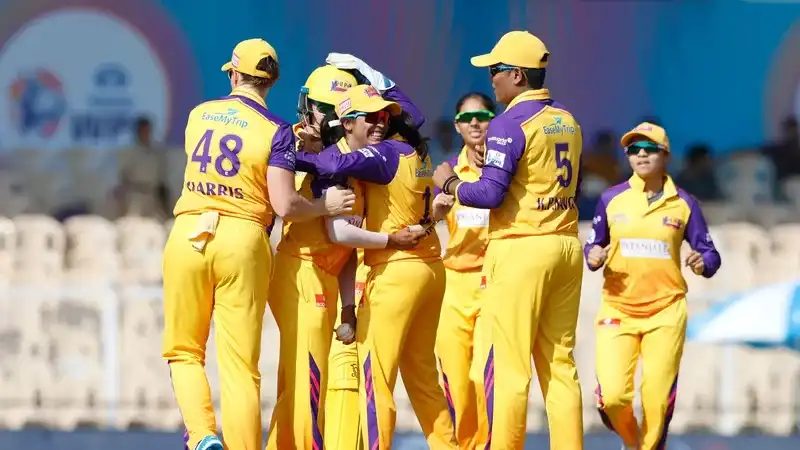 UP Warriorz won by three wickets (Source: wplt20.com)
It's time to end the live coverage. Do join us for the second match of the day. You can also check out OneCricket for more content.
UP Warriorz won by three wickets
6:55 PM | Tahlia McGrath and Grace Harris helped UP Warriorz complete the run-chase with their fifties. While the Gujarat bowlers did manage to take the match to the last over of the innings, the Warriorz, eventually emerged victorious, winning by three wickets.
Earlier in the day, Dayalan Hemalatha and Ashleigh Gardner recorded half-centuries that guided the Giants to 178/6. For UP, Rajeshwari Gayakwad and Parshavi Chopra took two wickets each.
With this win, UP go to eight points and make the playoffs. While RCB and GG are officially out of the race.
Over 19.5 - Four runs; UP Warriorz win
Anjali Sarvani walks in at no.9.
Simran Shaikh gets run-out as Ecclestone wants to retain the strike.
Over 19.4 - One run completed. Umpires are checking for a run-out. It's out.
Over 19.3 - It's again a single
Over 19.2 - A single scored
Over 19.1 - Two runs taken
6:45 PM | UP require seven runs off six balls to win. GG skipper Rana will bowl the over.
Simran Shaikh comes out to bat.
No!!! GG are still in the game. Trying to finish it early, Harris aims for another hit. Goes aerial as her catch gets taken. Kim Garth makes a comeback after getting smacked for a four and a six.
Ecclestone gets into the act. Makes the task easier for UP with another four... Harris is making it a formality now. Fires in a six as UP need seven off eight deliveries
6:38 PM | Harris hits another six to bring the equation down to 19 off 12.
Rana runs in from long on to attempt a catch of Ecclestone but drops it in the end.
6:34 PM | UP Warrioz need 30 runs off three overs.
Harris reaches out to a wide delivery. Extends her arms and scores a four that brings up her half-century... And the over gets even better for UP as Harris throws a heave to gather another boundary at the mid-wicket region.
Aayush: This can be anybody's games. UP need 41 off 24 deliveries.
Sophie Ecclestone is UPW's no.7.
Quite uncharacteristic of Deepti Sharma. Gets a tad too aggressive. After smashing a high full-toss for a four, aims to repeat the same. Could not get the elevation and is caught. Sneh Rana causes the dismissal.
Deepti Sharma is the no.6.
Gardner takes the big fish down. Much-needed breakthrough for Gujarat Titans. McGrath again uses her feet but could not get the perfect connection and is caught at long-off.
McGrath uses her feet and drills one to the off-side to get to her fifty via a boundary... And she now goes the other part of the ground but the result is the same.
Harris had predicted it
6:10 PM | Ordinary stuff from Harleen Deol. Gives enough room to Grace Harris to free up her arms as she fetches two maximums and a four in the 12 over. UPW are now at 106/3.
The third-wicket partnership for UP Warriorz reaches 50 runs.
6:01 PM | Gardner bowls a tight over. UPW need 97 runs off 60 balls.
Sneh Rana does not run-out Grace Harris at the non-striker's end
5:56 PM | Umpire has called for a strategic break.
5:54 PM | Now, McGrath finds gaps. She plays with the field and hits fours on both the sides of the wicket. UPW have rocketed to 77/3 at the end of the ninth.
5:51 PM | Monica Patel is hammered all over the park by Grace Harris. Two boundaries in the eighth over takes UPW to 64/3.
Aayush: This partnership will decide the game. While there is still a lot of work to be done, it does not need any proof to what Tahlia McGrath and Grace Harris are capable of.
5:44 PM | A similar-looking powerplay as the first innings. Although wickets continued to tumble, UPW have already scored 52 runs.
Grace Harris walks in at no.5.
Third wicket down. Kanwar bowls at the wide line as the ball catches the edge off Devika's bat. Wicket-keeper grabs it safely.
A chance put down. After picking up a four, McGrath goes back at the bowler, aiming for another boundary. Tanuja Kanwar drops a toughie as the ball races to the boundary.
Tahlia McGrath is out in the middle.
A pull shot leads to undoing of Kiran Navgire. She could not come into the right position and top-edges Garth's short-pitch delivery to mid-on.
Kiran Navgire is the new batter.
After getting smashed for two fours, Monica Patel stuns Healy with a good length delivery and grabs her maiden WPL wicket. Healy goes for the pull but could not connect it well and gets caught at deep square leg.
Healy goes down the ground to score first boundary of the innings. UPW ends the first over at 5/0.
5:14 PM | The run-chase is starting. Alyssa Healy and Devika Vaidya are the openers for UP Warriorz. Kim Garth to bowl the first over.
Parshavi Chopra getting recognition
Reminder
If UP Warriorz win, they are through to the playoffs. Consequently, Gujarat Giants and Royal Challengers Bangalore will no longer be in the race.
Highlights of Hemalatha's maiden WPL fifty
5:05 PM | After the openers offered a promising start, Gujarat Giants faltered at the brink of the powerplay with their top three getting dismissed. However, a 93-run stand between Dayalan Hemalatha and Ashleigh Gardner gave their side a massive edge, entering into the slog overs. Both the batters scored fifties.
As Hemalatha and Gardner perished in quick succession, courtesy Parshavi Chopra, UP Warriorz pulled back the things. GG eventually finished the innings at 178/6.
Kim Garth is in at no.8.
Umpire raises the finger as he finds Ashwani Kumar plumb in front of the stumps. With this, Sophie Ecclestone becomes the leading-wicket taker of WPL 2023. She has claimed 13 scalps so far.
Aayush: The Warriorz have been top-notch in the slog overs. While Gujarat at one stage had an eye at 200 runs, they now are likely to end up near 180.
Ashwani Kumari strides to the centre.
Parshavi is at it again. Takes the wicket of well-set Gardner. Throws a bait at the Aussie. Deceives her with flight as she could not put bat to ball and gets stumped.
Ashleigh Gardner brings up her half-century off 35 balls. Follows up a four with a six as Gujarat land at 166 in 18 overs.
Sushma Verma is GG's no.6.
Parshavi Chopra breaks the partnership. Hemalatha again plays down a slog while not coming at the pitch of the delivery. Did not power it enough to send it over the boundary and is caught at long-on.
Aayush: While Gujarat is believed to aiming it at 220, it does not seem possible. However, they can realistically knock off their first 200-run total of the season. With four overs to go, GG are at 143/3.
Wow! Hemalatha was not even in the pitch of the ball but still manages to clear the straight boundary with her power. 50 up for her in 30 deliveries.
4:29 PM | Hemalatha opt for a review as the on-field umpire adjudges her lbw. Impact is outside the line of the off-stump. The decision is reversed. It's not-out.
4:27 PM | Another expensive over. Hemalatha smashes a full-toss over the boundary line and ends the 13th with GG at 114/3.
4:24 PM | UP take a review for lbw. Umpire's call saves Hemalatha.
The partnership is flourishing and crosses 50-run mark. Gardner also finds rhythm, tonks two fours and a six off Sophie Ecclestone's third over.
4:15 PM | Half of the innings has been completed. Although GG's top three are out, Dayalan Hemalatha is starting to push the acceleration. Smashes a four and maximum to take the total to 79/3 at the end of the 10th over.
The Dunkley-Wolvaardt show
4:09 PM | A strategic time-out has been taken.
Aayush: The last five overs have yielded only 26 runs. Mind you Gujarat Giants not only need a victory to stay in playoffs contention, they also have to win big.
4:00 PM | While GG were dominating the powerplay, UP ended it on a high, taking three back-to-back wickets. Gujarat are 50/3 after the first six overs of the innings.
Ashleigh Gardner walks out to bat.
Harleen Deol perishes. She as well tries to clear the circle by coming down the pitch but could only find the hands of the fielder. Second wicket of the over for Gayakwad.
Dayalan Hemalatha is the new batter.
Sophia Dunkley gets holed out. Tries to scoop it over the inner circle but Rajeshwari Gayakwad gives no pace to the ball.
3:53 PM | Barring the boundary ball, Anjali was right on the money. Keeps it full and gives away just four runs.
Harleen Deol is in at no.3.
Dangerous-looking Wolvaardt gets outdone by Anjali Sarvani. Fires in a length ball at the stumps. The batter plays at the wrong line and is cleaned up.
A poor over from Deepti Sharma. She searched for the right line and length throughout and concedes 12 runs, including a four and a six.
Sophie Ecclestone brings down the run-rate. Keeps it tight with stump to stump line as GG end the third over at 29/0.
3:41 PM | The Giants have taken a review for lbw. Ball-tracking shows wickets missing as the on-field decision stands.
3:39 PM | Umpire go upstairs to check for a stumping. It's not-out.
Gujarat Giants are rollicking. After Sophia Dunkley's consecutive boundaries, Wolvaardt sends one into the stands to score the first six of the day.
Laura Wolvaardt picks from where she left. Opens her account with a boundary as GG scores 11 runs in the first over.
3:29 PM | Gujarat Giants' openers Sophia Dunkley and Laura Wolvaardt are striding out to the middle. Anjali Sarvani will start the proceedings for UP Warriorz.
Let's have a look at the points table
Fantasy tips
Playing XIs
UP Warriorz Women: Alyssa Healy (c/wk), Devika Vaidya, Kiran Prabhu Navgire, Grace Harris, Tahlia McGrath, Deepti Sharma, Simran Shaikh, Sophie Ecclestone, Anjali Sarvani, Rajeshwari Gayakwad, Parshavi Chopra
Gujarat Giants Women: Sophia Dunkley, Laura Wolvaardt, Harleen Deol, Ashleigh Gardner, Dayalan Hemalatha, Ashwani Kumari, Sushma Verma (wk), Sneh Rana (c), Tanuja Kanwar, Kim Garth, Monica Patel
3:02 PM | Gujarat Giants replace Sabbhineni Meghana with Monica Patel. UP Warriorz are unchanged.
Gujarat Giants opt to bat
2:58 PM | Toss coming up shortly.
Pitch Report (Natalie Germanos and Mel Jones): For today's match, we are back to pitch number 5. Both these sides have played on this surface and enjoyed wins as well. The difference between both sides has been the middle phase. The Giants have struggled in that phase. They have to find a way to score. Spin to win for teams here at Brabourne. The Giants will have to be careful against Sophie Ecclestone who has been troubling the batters with her subtle changes.
Stay tuned as an enthralling fixture awaits us.
Hello and a warm welcome to the coverage of the 17th match of the Women's Premier League 2023 between the Gujarat Giants Women and the UP Warriorz Women. The Brabourne Stadium in Mumbai will host this encounter.
We have reached the business end of the Women's Premier League (WPL) and each game from here on becomes an acid test for all the franchises. It is safe to say that Mumbai Indians and Delhi Capitals have made their way through to the next round of the tournament.
But the big question is, who will join them? Royal Challengers Bangalore, Gujarat Giants, and UP Warriorz are in the hunt for that third spot, and the next game between the Warriorz and the Giants becomes a crucial fixture.
Everything is going wrong for the Gujarat Giants right from the first game. The team led by Sneh Rana has shown a bit of promise but hasn't been consistent at all. Due to their inferior net run-rate, the side languishes at the bottom of the table, with two wins under their belt.
In the last match against RCB, Gujarat posted a healthy 188, but Sophie Devine made a mockery of the total as RCB won the game inside 16 overs. The bowlers were taken to the cleaners and they'll be looking to rectify things against a spirited UP Warriorz team.
Talking about the Warriorz, it has been a topsy-turvy tournament for them, but the Alyssa Healy-led side is in a strong position to clinch that coveted third spot in the points table. They became the first team to defeat Mumbai Indians in the competition, and that by no means is an easy feat to achieve.
With three wins and three losses, they are in the third position and wouldn't want to lose this crucial encounter as a victory today will take them to the playoffs.