IND vs AUS, Live Blog: 2nd ODI - Tweets, Videos and More
---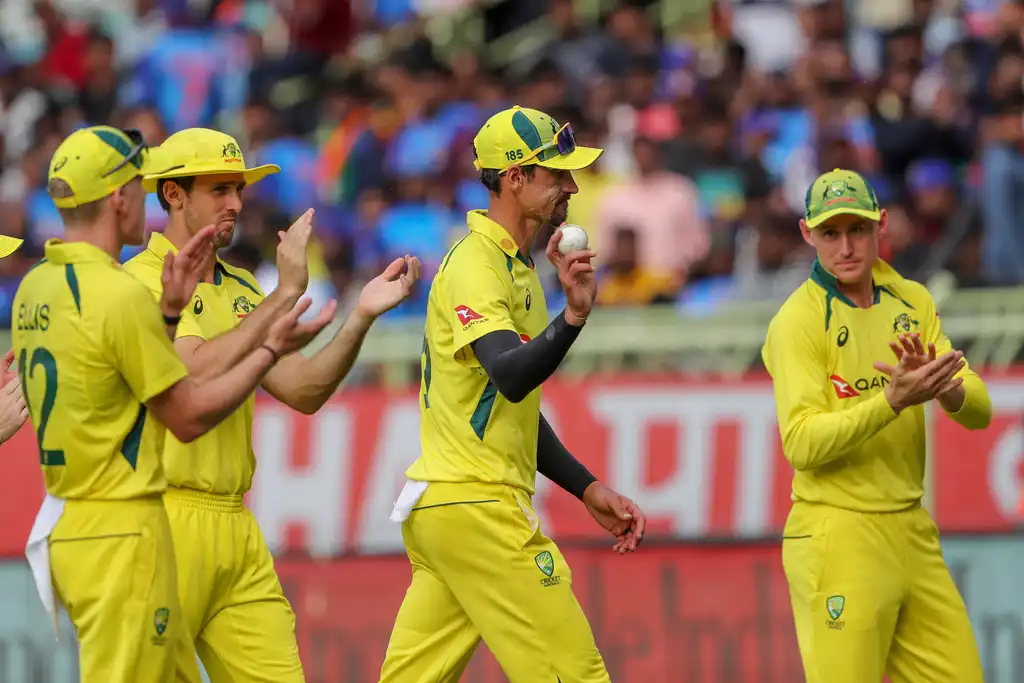 Starc's fifer leaves India clueless!
---
IND vs AUS 2nd ODI Live 🔴 | Australia win by 10 Wickets!
That's it from the live coverage of the second ODI, if you want to re-live the action you can scroll down and have a look at the major happenings, tweets, and memes of the match. This is Badal Pareek signing off alongside Shakir Jamil! Thanks for joining us, see you in the Third ODI!
Mitchell Starc is the Man of the Match for his Fifer!
Fun Fact: There was no respite for any of the Indian bowlers except for Jadeja, who didn't bowl.
Just for fun 😢:
Indian fans who went out for some work in the inning break:
This is India's fastest defeat in ODI cricket! They have been beaten in 11 overs here, their previous worst was 14.4 against New Zealand.
Meanwhile, the Aussies openers today:
Marsh sends it to the fence and Australia win this fixture by 10 wickets! A sheer humiliation for the home team as they first get bundled out for 118 and then the Aussies openers chase it down inside 11 overs.
Marsh on strike with Australia needing just 1 run!
Salt on the wounds as Shami drops the only chance India had so far...
Head smokes it into the evening sky, Shami gets underneath it but fails to keep hold of it here!
Australia are 112-0 after 10 overs!
Head smokes it for a boundary but unfortunately it will extend to the 11th over as 7 runs remain!
Winning inside the 10 now seems difficult with 11 needed in 2 balls!
Marsh takes it on and deposits it into the stands! 4 balls 12 runs need for Australia to win it in 10 overs!
Shakir: I have no doubts on the Aussies, it is possible to get it done inside 10. And, just a reminder Australia can still take 4.3 overs and it will still be India's biggest humiliation.
Badal: Can Australia get done within 10 overs? Just 18 needed off 6 balls. What's your take Mr.Shakir?
Australia's Hundred comes up in 8.5 overs! Just 18 runs to go!
Marsh brings up his fifty here! What a player! What a knock!
Hardik comes into the attack and gets smoked for three maximums.
So this could be India's quickest loss in ODI cricket in Australia chase it down within 14.4 overs, which looks likely!
Match Trivia: The quickest loss for India while defending was against New Zealand back in 2019 when they chased the target of 93 in 14.4 overs.
Meanwhile, have a look at Smith's stunner from the first inning:
Axar Patel into the attack in his 50th ODI
4️⃣4️⃣4️⃣4️⃣ Head toying with Indian ace pacers! Don't mess with the Aussies is the message!
50 up for Australia in no time! The Big Boys in Blue have been smashed to all parts and only 68 runs remain!
Short pitch delivery into Marsh and he stands tall to slap into the stands! Shami smashed off the back foot! He was smashed the India veteran for two fours & a six!
Some Fun Tweets? Who does not want some...!! ⏬

India's performance today be like...
Australia are 43-0 after 4.2 overs
Junior Marsh smashes it to fence here!
Marsh tonks it into the stands, first six of the Australian inning
Most ODI wickets after 109 matches in career:
Mitchell Starc (AUS): 219
Saqlain Mushtaq (PAK): 204
Brett Lee (AUS): 194
Alan Donald (SA): 185
Morne Morkel (SA) and Waqar Younis (PAK): 181
"Meanwhile, India's two lowest totals batting first at home have come under Rohit Sharma's captaincy. The lowest of 112 coming in his first match as ODI captain"
Is SKY really fit to play ODI cricket or should he just focus on T20s?
Meanwhile, Indian fans be like:
Marsh joins the party with a few boundaries here...
Travis Head taking the attack to Team India here!
Badal: 3 wickets look unlikely to me. The Australia batter will be positive which could result in a wicket or two but apart from that it should be a cakewalk because the pitch has been exposed to sun for a while now. And, it might not deviate as such.
Shakir: India have to make early in-roads. They need at least 3 wickets in the first 10 overs to create any kind of pressure on the strong Aussie batting line-up. @Badal any chances of this happening?
Second Innings Starts: Mitchell Marsh & Travis Head come out to the middle. Shami to take the new ball. 118 should be an easy chase for the Aussies but as they say, "Cricket is a game of great uncertainty".
---
End of first inning! Australia will have to chase 118 to win the second ODI and level the series 1-1!
Earlier in the day, Smudge won the toss and invited India to bat first. Starc was on fire as he smashed the Indian top order in no time. Kohli did manage to hang around for a while but the Australia bowling was too good on the day. And, once Kohli went back, the tail was wiped out in no time!
India have been bundled out for 117 runs! Starc takes a fifer!
Boooowwwwllleeddddd!! That was too fast and too furious from Starky. Bolds'em coming around the wicket and castling the off stump of Siraj!! 5-fer for Starc...
And the very next Starc bowls a beauty that Siraj could not keep out and gets bowled!!
AUS Review for LBW ➡️ No bat involved ➡️ Pitching outside off ➡️ Impact umpire's call ➡️ Wickets Missing (Review Lost)
Apppeaalll.....but the umpire Nitin Menon is not interested. Australia go upstairs..
Meanwhile, Indian fans when they check the scorecard after an hour:
Back to Back sixes from Axar's bat as he is looking to capitalise as much as he can...
Shakir: Axar will look to attack now with the last man in...
India at the half-way mark are 103/9 (25 overs)
Great ball, but the line was not that great as far a the hattrick ball goes, Siraj pokes but misses it. What an over. Indian innings is on the verge of getting over at the mid stage i.e. 25 overs
Last man Md. Siraj is in...Can he avoid the hattrick ball!?
And Md. Shami is the next man to go!! WIICKKKETT!! Shami edges the first ball to the keeper and Sean Anthony Abbott is on a hattrick!!
Md. Shami is the next man in....
India are 103/8 after 24.4 Overs
And as we speak, Abbott has bounced one to get Kuldeep's wicket!! India are 8 down now....Great captaincy from Smith to keep the square leg fielder in a catching position.
Shakir: The Indian innings has faltered because of wickets at regular intervals. Australian fast bowlers have bowled on good lengths and ensure there is no let up for the Indian batters. I have a funny take for this match. Are you guys ready? See this tweet 👇🏼
100 up for India!! Kuldeep-Axar take India past 100. Can they get us to 150!? Feels like..... ⏬
Ellis continues...
Meanwhile Twitter explodes after Rahul produces something that is way more familiar to him of late:
India after 20 overs are 93-7 [Axar - 9 (12), Kuldeep - 1(2)]
WIICCKKETTT!!! Jaddu is GONE!! Ellis pitches one on good length and Jadeja tries to guide it towards third man and edges it to Carey. India in deep deep waters. Now, onto the bowlers, can they save India from HUMILIATION!!
A slight mix-up between Axar & Jaddu but Axar returns safely
Adam Zampa is into the attack and we see the first sight of spin on this track...
After the end of 18 overs India are 86/6
Jadeja-Axar have to see past half an hour....treat this as a test match and play out the overs. If India reach 200-220, I believe they can make a match out of this!!
Starc returns into the attack here...
Axar fails to capitalise on the free hit...
Ellis over steps here and No Ball it is, the free hit shall follow
India are 71-6 after 15.2 overs!
Fuller length delivery pitched on the middle stump with a straight seam. Kohli gets on the front foot looking to turn it in the leg side but is beaten by pace. Gets trapped in front and walks away. Doesn't even think about the review.
TRAPPED IN FRONT, UP GOES THE FINGER!!
Virat Kohli departs! Nathan Ellis strikes early!
The change in bowling does wonders and Ellis strikes and the King is back in the hut!
Nathan Ellis into the attack here! Smith's decision to play an extra seamer looks like a great one given what they have done of late.
Badal: If it nips around the Indian top order is not upto the mark with what we have seen over the past few years.
Shakir: Once again the Indian batting on a pitch where there was slight movement have collapsed. ALL THE BEST to us for the WTC Final at the Oval facing the likes of Starc, Cummins, Hazelwood & Green!!
Sir Jadeja now have over 2,500 runs in ODI cricket!
Twitter is never biased:
INDIA are 64-5 after 12 overs!
Edge goes past the slip and runs down to third man, Jadeja survives!
KL Rahul after just one good knock:
Another appeal but the umpire is not interested and Smudge decides against taking a review here...
Meanwhile, the crowd went wild when the KING arrived!
Jadeja enters Vizag...India in desperate need of a partnership!!
Hardik Pandya was in the middle, my friend. He is gone courtesy of a BLINDER...an absolute BLINDER in the slips by Steve Smith!! Sean Abbott's good length delivery pitches and just leaves Hardik a bit. He edges it which was very far from Smudge, but he flies and takes a beauty!!
Hardik Pandya walks out to the middle...
India are 49-4 after 8.5 overs...
All three reds and KL Rahul takes the long walk back here...
Bat ➡️ Not Involved! Pitching ➡️ In Line | Impact ➡️ In Line | Wickets ➡️ Hitting
Length ball nips back in and rattles Rahul's pads here, a loud appeal and the umpire raises the finger. KL has opted for the review...
Shakir: Good Afternoon everyone, joining a bit late but gotta say we have had an entertaining 40 mins of play. Mitchell Starc has once again bamboozled the Indian Top order. India desperately in need of a KL special once again!!
India are 41-3 after 6.4 overs
Meanwhile, Cricket Australia have given clarity on why David Warner has missed the 2nd ODI:
Indian fans be LIKE:
Meanwhile, Indian fans are already worried about the WTC final at Oval as they watch Starc run through Indian top order...
A double wicket maiden by the Australian speedster Mitch Starc....
KL Rahul survives the hat-trick ball!
Starc on a hat-trick.....
India are 32-3 after 4.5 overs
KL Rahul walks out to the middle...
SKY departs, India are three down in no time and Starc in on a hattrick!
Back to back wickets for Starc
Another one goes down!
Rohit cannot resist as he pays the price. Scrambled seam on a length and angles it across outside the off. He should have left it alone but goes at it with hard hands as he drives away from the body.
Starc strikes for the second time
Skipper Rohit Sharma bites the dust here...
India are 32-1 after 4 overs
The duo of Starc and Green haven't managed to restrict the scoring rate despite picking up an early wicket.
The classic flick to the fence towardsmid-wicket for Virat K
Straight drive from the #GOAT King Kohli...
Another boundary for the Hitman!
Rohit Sharma flicks it towards deep mid-wicket for a boundary!
Out walks King Kohli...
Gill goes for a silver duck. Fuller-length delivery outside the off. Gill reaches for it and drives away from the body. The ball flies off the outside part of the bat and goes straight into the hands of Labuschagne standing at point.
Guess what Australia have the dream start! Starc strikes as Gill is sent back to the hut...
Starc has the new ball in his hand!
It is time for the match to get underway, Rohit & Gill are the openers
Meanwhile, have a look at the Master being the master:
5 minutes to go for the second ODI to get Underway!
Before we shift our focus on to match let's have look at a classic tweet:
India XI: S Gill, R Sharma, V Kohli, S Yadav, KL Rahul (wk), H Pandya, R Jadeja, A Patel, M Shami, M Siraj, K Yadav.
Australia XI: T Head, M Marsh, M Labuschagne, S Smith (c), C Green, A Carey (wk), M Stoinis, M Starc, N Ellis, S Abbott, A Zampa.
Australia have an extra pacer for this fixture while India have strengthen their batting with an spin all-rounder coming in...
Two changes for both the teams, Ellis & Alex Carey in for Australia while Axar Patel & Rohit Sharma in for India...
Australia have won the toss and decided to bowl first...
Rohit Sharma and Steve Smith out in the middle...
Badal: With rain around and the pitch being under cover for majority of the last 24 hours, expect the winning captain to bowl first.
We are just a few minutes away from the toss..
Stay tuned for the toss updates...
Good news for Team India fans as the Vizag Weatherman has given a green signal to this fixture. He has given his insight as well as the update in the tweets below:
Hello and a warm welcome to the live coverage of this fixture between India and Australia. India found it difficult in the last fixture but it was Sir Jadeja's heroics that helped the men in Blue get the win.
While, Australia ended up on the wrong side of the result. They did make a match out of it and will hope that in the 2nd ODI they can get one better on the hosts.
It is time for the 2nd ODI between India and Australia. Are you ready to see two cricketing giants go up against each other with the series on the line?
India - The 16th edition of the Indian Premier League and here I am, ready to unfold all the action for you...