Ishant Sharma - Thriving and Winning at 34!
---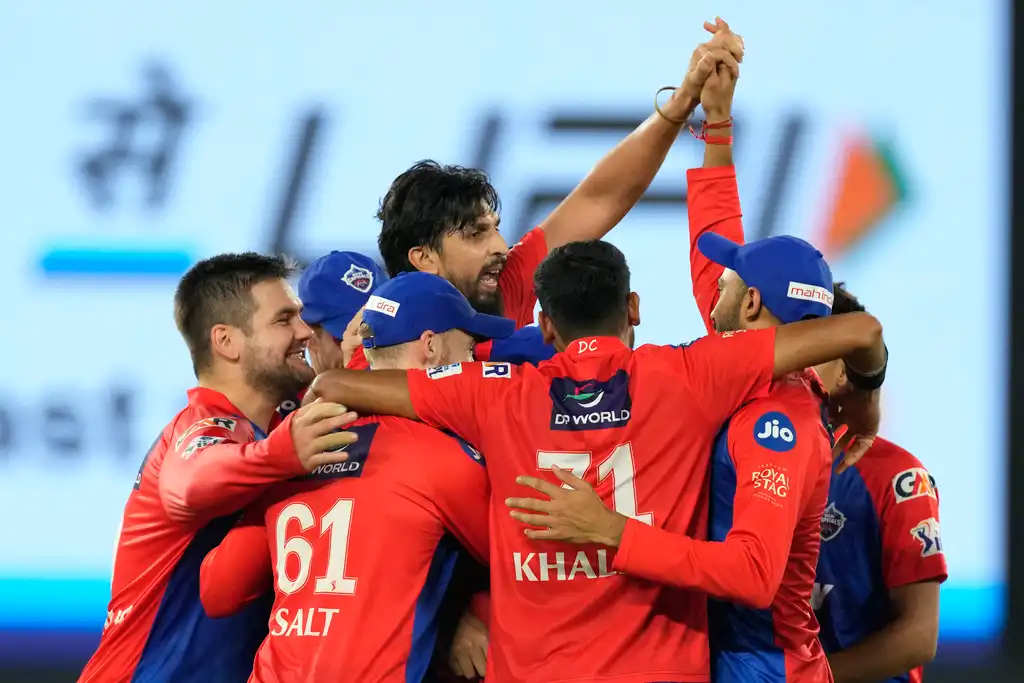 Ishant bowled one of the most daring overs vs GT on Tuesday (AP Photo)
You are an ordinary pacer when your team calls you in for a spell in the initial overs of a T20 and then replaces you, upon finding that there are others who possess more movement and bite, and can curb the scoring rate.
But you are Ishant Sharma, when aged 34, you successfully execute a heist in the world's most premier T20 league competition known as the IPL with little going your side's way.
On Tuesday night the pitch was slow but Ishant Sharma was replete with his variations. Moreover, the runs weren't coming in aplenty or as freely as one would've liked but Ishant Sharma had a plan in mind.
The focus was on how to control the well-set Hardik Pandya and the gutsy crusher of the white ball Rahul Tewatia.
Even as Hardik was treading rather cautiously, Tewatia, perhaps seeing a watermelon in shape of a cricket ball, was relentless; he just could not be kept quiet.
Ishant Sharma, meanwhile, had the final say in deciding the fortunes of a rather topsy-turvy contest.
It ought to be said, that it was, unarguably speaking, pure faith in the experience of a veteran medium pacer that saw Warner hand the final over to Ishant Sharma, tall as his skill set.
That's precisely when the panic-stricken scenes from Ahmedabad's Narendra Modi stadium turned into nerve-wracking ones.
Which other bowler, perhaps not Umran or Nattu, maybe Harshal to an extent or Bhuvneshwar, would have executed two dot balls whilst bowling full and wider around off?
There aren't too many names that ring in the mind barring Ishant Sharma.
With the take to defend twelve of the final over, was it even possible for someone to scrape through unscathed?
Little doubts, as it turned out, when Ishant Sharma was delivering magic with the ball.
Rahul Tewatia, who was now maybe expecting a fuller length, actually got a full toss, such a boon, which could not be hurled away and converted into something troublesome for Delhi.
The bottom-dwellers had prevailed, the table toppers had been toppled.
Saurav Ganguly, Ricky Ponting and Shane Watson, the big think tank that prior to the start of the over were rendered smile-less, were back to their jovial best.
David Warner was full of joy, as if his sluggish batting as witnessed insofar had met with a reliable solution.
Ishant Sharma was the man about town. A Delhi lad was ruling Gujarat.
Though, truth be told, the real magic of his spell arrived during the fifth over of the Gujarat Titans' run chase.
There are many who bowl a knuckle ball, yet, not many who do so with the surgical precision as shown by the lanky speedster.
Delivering a pitch perfect knuckle ball at a rather ordinary pace of 118 to 119 k/hr, Ishant Sharma completely deceived Vijay Shankar with a one that jabbed back and smashed the stumps.
Probably, not many have noted it back then that this was a sign of things to come. The built up to a phase where Sharma would, quite simply, put a tap on the runs.
Yet, in a game of strangely changing fortunes and in a format where the bat inadvertently emerges on top of the ball, this was a bowler who'd sign his authority on a contest and later own it in his and his team's favour.
As on date, Ishant Sharma has made an impact in nearly every single outing of his for Delhi. Having collected six wickets from just four games- and the contest versus Gujarat was his fourth this season- he has clearly emerged among the lone bright spots for a team that looks helpless and even desolate.
To many, it may seem that Ishant Sharma is hitting all the right notes when little is going his team's way.
But then, with a few games still left in the bank with the hope that Warner and company can correct the wrongs, they might just be able to make it to the right track.