Vijay Shankar Rediscovering Himself in IPL 2023 as One of the Finest Things
---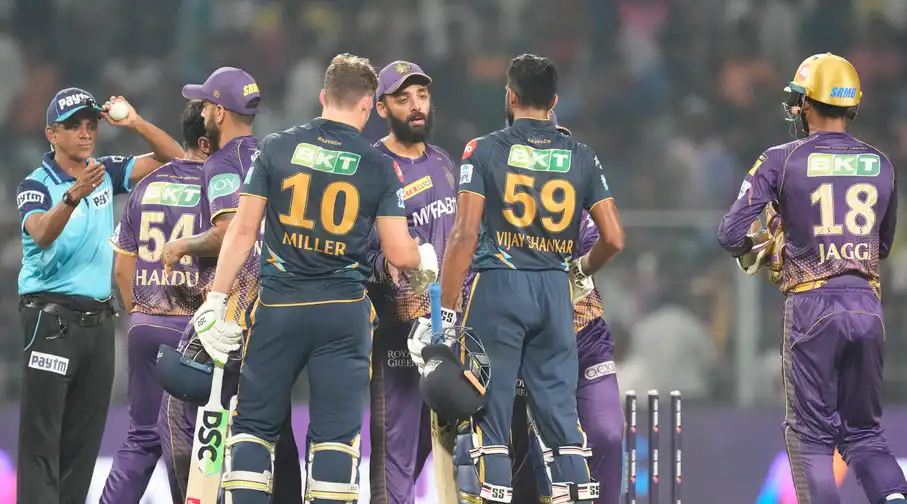 Shankar & Miller pulled a heist for GT vs KKR (AP Photo)
An unbeaten 87-run partnership that came only off 39 deliveries. A winning cause in the end with David Miller standing unbeaten at one end.
And yet, not the fiery South African but an often underappreciated and skilful Indian at the other end who gets to steal the show.
Life's good when you're Vijay Shankar but then life's not always that way, is it?
It takes something special and something that can't be foreseen or foretold to etch something like what Vijay Shanker did a few minutes back and with much gusto.
And make no mistake, he did that to the very team that had taken the Mickey out of his Gujarat Titans side.
More importantly, he did that in the beating heart of the Kolkata Knight Riders: the Eden Gardens.
The mild mannered right hander scored 51 of those 87 runs in that formidable middle over partnership that saw the Titans truly play like one.
Though, the key attention grabbing and headlining feat in there being outperforming someone like the Protea talent.
David Miller's not called Killer Miller for nothing.
But it was just a day where Vijay Shanker decided to take matters in his own hands, providing an exhilarating batting performance that would move both- a critic as well a fan of the IPL.
Though, most importantly, what Vijay Shankar did- and rather brilliantly so- made the ongoing edition of the IPL open its arms to those who tend not to be the usual headline makers.
The other evening, it was Ayush Badoni and Marcus Stoinis. A few weeks back, it was Harry Brook and before, Rinku Singh.
We've seen how RCB's Lomror has taken upon himself on a few occasions, forming stands with both Faf and Kohli.
But Vijay Shankar's extraordinary counter attacking assault over Kolkata ended the night rather bitterly for the Knight Riders, the most valuable achievement of a boundary and six plagued knock being that the Gujarat Titans' middle order man notched up just a fifth IPL fifty.
However, one cannot truly fathom the overall impact or ascertain the true significance of this inning without considering just where Vijay Shanker was at prior to the KKR contest.
Before, entering his 57th IPL contest, the right hander essayed a strike rate of 125.
Would you call it winsome or one that belonged to a batters who absolutely harangued bowlers out there?
Was it even a very IPL-esque strike rate?
Yet, at the back of his batting brilliance that saw him play no more than twenty four deliveries, Vijay Shankar raised his strike rate to over 129.
With a bit more effort and hopefully it can come in the forthcoming games, he'd be considered a serious hitter albeit with the add on of a couple of more daunting or winning scores such as this one.
That being said, from an individual point of view, Vijay Shankar now seems to have accelerated the rediscovering mode, where he is perhaps keen to find the lost touch last evident in the Indian Premier League a couple or three seasons ago, a time where Shankar wasn't in his thirties.
Now, that he is, it's a refreshing sight to see him express himself often factoring in the risks that come with playing some sort of strokes that he does end up playing.
For instance, when he was out caught by Tim David off Piyush Chawla in the outfield in the last game scoring just 19, he didn't fully connect the ball even as the intent was there.
But with knocks like the unbeaten 63, also against KKR, Shankar is finally expanding his craft; perceptibly there's still more to him than he has fully exploited.
He can be a utility cricketer with a bit more dash of power and intent, the latter reflecting well where it comes to a few recent knocks.
But today, he didn't keep quiet or kept things stocked within.
He attacked Andre Russell. He hit sixes and fours as if one had ordained him to exercise free will.
Many would disagree that the freebie offered by Nitish Rana wasn't that difficult but the quickness with which he bent down on Rana lifting one delivered a touch wide towards the deep square leg boundary was true blue intent.
Moreover, and Gujarat Titans would accept this will glee, Vijay Shanker is finding his rhythm- for that's what it seems - at a time where guys like Shubman Gill and David Miller are peaking much like the tournament.
In a series renowned for bludgeoning blows, what could be any better than having another batsman soaring in form?
Keep going, Vijay for you can be a great victor.