Double World Cup Defeats To South Africa And Only The English Rugby Team Emerge With Honour
---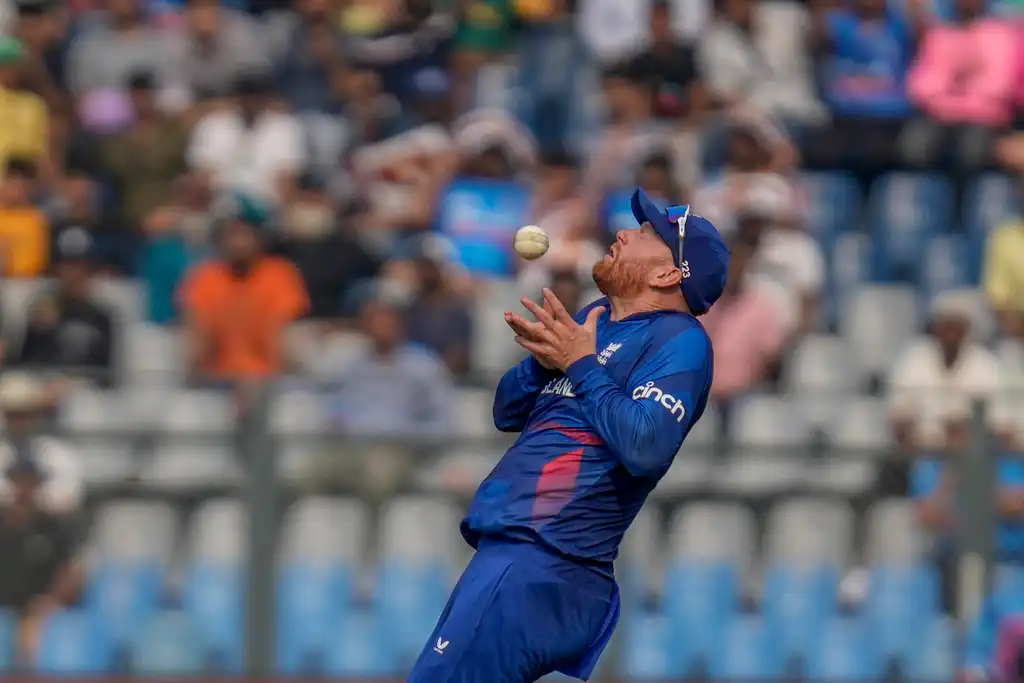 Fielding has not been too impressive for England in the World Cup 2023 (AP Photos)
If you are an English sports fan waking up on Sunday morning, then I'm sorry to tell you that yes, the double World Cup defeats to South Africa really did happen. In one, a strong, disciplined England team played to a game plan, battled, and scrapped only to fall to defeat with honour at the very last gasp.
On the other hand, England fell to a wretched cricket World Cup defeat, humbled by superior opponents. The difference in the nature of the rugby and cricket defeats was truly alarming. One was uplifting, the other demoralizing. This cricketing England really does give the impression of a side neither at one with itself nor in step with the supercharged pace of white ball cricket's longer format, certainly not when it is played in India.
Many of the heroes that reached their peak as Eion Morgan's sleek, supercharged World Cup winners, fearless in the belief that any total could be chased, seem four years on at the end of their one-day cricket road and adrift.
Of course, any side can suffer a reverse. The very nature of competitive sports is that there are winners and losers. Sometimes the best beats the best. Sometimes the minnows bring down the bigger fish, as yesterday's victorious proteas know all too well.
However, whereas defeat to the Netherlands stiffened South African resolve, one is left to question whether England's reverse to Afghanistan was even a shock at all.
Currently, after four games, only 0.002 in run rate separates England from the very bottom of the table, already beaten by Afghanistan, the one side that sits below them. None of their three defeats have been in any way defendable as close or unlucky.
To understand just why England have failed to fire in cricket's major global showpiece, we can look at different factors, only the first of which is really down to the players that have actually taken the field.
Albert Einstein famously opined that the definition of insanity is doing the same thing over and over again but expecting different results. When England won their second match against Bangladesh in the somewhat cooler conditions of Dharamsala, Shakib handed them the opportunity to bat first, which they duly took, blasting their way to 300 for the loss of just four wickets, and then letting their bowlers enjoy the cooler conditions to work through some lightweight batting.
With that learning, it was a surprise that England fell back on their "bowl first and chase anything" mantra against Afghanistan. That the lesson there wasn't learned in Mumbai is unforgivable, whatever stats Mathew Mott may have retrospectively quoted in his captain's defense. In oppressive conditions, the bowlers flagged, and the resignation with which they seemed to accept their fate as the rampant South Africans bludgeoned both the second-highest ODI score at Mumbai and the highest ever against England was a painful watch for any England cricket fan.
That flawed decision-making has also been reflected during games with poor shot selection, but more particularly with bowlers who have struggled to master the conditions and their opponents. None reflect that more than Mark Wood, whose three wickets have come at a cost of 70 runs and at nearly seven runs per over. Take out Bangladesh and the marginally more English conditions of Dharamsala, and that becomes just 2 wickets at 181 runs, an average of over 90, and an economy rate of approaching 9. Barely acceptable in T20s but certainly not in fifty-over cricket.
The loss of Reece Topley, the one quick bowler who has best-mastered conditions, will be keenly felt indeed. While he too took a battering yesterday, much of the damage was sustained after sustaining his broken finger, and even then, he was able to take a wicket. England, remember, had removed the expensive Woakes and Curran from the firing line, but in order to fit in the returning Stokes, had also sacrificed the all-purpose utility of Liam Livingstone, who had just bowled 10 effective and frugal overs in Delhi.
Selection has been questionable at times given that raw pace and English right-arm quickish medium are too often cannon fodder in this part of the world, and their selection uncertainty has been compounded by the desperation to get a fit again Stokes back at the expense of team balance.
The third factor inhibiting England is more fundamental than anything that the players currently in India can address. Based on the realities of fixture congestion and franchise cricket expansion, they have simply deprioritized the One Day format. While their top international talent is playing in the Hundred, a shortened format that no one else in the world plays at all, the domestic One Day competition, despite its rich history, is relegated to little more than a development competition.
Bowling just 20 balls in a match in England does not prepare the likes of Chris Woakes or Sam Curran to bowl 60 deliveries in energy-sapping conditions against the world's best. England have further compounded that with their World Cup preparation, playing an extended and admittedly competitive home series against New Zealand. But where the Kiwis went on to hone their skills in the testing conditions of Bangladesh, England stayed at home to play non-qualifiers Ireland in two rain-affected September games and even those with a shadow squad. They had gambled that two warm-up matches in India, one against the hosts, would be enough, but the tail end of the monsoon season put paid to the more challenging of those.
It is no coincidence that England's ODI win ratio since 2022 is just 50%, with four of their wins coming against the Netherlands and Ireland.
Finally, England may point out that the hot and, more damagingly, humid conditions do not work in their favour, not to mention a travel itinerary that varies those conditions as teams travel the length and breadth of India. They may have a point, but it is the same for all sides, and going into today's table-topping clash, it is New Zealand, whose home conditions most closely resemble England's, who sit unbeaten on top of the table.
Injury too has not helped; the loss of Topley is potentially the most damaging blow. But the reality is that all teams face both tough conditions and injuries in a long tournament.
None of the above should detract from just how splendid South Africa was yesterday. Klassen, Hendricks, Jansen, and van der Dussen dismantled England, who appeared exhausted and beaten before even beginning a reply where only Mark Wood showed any genuine resolve and defiance against disciplined and penetrative bowling.
Of course, stung by the position they find themselves in, England may yet turn things around. Fans will hope they do, but they can afford no more slip-ups, and should it happen, one has the feeling that it will be despite and not because of their approach to the fifty-over format.