Trott's Talented Team Deliver Joy For Afghanistan As England Crumble
---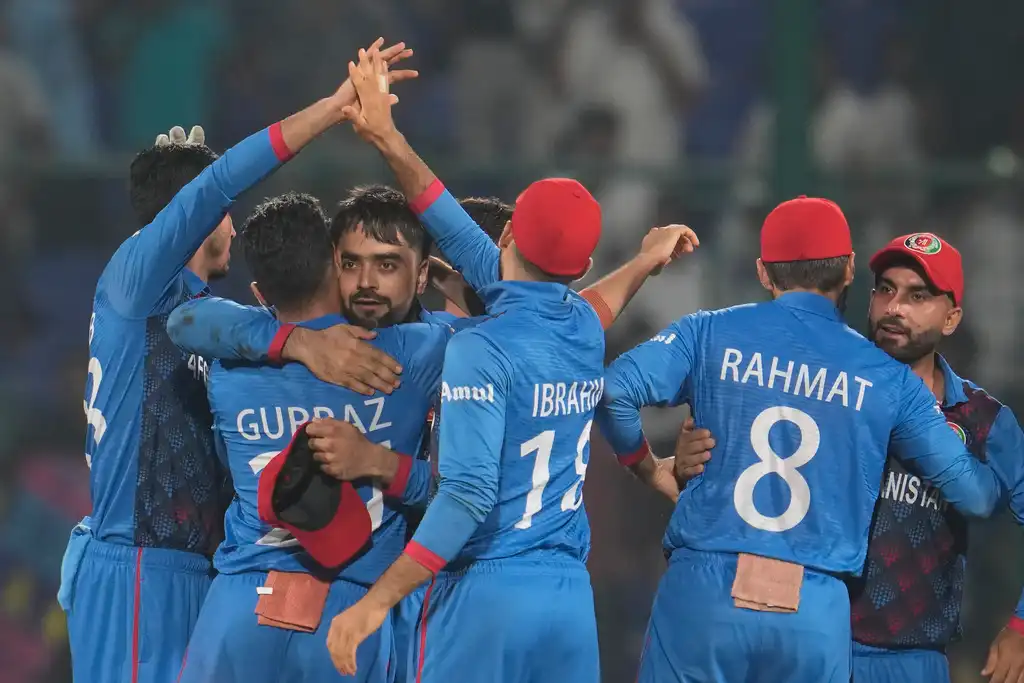 Afghanistan won the match by 69 runs [AP Photo]

As night follows day, this World Cup was sure to serve up a surprise or two as World Cups often do. England and indeed Afghanistan coach Jonathan Trott will remember only too well the traumas of Bengaluru and the seismic defeat to Ireland in 2011. Trott made a run a ball 92 that day and all seemed set fair for a comfortable England win until Kevin O'Brien's wrecking ball crashed through England's defences.
How the contest panned out
As Engand and Afghanistan came head-to-head on a good Delhi track, it seemed as though batters, rather than bowlers would hold sway. Without doubt Afghanistan are a talented side, but they do not possess the power of the South Africa side that had belted 428 against Sri Lanka in Delhi last week.
Where South Africa have six top order hitters with ODI strike rates over 90, four of whom top 100 in that department, Afghanistan has none and only Rashid Khan who falls into that category. This may have coloured Jos Buttler's judgement in forgoing the opportunity to make hay on the seemingly run friendly Delhi surface and apply scoreboard pressure in the process.
The decision certainly required England to bowl and field well in the powerplay and with the exception of Reece Topley, they conspicuously failed to do so, allowing Gubaz and Ibrahim Zadran to motor Afghanistan to a very healthy 79 without loss. As Buttler later admitted, the tone was set for both England and Chris Woakes from the very first ball fired down leg, missed by Buttler and gifting 5 runs.
Gurbaz attacked the English bowlers [AP Photo]

Gurbaz particularly made a mockery of previous strike rate statistics. Both he and Zadran made their runs with classic cricket stokes through the covers and occasionally with power hitting. England will be alarmed at the ease with which they were allowed to do so. Chis Woakes bled runs at ten an over, never looking able to restrain the rampant openers and was withdrawn from the firing line after his fourth over.
With South Africa and their powerhouse batting up next for England it will be a brave decision to retain him, or indeed Sam Curran's whose first two overs included a no ball and free hit blasted for 6 and went for twenty-six. He too was allowed just two more costly overs before Buttler had to limit damage. David Willey could well be thrown into that fray at the expense of Woakes or Curran in Mumbai.
Reece Topley by contrast slipped into his Dharamsala groove, whilst Wood always had the pace to trouble Afghanistan. Topley's tumble that wrenched his knee was an additional worry and although he later returned to complete the best part of nine overs and take 1 for 52 England will hope that there is no long-term impact on their star left armer.
For England, the belated arrival of spin in final power play over stemmed the flow and made inroads into Afghanistan. Together, Rashid, Livingstone and Joe Root removed five wickets. Livingstone's 1 for 33, bowling his full ten over allocation for the first time, may not have had the same yield as Rashid, but had both accuracy and variety. The wicket of Azmatullah Omarzai was just reward.
For Afghanistan, the departure of Zadran in in the 17th over, quickly followed by Rahmat Shah and the unfortunate run out of Gurbaz by his captain Hashmat seemed to have turned the tide back England's way, but the arrival of Rashid Khan to the crease gave Afghanistan a second wind and a late surge was powered together with Ikram Alikhil and the unlikely, but excellent Mujeeb.
England were off the pace and on occasion downright sloppy with the ball and in the field, but a target of 285 was one they will have reckoned to be well within their range. That would have been reckoning without Mujeeb, Rashid Khan and Mohammad Nabi however, each of whom are familiar with England's strengths and weaknesses as they play with an against each other in franchise cricket around the world.
Where England lost the match?
Where Woakes and Curran had been wicketless in eight overs and conceded 87 runs, the Afghan spin trio together conjured up eight England wickets for 104. Swing had never looked a potent weapon for England and constantly proves to have only the shortest-term value in this part of the world. The strength of the Afghan trio was not just the turn and variety they conjured, but the ability to shoot and slide balls through at a pace to constantly trouble English batters.
Rashid was the star with the ball [AP Photo]

Only Dawid Malan, a defiant Adil Rashid and an excellent Harry Brook were able to pass 20. With Ben Stokes looking certain to return in Mumbai, England have a genuine dilemma as to how to accommodate him and it would be harsh indeed should Brook be sidelined.
Jonny Bairstow will consider himself unfortunate to have been LBW on review to a ball that was lightly kissing leg stump at best. Malan was smartly deceived into mis timing Nabi and from there, with the exception of Brook's 66, the procession continued. It was, however, captain Jos Buttler's dismissal to Naveen that most epitomised England's sorry showing, his bat and pad barely in the same post code, when bowled through the gate looking to drive Naveen.
The final analysis
In the final analysis, it would be deeply unjust to put this down as just a giant killing facilitated by the giant having an off day. This talented Afghanistan side were superb and were the better side in all departments. Let's not forget the terrible events occurring in their homeland, or, indeed, that they are a nomadic side unable to play in that land. The passion, pride and skill with which they swatted aside the World Champions will be celebrated.
Jonathan Trott had spoken of the desire to bring some happiness and joy to the Afghanistan people. It will be achieving that, far more than laying the personal ghost of Bengaluru that will have delighted him. England, surely with Ben Stokes, need to show a dramatic turn around against a South Africa side likely to be still unbeaten barring an upset against the Netherlands, far more unlikely than this one suffered by England. Failure to do so will leave their title defence in tatters.