Pakistan Could've Won T20 WC 2022: Shaheen Shah Afridi
---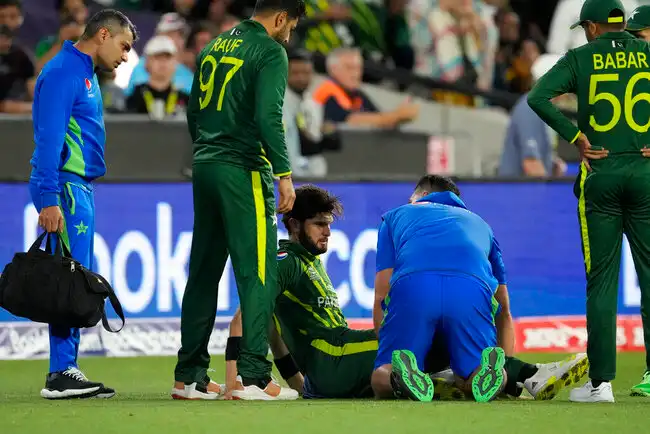 Shaheeh Shah Afridi injured his knee while fielding in the ICC T20 WC 20223 Final [Source: Twitter]
One of the leading fast bowlers in the world, Pakistan's Shaheen Shah Afridi had a turbulent 12 months or so, due to injuries. Afridi, who spearheads Pakistan's attack in all three formats, featured in just 16 matches last year, which includes the ICC T20 World Cup 2022 Final against England.
Afridi's tryst with knee troubles began on Pakistan's Sri Lanka tour, which had him take a lengthy layoff. However, Afridi's knee injury came to haunt him in the T20 WC Final, where the bowler after a fielding effort drove his knee onto the ground and had to be limped off the field.
Speaking to ESPNcricinfo, the left-armer has mentioned that if not for his unfortunate injury in the 15th over, which forced him off the playing field, Pakistan could have won the encounter and the title, with England still needing 41 off 30.
Here's what Afridi said
"Obviously, it's every player's dream to win a World Cup for his country and I still remember 2021, how that ended. And in that tournament [2022], if I didn't get injured at such a crucial moment, maybe we could've won. Maybe if I had stayed fit and bowled. Injuries can happen at any time."
The 23-year-old asserted that his knee is "back to 100 percent now", and that taking wickets is of prime importance for him, even at the expense of speed.
"Everyone has a view about it [the pace], but I've been feeling good. You look at yourself, even if you are bowling 110kmph and taking wickets, you're feeling good. I took wickets. I gave 100 percent in the field, that matters more. Speed doesn't matter as much but if there has been a dip, it will improve with time.
Since the T20 WC, Afridi has played in the Pakistan Super League (PSL) guiding Lahore Qalandars to their second-consecutive trophy and white-ball series against New Zealand, claiming 19, eight ODI, and T20I wickets, respectively.