World Cup 2023, Final | Player Analysis - Travis Head's Adaptation Helps Aussies Win World Cup Final
---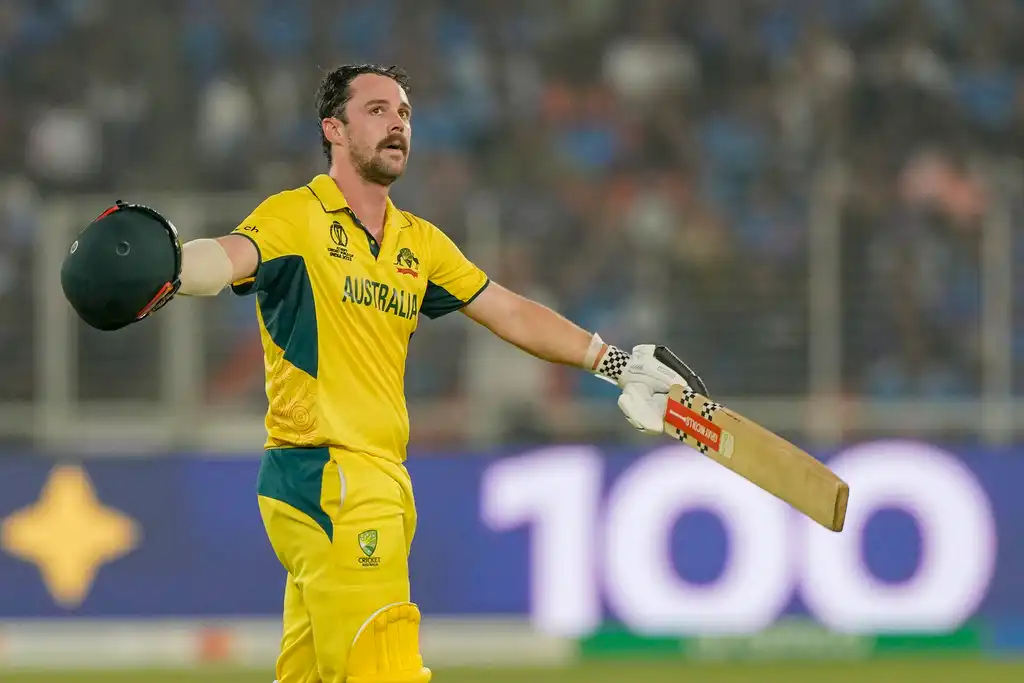 Travis Head scored a brilliant hundred against India in the final of the World Cup 2023 (Source: AP Photos)
In the high-stakes 2023 ICC Cricket World Cup final against India, Travis Head, showcased his ability with a magnificent innings, securing his fifth ODI century. Facing a challenging situation with Australia at 47/3, Head's century emerged as a game-changing performance that ultimately propelled Australia to their sixth 50-overs World Cup title.
Head's century was a masterclass in controlled aggression, reaching the milestone in just 95 balls. His innings featured an impressive array of shots, including 15 boundaries and 4 sixes, as he took on the Indian bowlers all around the ground. Importantly, Head's contribution came at a crucial juncture, helping Australia recover from a precarious position.
For More Such Reads, Click Here.
This century marked the seventh occasion in the history of ODI World Cup finals where a batter achieved this feat, adding a significant chapter to the tournament's storied history. The partnership between Head and Marnus Labuschagne, totaling 192 runs, also became the second-highest partnership in men's ODI World Cup finals.
Travis Head's remarkable innings not only played a decisive role in Australia's triumph but also earned him a place in the elite group of players who have excelled on the grandest stage of ODI cricket. His ability to thrive under pressure and deliver when it mattered most solidified his status as a crucial asset in Australia's World Cup victory.
The Headliner: Breaking Down Travis Head's Innings Spectacle
Travis Head's innings in the ICC Cricket World Cup final against India showcased not only his attacking flair but also a strategic and cautious approach when needed. Facing the early challenges presented by Jasprit Bumrah and Mohammed Shami, he played carefully, recognizing the importance of preserving his wicket during the initial stages when wickets were falling.
Head's attacking approach against different types of bowlers further highlighted his adaptability and ability to take on varied bowling styles. Against the right-arm fast bowlers, he demonstrated aggression by scoring 44 runs off 39 balls with an impressive strike rate of 112.8, featuring nine boundaries. When faced with right-arm medium pace, he continued his attacking approach, accumulating 30 runs off 22 balls, including three fours and a six, while maintaining a low dot ball percentage of 31.8.
Taking on the spinners, Head proved his versatility. Against Kuldeep Yadav, he scored 37 runs off 33 balls, showcasing two fours and two sixes with a strike rate of 112. Facing Ravindra Jadeja, he contributed 26 runs off 26 balls, featuring a four and a six. Head's ability to score against both pace and spin demonstrated his well-rounded batting skills, making a significant impact in the context of the World Cup final and contributing to Australia's historic triumph.
Conclusion
In conclusion, Travis Head's innings in the ICC Cricket World Cup final epitomized his maturity, resilience, and ability to deliver under pressure. Faced with a challenging situation where wickets were falling, Head showcased a blend of caution and aggression, steering Australia out of trouble and scoring a valuable 137 runs.
His century, a testament to his composure and adaptability, proved to be a match-winning contribution on the grand stage of the finals. Head's valuable knock not only secured Australia's sixth World Cup title but also solidified his reputation as a batter capable of thriving in high-pressure situations, marking this innings as one of the most significant in his cricketing career.