World Cup 2023, Final | Road to Final - Australia
---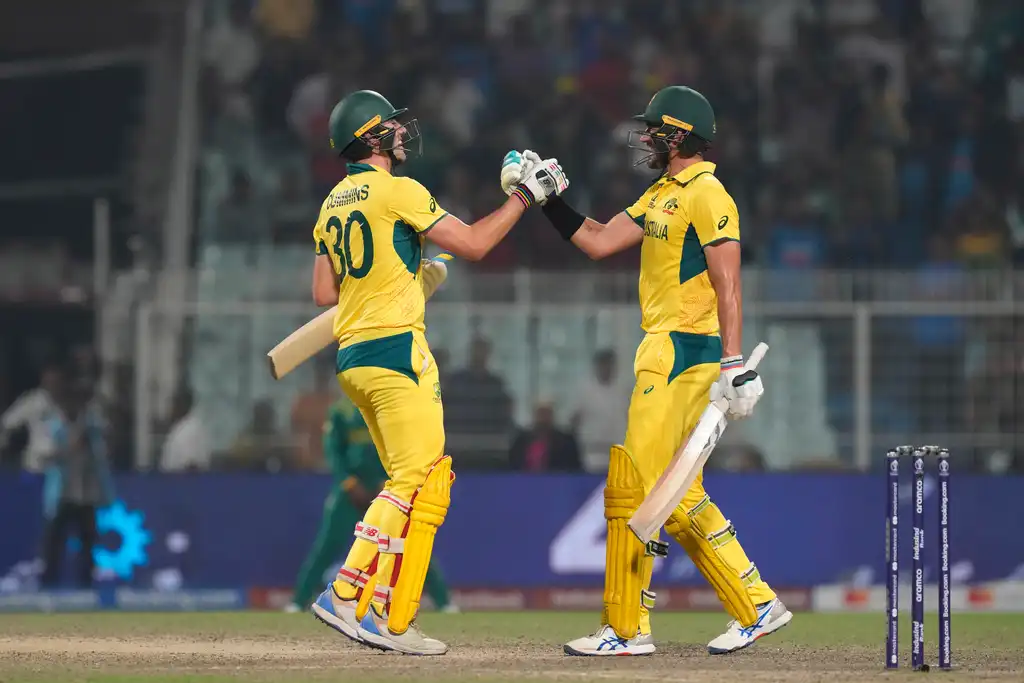 Australia will be playing against India in the World Cup 2023 Final (Source: AP Photos)
Australia's path to the 2023 ICC Cricket World Cup final is a narrative of resilience and comeback. The former champions faced adversity with two initial losses but rebounded spectacularly, winning eight consecutive games, including a hard-fought three-wicket victory in the semi-final against South Africa. This turnaround showcases their ability to overcome challenges and peak at the right time, transforming a shaky start into a formidable campaign.
For More Such Reads, Click Here.
David Warner has been a standout performer for Australia, amassing 528 runs in 10 games, providing stability to the batting order. The inclusion of Travis Head has further strengthened their lineup, complemented by impactful contributions from Mitchell Marsh and Glenn Maxwell. In the bowling department, Adam Zampa has been a force to be reckoned with, claiming an impressive tally of 22 wickets, while Josh Hazlewood has also made significant contributions with 14 wickets.
The 2023 ICC Cricket World Cup final between Australia and India, set to unfold at the Narendra Modi Stadium in Ahmedabad on Sunday, November 19, 2023, promises to be a clash of cricketing titans, with Australia's resurgence adding an extra layer of intrigue to this highly anticipated encounter.
Batting Brilliance: Australia's Top Order Takes Centre Stage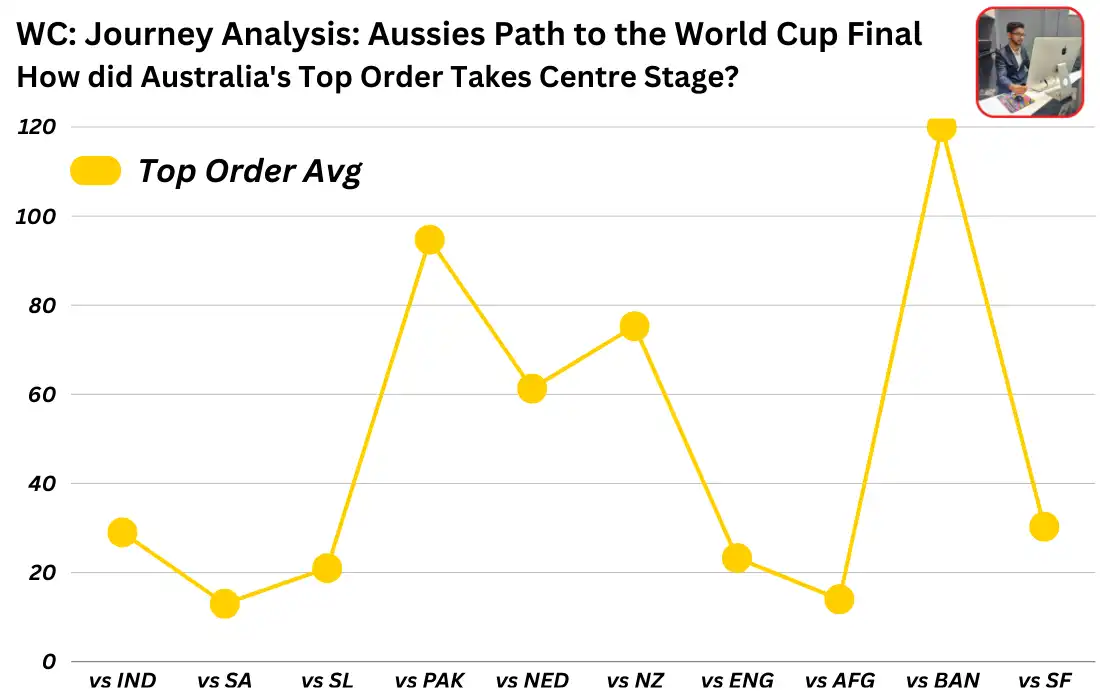 Analysing Aussies Top Order Average Trend
Australia's dominance in the 2023 ICC Cricket World Cup has been significantly fuelled by the powerhouse trio in their top order—David Warner, Travis Head, and Mitchell Marsh. This dynamic trio has exemplified an aggressive brand of cricket, consistently aiming for boundaries and propelling Australia's run-scoring rate.
The statistics underscore the top order's pivotal role, boasting an impressive average of 45.7 across 10 matches. Their collective strike rate of 107.2 reflects their ability to score at a rapid pace, adding substantial impetus to Australia's innings. Notable performances include a phenomenal display against Pakistan, where the top order amassed 284 runs with an average of 94. Against Bangladesh, they scored 240 runs with an exceptional average of 120, and facing New Zealand, they posted 226 runs with an average of 75.3.
What sets Australia's top order apart is not just their prolific run-scoring but also their high strike rate, a factor that distinguishes them from other teams. As they gear up to face India in the final, their ability to start brilliantly will be crucial, especially against the formidable Indian bowling attack. The trio's attacking mindset and consistency will play a pivotal role in determining Australia's fortunes in the much-anticipated clash for the World Cup title.
Conclusion
In conclusion, Australia has emerged as a formidable force in the 2023 ICC Cricket World Cup, showcasing their prowess and resilience. With a storied history of success in World Cups, they enter the finals with the aim of securing their historic 6th ODI title. The team's top-order strength, led by David Warner, Travis Head, and Mitchell Marsh, has been a key factor in their impressive campaign.
Facing India in the finals, Australia recognizes the need to bring their A-game, given India's consistent performances in both batting and bowling. Australia's wealth of experience in playing finals adds an extra layer of challenge for India, making this clash a compelling battle between two cricketing powerhouses. As they eye for the World Cup title, Australia's ability to deliver their best cricket will be crucial in their quest for triumph against a formidable Indian team. Fans can expect a thrilling contest between both the cricket giants.