Umar Akmal Claims He Rejected Big Bash and BPL Contracts
---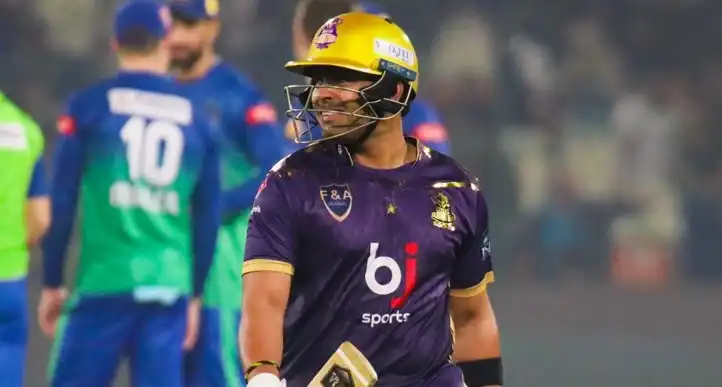 Umar Akmal in PSL 2023 (PCB)
Umar Akmal has claimed that he has rejected Australia-based Big Bash League contract in order to play domestic cricket in Pakistan. The 32-year-old also added that he refused a lucrative contract from the Bangladesh Premier League, before claiming he has not received any support from the Pakistan Cricket Board (PCB).
Akmal makes sensational claims in latest interview
In mid-2021, Umar Akmal was handed a one-year ban by the PCB for failing to report the corruption approaches made towards him. The cricketer has not been considered for any international assignment since then, with his last appearance for the Pakistan side coming back in October 2019.
The wicketkeeper-batter continues to compete across domestic tournaments in Pakistan, and he even turned up for the Quetta Gladiators in the recently-concluded PSL 2023 season.
In a recent appearance on the Nadir Ali podcast, Akmal made sensational claims that he has rejected lucrative contracts from foreign leagues like Big Bash and BPL. He stated that he did so in order to make a return to Pakistan's international setup.
Akmal further claimed that he chose to focus on Pakistan's domestic tournaments, because he was asked to set an example for the youngsters. The dynamic batter added that despite making the sacrifices, he continues to wonder why he has not received any backing from his country's cricket board in return.
Notably, Umar Akmal has represented several franchises in West Indies-based CPL. Once a batting prodigy in Pakistan, the right-hander's career has now been confined within the domestic levels of competitive cricket.
From his international debut in 2009 till his ban from the Pakistan team, he played 16 Tests, 121 ODIs and 84 T20Is for his country. He minted close to 6,000 runs across all formats, with four international centuries to his name.