Legendary Indian Batter Hails Hardik Pandya, Takes a Cheeky Dig At MS Dhoni
---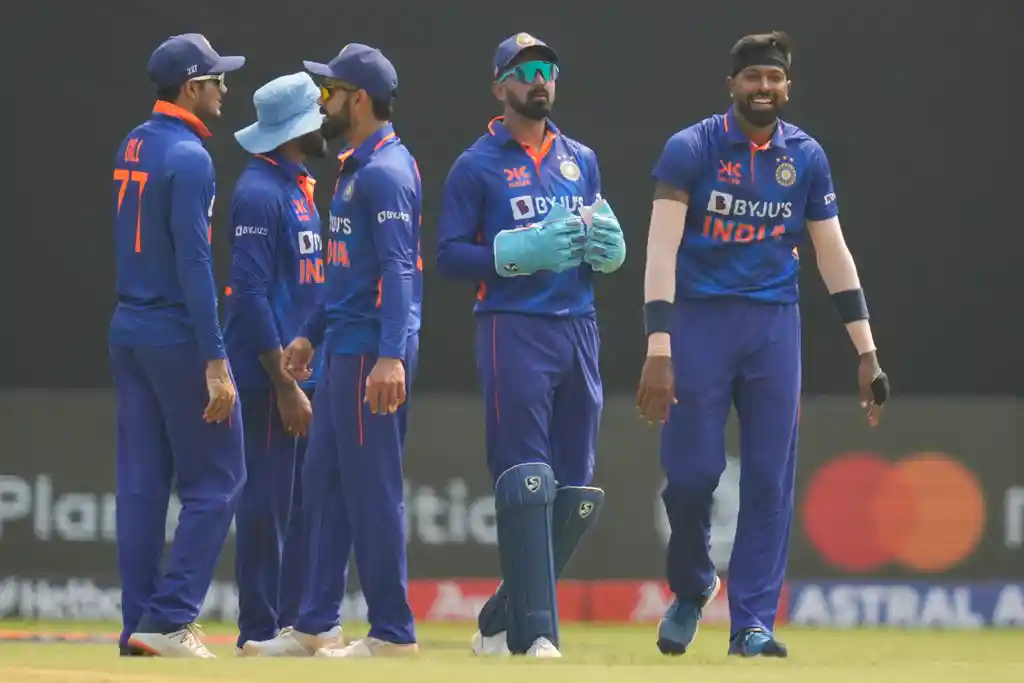 Hardik Pandya led India brilliantly in Mumbai ODI [Source: AP]
After retaining the Border-Gavaskar Trophy for the fourth consecutive time, India had a dream start to the ODI leg, defeating Australia by five wickets in Mumbai. While the Indian bowlers ran riot to restrict the visitors to a paltry total, the reliable duo of KL Rahul and Ravindra Jadeja stitched a match-winning 108-run stand to seize the day for the home side.
Besides the players, stand-in skipper Hardik Pandya received accolades for his astute on-field tactics. Hardik, who had a productive day with bat and ball, rotated his bowlers wisely to dismantle the star-studded Australian lineup.
After the game concluded, former Indian cricketer Ajay Jadeja included himself among the admirers of Pandya.
While speaking to Cricbuzz, the legendary batter admitted to being impressed with Pandya's aggressive leadership, expecting it to make ODI cricket fascinating in the coming years.
He also took a subtle dig at former Indian captain MS Dhoni for his knack of taking the game deep while maintaining it to be his style of captaincy.
Here's what Jadeja stated
"Whenever you watch Hardik Pandya play, he plays in a different way. He is always aggressive, so when you look at the playing XI, who were the bowlers, Shami, Siraj, be it a good or bad day for him, that's different. Then he has kept Kuldeep, then he himself bowls aggressively. His mindset is aggressive so the captaincy doesn't have a drag in games,
"If you look at Kane Williamson, if he would have been far that day in the runout, then people would have said, why did they take it so close. Similarly, MS Dhoni had a style, so this is Hardik Pandya's style. This is attacking style, it won't bore you. It will bring back your interest in ODI cricket."
However, Pandya will no longer captain the side, as regular skipper Rohit Sharma has joined the team. India, leading by 1-0, will look to clinch the series by winning the second game, to be played in Visakhapatnam today.