IPL 2023 | "You Just Can't Keep Adding and Adding to Your Game": Aaron Finch on Virat Kohli not playing fancy shots
---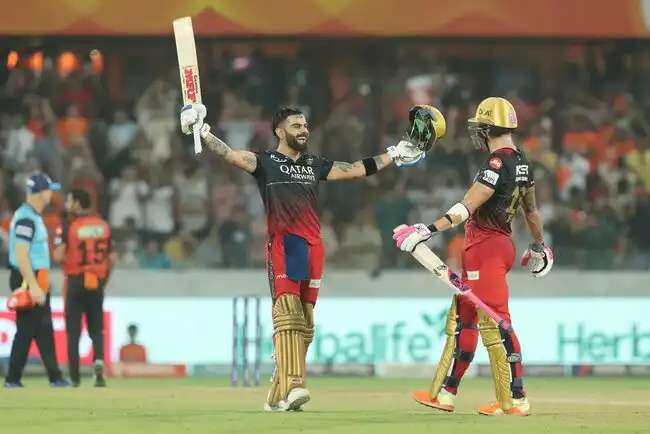 Virat Kohli slammed a hundred against SRH last evening [Source: Twitter]
A sublime Virat Kohli masterclass ensured the Royal Challengers Bangalore (RCB) win their must-win match against the Sunrisers Hyderabad (SRH) last evening in the ongoing Indian Premier League (IPL 2023). Kohli slammed his sixth IPL hundred, which overshadowed Heinrich Klaasen's century, which powered SRH to 186.
Kohli, in alliance with skipper Faf du Plessis, took it upon themselves as the duo stitched a 172-run opening stand, which helped RCB pocket two crucial points in their race to playoffs.
Former Australia skipper Aaron Finch praised Kohli's knock while admiring the former Indian captain's take on not playing fancy shots in the IPL despite facing criticism lately.
Kohli, in the post-match interview, spoke about how he wanted to keep his technical side of the game intact, given India plays the World Test Championship Final next month.
Speaking to Star Sports, the former RCB player added that despite playing proper cricketing shots, Kohli ensure the pressure does not pile up on other batters, who bat around him.
Here's what Finch said
"I love what he said there about playing 12 months in a year and not having time to go away and practice new shots. He is always in game mode and the ability to add different shots to your arsenal and people have to understand that to do that, something else goes away from your game.
You just can't keep adding and adding to your game. It just doesn't add up. For him to say 'I play true to myself, I play true to the situation and I try and win every game for my team'. That's what you can ask of somebody. If people in the outside are critical of that, that's okay, what he does is when you play with him, he takes a lot of pressure off you because there is so much focus on him, you can sometimes fly under the radar. You still not talked about at the same level in the opposition meetings. It's just brilliant,"
Kohli in the ongoing IPL has struck 538 runs in 13 matches, crossing the 500-run mark for the first time since 2018.
With this RCB jump to fourth on the points table with 14 points, and play their last match against defending champions Gujarat Titans on Sunday.