"Have to be Ready to Play Under a New Captain..."MS Dhoni Warns his Bowlers
---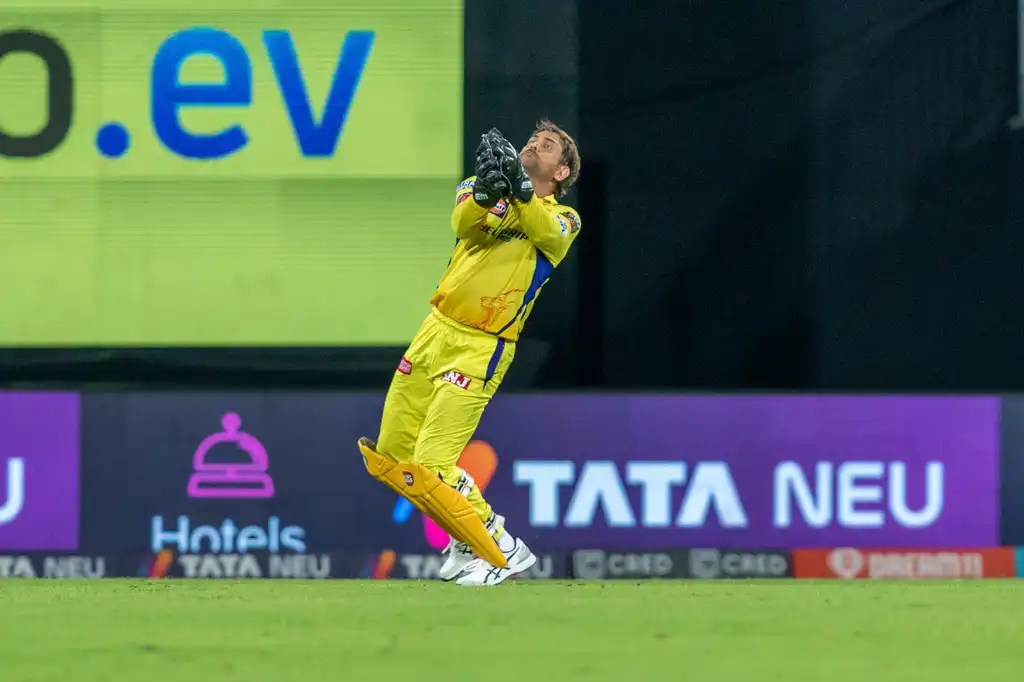 MS Dhoni taking a catch in the match against CSK (AP Photo)
CSK and MA Chidambaram Stadium, also known as Chepauk is a love story made is heaven. Over the years, it has been a fortress for CSK with their genius leader, MS Dhoni masterminding some memorable wins since 2008.
The CSK's win against LSG in the game 6 of the IPL 2023 was even more special because it was after 1426 days that CSK and Dhoni were playing in front of their passionate home crowd at Chepauk. CSK posted a huge total of 217 while batting first with Dhoni smashing two sixes in the last over after Gaikwad delivered another strong performance at the top of the order. CSK eventually went onto win the game by 12 runs with Moeen Ali picking four wickets.
After the game, Dhoni used some strong words mixing caution with aggression beautifully in his interview just like he does during his batting and captaincy.
Dhoni said that it was a terrific game and a high-scoring one. He added that everyone was thinking how the pitch will behave and informed that they were practicing at Chepauk for some time and had their doubts.
"It was a terrific game, high scoring game. All of us were thinking how the wicket will be, that was the question. But we have been practicing here from quite some time so we had that doubt,"
MS Dhoni then went onto add that both sides scored runs and felt that is was the perfect first game that would have happened in Chennai. He also stated that this maybe was their first full house game in the last 5-6 years at the Chepauk.
"It was a high scoring game, the opposition also scored runs. So overall I feel its a perfect first game that could have happened. Not to forget, its maybe our first full house game in the last 5-6 years we have played in, at home,"
Dhoni also mentioned that he thought the wicket would play much slower. He added that it did get a bit slower in the second innings but LSG still managed to play their shots and he was quite surprised with the wicket. Dhoni signed off by saying that they will have to see how the wicket behaves in the next 6 games and felt that it would be crucial.
"I thought it will be much slower. I feel it was a wicket where you could score runs. It got a bit slower but even if you see the second innings, they were able to play the big shots so I was quite surprised with the wicket. You have to see the next 6 home games we will play whether game after game we can come up with a wicket like this. That will be crucial to see,"
Dhoni was also critical of his pacers and felt they need to improve. The World Cup winning captain said that they need to bowl according to their field and make the batters hit in the area where they have the fielders. He also mentioned that it is important to keep an eye on what opposition bowlers are doing which gives an idea and he also added that a bowler needs to understand his strengths. Dhoni also warned his bowlers that they should bowl no No Balls and felt that they bowled too many extra deliveries and added that if they fail to improve, they should be ready to ready to play under new captain and signalled that it is his second and last warning.
"It's a fast bowling that needs to slightly improve. They need to bowl according to condition. Even if its on the flatter side, have fielders and try to bowl in the areas where you are pushing the batter to hit over the fielder. Specially what's important is to keep an eye. When we are batting you have to keep an eye on what the opposition bowlers are doing so it gives you an idea of what can be done. What can be my plan according to what strength I have or the pace I have. They have to bowl maybe no no balls and less wides. We are bowling too many extra deliveries. Or they will have to be ready to play under a new captain at some point of time. It will be my second warning and I'll be off,"
Dhoni also talked about the nature of the game and added that if the surface is nice it is important to get as many runs as possible in a high-scoring game. He added that on such pitches even if the opposition does not bowl well they will score 180 and that is a nice score. He further adds that if you have scored 200 that means the wicket is on the better side and in such scenarios, one or two hits matter in the end. Dhoni signed off by saying that it was the reason why he felt that more they get the better it was.
"Whenever its a high-scoring game, it's important to get the most. The only reason you have scored those many reason is because the surface is nice. Even if the opposition have not bowled at their best still we'll score 180 runs that is a very nice score. But if you have scored 200 which means the wicket is on the better side and at that time usually its one hit or two hits that really matter at the end of the game so I felt the more we could get the better it is."
Overall, it was a great homecoming for Dhoni's CSK and they will now travel to Mumbai for their next game which will be played on 8th of April. They will be up against Mumbai Indians and that clash between MI and CSK is fondly called as an 'El-Classico of IPL'.