Full Details of Verbal Spat Between Virat Kohli and Gautam Gambhir
---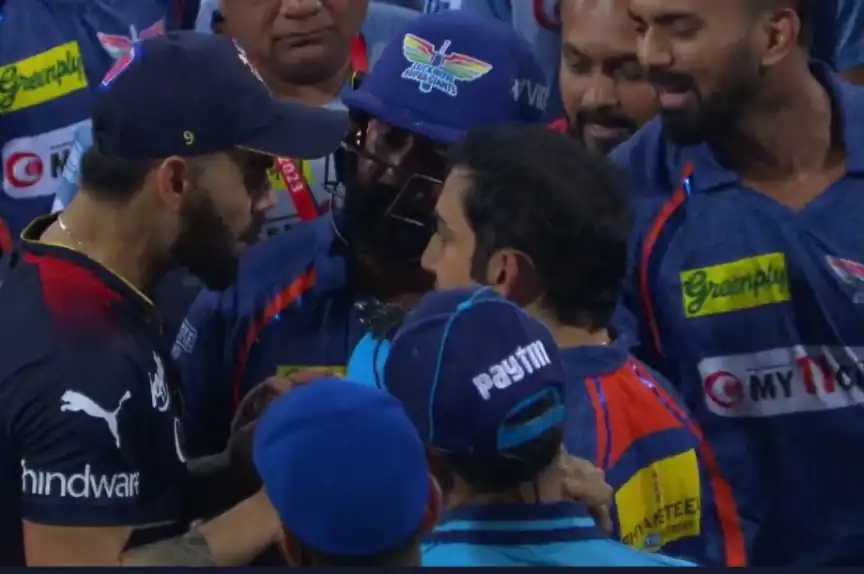 Virat Kohli and Gautam Gambhir being seperated as they indulge in a war of words (Source: Screengrab/Twitter)
Virat Kohli and Gautam Gambhir's altercation has become a hot-button issue and while their quarrel has headlined the sports page of every newspaper, there were so many moments that inundated the fully-blown squabble.
It all started with a heated exchange of words between Kohli and Lucknow Super Giants' (LSG) Naveen-ul-Haq during the course of the match. An extended version of their argument was seen during the handshakes.
It led to a discussion between Kohli and Kyle Mayers, who got distanced from the Royal Challengers Bangalore (RCB) batter by the LSG mentor Gambhir.
The camera then panned on to Gambhir, who was seen charging at Kohli. The latter too walked towards Gambhir as by the initial looks of it, he was trying to explain something to his former teammate.
While the reason for the row has not been made public by any of the parties involved, a Press Trust of India report has divulged a few details that can be grist for the mill.
---
Here, it goes:
Gautam Gambhir: Kya bol raha hain bol? (What were you saying?)
Virat Kohli: Maine aapko kuch bola hi naahin, aap kyon ghus rahein ho. (Why are you coming in between when I haven't told you anything).
Gautam Gambhir: Tune agar mere player ko bola hai, matlab tune meri family ko gaali diya hai. (You abused my player and that's like abusing my family).
Virat Kohli: Toh aap apne family ko sambhal ke rakhiye. (Then you better keep your family in check).
Kohli and Gambhir got charged with the Level 2 offence under Article 2.21 of the IPL Code of Conduct and were also fined 100 percent of their respective match fees.