'This Win is For Our Great MS Dhoni', Visibly Emotional Ravindra Jadeja Dedicates The IPL Victory
---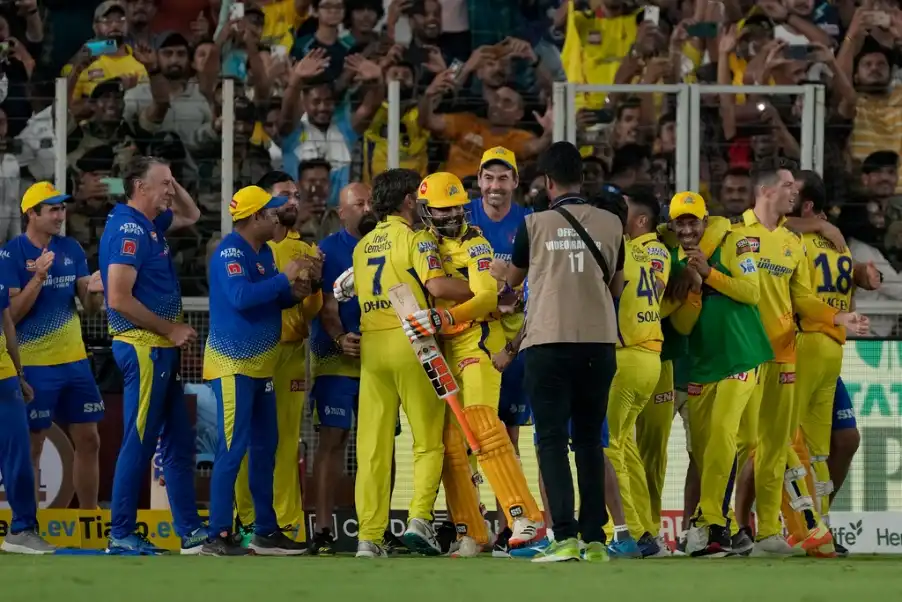 Chennai Super Kings (Source: AP Newsroom)
It was tense, quite tense in the Indian Premier League (IPL) finals between Chennai Super Kings (CSK) and Gujarat Titans (GT) when all-rounder Ravindra Jadeja found ten runs on the final two deliveries to seal the chase and help his side to lift the fifth IPL trophy.
Jadeja was interviewed after the game where he expressed his gratitude towards fans and everyone who came and supported them in great numbers. Also, he dedicated the win to the Indian and CSK legend MS Dhoni for being the torchbearer of the side.
"Feeling great you know. It's my home town and it has been great to be winning, the atmosphere is great. The crowd has been amazing, they were waiting for the rain to stop. I would like to give big congratulations to the CSK fans who came and supported us,"
Moreover, Jadeja explained that he had a simple game plan of going hard against Mohit Sharma in the final over as he backed himself to score the runs even during the tough situations.
"As a team we would like to dedicate this win to our great mate, MS Dhoni. I was thinking to swing hard as much as possible. I was looking to swing hard. Yeah, anything can happen. I was just backing my strength. I knew that Mohit can bowl slow, and straight. So, I was looking to wait and hit straight. I would like to say to all the fans - keep cheering us as you have been. We will keep fighting it for all of you."
In the end, he finished it off by saying that they will keep fighting for the side in the future as he wants all the fans to keep cheering for them.