Why Australia Need Travis Head Immediately?
---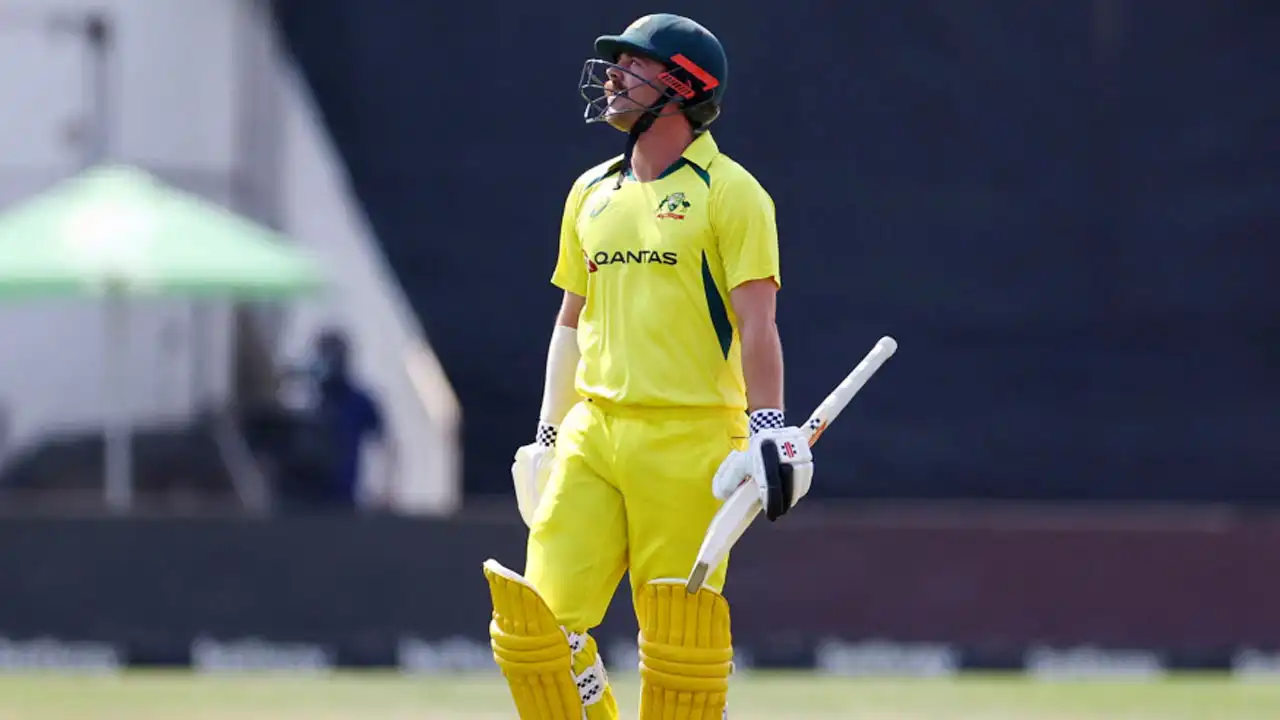 Head fractured his hand in SA ODI prior to WC (x.com)
Australia take on Sri Lanka at Lucknow in what is a near certain do-or-die for both teams. A loss suffered by any of the sides in this game means then having to win every single game that's left with a higher net run rate and then falling into the ebb of permutations and combinations that don't ultimately rest in your hands; but in that of the others.
Desperate times these.
However, that's not the only reason why Australia and Sri Lanka will feel the nerves.
While Sri Lanka have just endured their most horrid loss of the World Cup yet in the form of in-form skipper Dasun Shanaka being ruled out of the coveted tournament owing to injury, the Australian camp has been a bundle of nerves.
Their batsmen aren't getting big scores. The bowlers are producing quick wickets and then failing to defend what have, so far, been modest totals.
However, there's a development of respectable positivity and unbridled optimism that has only just happened.
It's one that cuts through the barrage of negativity surrounding the Australian camp.
The news of Travis Head returning to the camp, a development confirmed earlier this evening on October 15, has filled a winless team with newfound optimism.
How can that not be the case?
Can things get better? Is that big elusive win now on the cards even if Head joins the squad ahead of Thursday? Will the Aussies now be psychologically a lot relieved that a hungry run-maker is set to join the ranks in the imminent future?
So will this confidence-boosting development mean it'll rain runs at Lucknow's Ekana stadium which in the past has hosted teams like West Indies and even Afghanistan and seen dollops of runs?
Will the return of Travis Head further give the much-needed impetus to the trio of Smith, Warner and Maxwell?
Warner & Smith have been out of runs in WC 2023 (AP Photo)
These are questions that you and I are asking, but of course, Australia's opponents in the days ahead are deriding the very thought of.
These are pertinent questions the whole of Australia perhaps disgusted by what's happened to their favourite cricket team, is desperate to get answers of.
However, cricket isn't a result of sudden match updates and turmoils and twists of narrative.
It's a game that ebbs and flows. And yet, one of the cricketer who seems to bat like wind, is unafraid to express himself and manufactures big strokes when there are none- is Travis Head.
Thus far, Head, who's made a name for bold and free hitting, scored 2,064 runs from just 55 innings.
His current strike rate is north of 99. With 3 tons and 15 fifties, Travis Head has turned heads around in that he fires a fifty or more in every third of his outing with the bat.
What more could an Australia, urgently seeking that win, ask for?
All of that said, the biggest question is, which underperforming or non performing team member does Cummins drop in order to make way for the much-needed, the so urgently-sought Travis Head?
This is a question, the OZ fans will hope, doesn't make the captain and management headbutt someone in sheer uncertainty.