What's Hurting Pakistan? Is There An Easy Road Up Ahead For Them?
---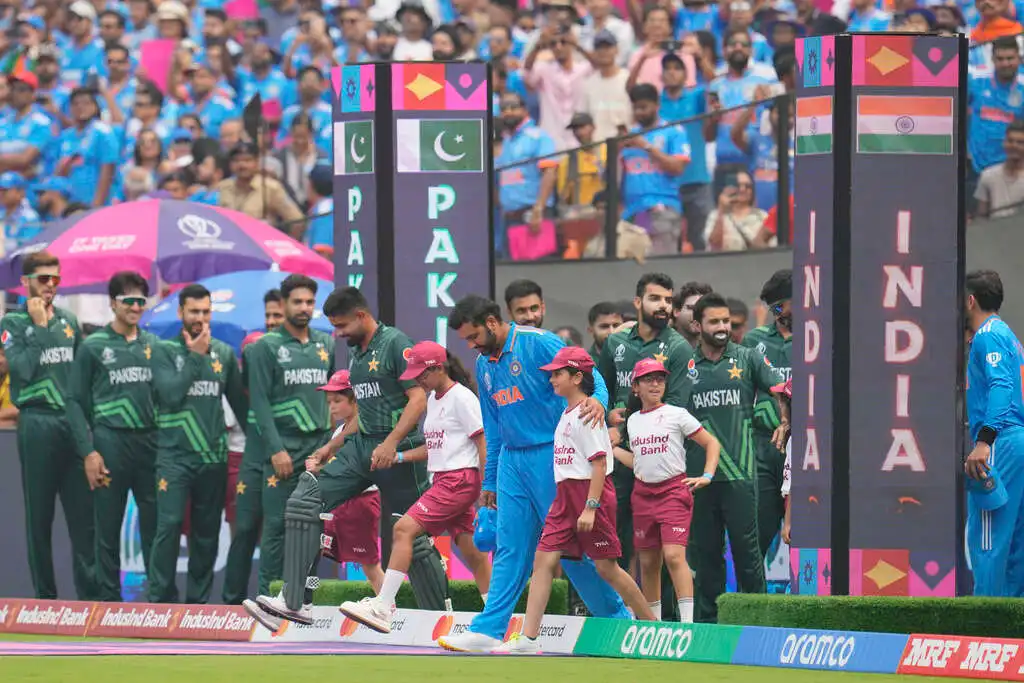 Pakistan got a thrashing from India in Ahmedabad (AP Photo)
Facts. Pakistan are an incredible team in the one-day format. But also a fact: Pakistan aren't like that on every given day. The way the highly competitive side featuring one of the finest batsmen the game has seen in a long time fell apart against India wasn't just strange; it was non-sensible. Some might find it rather interesting that the New Zealanders chased down Bangladesh's not-so-mammoth ask of 245, a day before the Pakistan game, with seven overs in spare.
Absurdly enough, Pakistan's batters fell apart with seven overs left to play in their inning. It wasn't an inning to recollect at all; the only savoury item of consumption for the fans was captain Babar Azam finally getting some runs against his name. But again, the manner of his dismissal, getting cleaned by a solid delivery by Siraj that had little or no footwork wouldn't please their coach or devoted fans in any way. Not that a recovery was in the cards anyway as Rizwan too soon followed thanks to a dazzling beauty by Bumrah.
Imagine what may have been had the two not gotten out after having resuscitated the innings somewhat only to bat longer?
But then cricket isn't a game that works on speculation or in the layer of the "what if." This is a sport that functions on realities and what happens in the now.
And going by that logic, it appears as though, it's still not yet over for Pakistan, who are currently in fourth.
It's not the greatest of spots to be on, considering the Babar Azam-led army has won two of its last three one-dayers in the coveted World Cup.
But again, there's South Africa in the third spot who have played just as many games. Moreover, they have a way better net run rate than Babar's side and can further up the ante of points to further discomfort the fourth-placed subcontinental force. With New Zealand being in great form already, currently on second and with England already looking firm favourites to usurp Afghanistan, Pakistan really haven't done themselves any favours whatsoever in losing out to India.
In what was to have been a belter of a game, a perfect day to settle scores with India even in that Pakistan haven't yet beaten their arch-rivals in an ODI World Cup game, the end result was beyond disappointing.
Who do they blame now? Surely, not the in-form Bumrah and the man with the live wire of a bat in hand called Rohit Sharma. Mind you, all of this when against Sri Lanka, Pakistan found newfound respect from around the globe converting coercing critics into fans gloating about Pakistan's doggedness.
Not that things still aren't quite working: Rizwan's been consistently among the runs.
His 131* in the legendary winning cause will for times to come, be remembered for its panache and power. The spin department isn't really out of answers yet; Shadab is trying. Babar's picked up some much-needed runs under his best.
Most importantly, with a Rauf, Iftikhar and Saud, the team has depth in ability and player performance. Where Pakistan need to pick themselves up, unless one's very much mistaken, is to not give in to pressure, which, it wasn't that hard to spot, they were in the game against India.
Where this multi-faceted team can be vis-a-vis where it is at the moment is the distance between Jupiter to Burkina Faso. It's not all until it's over for Pakistan. They can cover the significant gap that they now must back themselves to go after: target a win against NZ and the Proteas at any cost.
The time will run out.
There's not an awful lot left of it anyway. This isn't some random, yet again on our TV screens bi-lateral series; this is the most important tournament in the history of the men's World Cup.