Meg Lanning - Saluting The Mega Star Of Our Game
---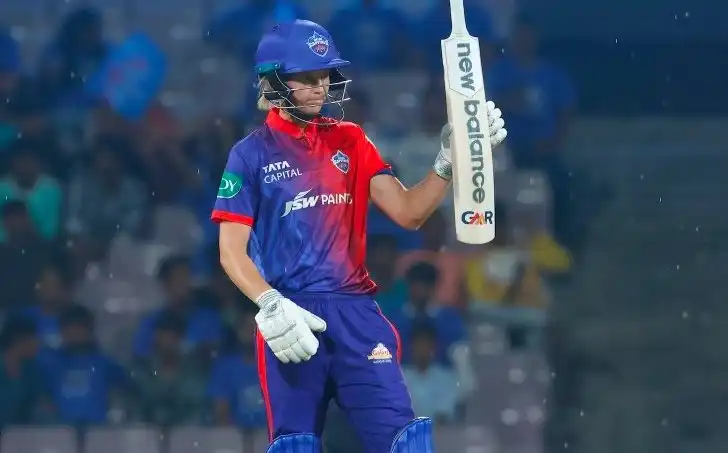 Meg Lanning has powered DC to the WPL final [Source: Twitter]
A few days back in the Women's IPL, a time where the Royal Challengers Bangalore hadn't yet been knocked out of the mega series, a bar-raising series for the women's Cricket, Smriti Mandhana happened to narrate an episode that can perhaps only be dubbed as heartwarming.
As a matter of fact, it wasn't such a delightful day out in the field for one of the most popular IPL franchises out there.
Bangalore had lost yet another contest. Opposite to a big name in the game that's Smriti Mandhana were the Delhi Capitals.
The flamboyant left hander stated that she was out there standing by herself beyond the boundary when she was greeted by a name in the sport that needs no introduction.
Nothing ostentatious followed though what did was, of course, very human and very much needed from Smriti's point of view.
The famous Indian batter recounted the fact that there wasn't any emotional sympathising that took place given how desolate the inaugural season turned out to be for her RCB. Though, what was touching was that there was a cricketer playing in the same series who looked out for her.
Mandhana was asked if the she was doing alright, feeling okay. There was a sense of warmth that flowed and overpowered the cacophony of criticism that the RCB had copped all this while.
And amid this feeling of dejection, some of Smriti Mandhana's wounds were nursed by a figurehead in the sport, who actually on that day, was her very opponent.
What separates good cricketers from the greats is conduct. And in her conduct with Smriti, a rival, technically speaking, Meg Lanning's conduct mirrored her batting.
It was magnanimous. It was worthy of emulation in an era where, at the most, a cricketer emulates another's switch hit, lap sweep and whatnot.
In a world where it's easy to rub your victories on your opponent's face and paint the town red singing praises of your victory, Meg Lanning is content at being simple.
In her world, communication and leading by an example matter perhaps as much as the runs from the bat.
It's not too difficult to understand why she's revered.
She doesn't have the number of Instagram followers that some of today's Gen Y, Uber-cool, glam-loving stars have.
You don't hear stories about her buying villas in the South of France.
There are no attention grabbing reels that attempt to make up for the vacuum of authenticity within.
There's never a need for that; Meg Lanning is a name that commands respect for making heaps of runs and for shaping match-winners out of talents.
At this point in time, she's the proud- not arrogant- leader who oversees an Australian contingent that has, if not more, then half a dozen match-winners.
They're sufficient in themselves. But are incomplete without the able support of their fun loving albeit simple captain.
There's Alyssa Healy. There's Ellyse Perry. Then there's Beth Mooney. Forget not about Ash Gardner. Remember Jess Jonassen as also Grace Harris.
But what casts Meg Lanning in a different dye is that she's the able sculptor of a side that at the back of its unbending consistency has risen to be an institution in the game of cricket.
Back in the nineties and the mid-2000s, merely entertaining the thought of any other team apart from first Steven Waugh and later, Ricky Ponting's eleven as being invincible was rendered dull. Stupid even!
Here we are; Meg Lanning is the only existing international skipper in the game- male or female- to have captained a side for the longest winning streak in the one day arena.
In a game that was so heavily skewed to the male gender, Meg Lanning's ruthless consistency as skipper has broken the glass ceiling in the women's game and with it, countless opponents' hearts.
Merely clashing with the mighty Australian Women's team today is enough to pop in a pill to beat headaches.
There's very possibly zero room for error.
Truth be told, in a cricket media world that goes a touch bombastic in its praise of Mandhana and Harmanpreet or Alyssa Healy's flair, the mere mention of Lanning expands the envelope.
It reminds us that cricket is more; so much more that often in the captivating beauty of big hits, we undermine the value of those who put an enormously high price on their wickets.
Meg Lanning is that name.
Her cricket compels us to value those ever so more whose greatest strength besides reminding her teammate of theirs, is how to pace an inning.
In the exact space of a single inning, Lanning can be both- the swayer of big dangerous attacks and the thoughtful accumulator of runs.
She's the giver of calm to a period of sudden riptide in a contest featuring Australia.
There was that period of time where Meg Lanning was making runs for fun or how some described it. This isn't some heavy duty painting of an athlete in mega adjectives; from the period of 2014 until 2016 (November), the right hander struck 1,232 runs in one day cricket.
Having just turned 31 but not before belting 15 ODI centuries, 2 T20I hundreds taking her white ball tally to north of 8,000 runs, Meg Lanning is very much here.
And importantly, she's experiencing peak fitness and form.
What is indeed remarkable for Australia is that one of their most cerebral forces is still desirous to etch new chapters in the history of a team that is both inspiring and pathbreaking.
And true to her innately pure nature, whenever asked about what is really her biggest strength in the game, Lanning hides behind the, "oh, it's a pretty special group of talents to be amid" comment.
It's what she said back in the day when she became one of the youngest captains in the women's game at 23 years and 139 days, to be precise.
It's what she said smilingly when her team usurped the Proteas women in the latter's territory recently in lifting the Women's T20 World Cup.
Truth be told, if greatness wore a face, it would look mega happy to be Meg Lanning, a lasting enigma of our time.