[Watch] Mark Wood, Ben Stokes Endorse Barbie Movie In Press Conference
---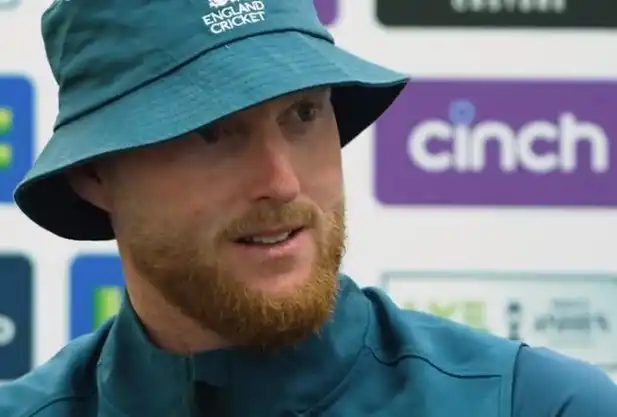 Ben Stokes at the press conference (ECB Twitter)
Ashes 2023 hosts England to face the visiting Australians in the series-deciding fifth Test match on July 27. A day prior to the much-awaited clash, English skipper Ben Stokes took part in the pre-match press conference, only to get his session hijacked by none other than his teammate Mark Wood.
Wood hilariously interrupted his captain's speech by playing Aqua's 'Barbie Girl' song over the speakers, leaving everyone present at the conference in splits.
Watch Mark Wood pranking Ben Stokes
Hollywood film Barbie, released worldwide last weekend, seems to be extending its influence beyond the Box Office. Quite recently, England's fast bowler Mark Wood was seen basking in on the movie's hype by pranking his captain Ben Stokes ahead of the all-important fifth Ashes 2023 Test match.
Just as Stokes was about to deliver his speech at the pre-match press conference, Wood played the famous 'Barbie Girl' song over the speakers. While the all-rounder's reaction to the same was a sight to behold, he later caught Wood in on the act in the corner of the room.
In the meantime, the fifth Test between England and Australia will commence on July 27. The match, a must-win one for the hosts, will be played out at The Oval in London.
Australia won the first two matches to take a 2-0 lead in the series upfront. Ben Stokes and co. bounced back in the third, before their chance of levelling the series in the fourth Test was washed away due to rains.