Sunil Gavaskar Lashes Out HCA After Crowd Assault at LSG Dugout
---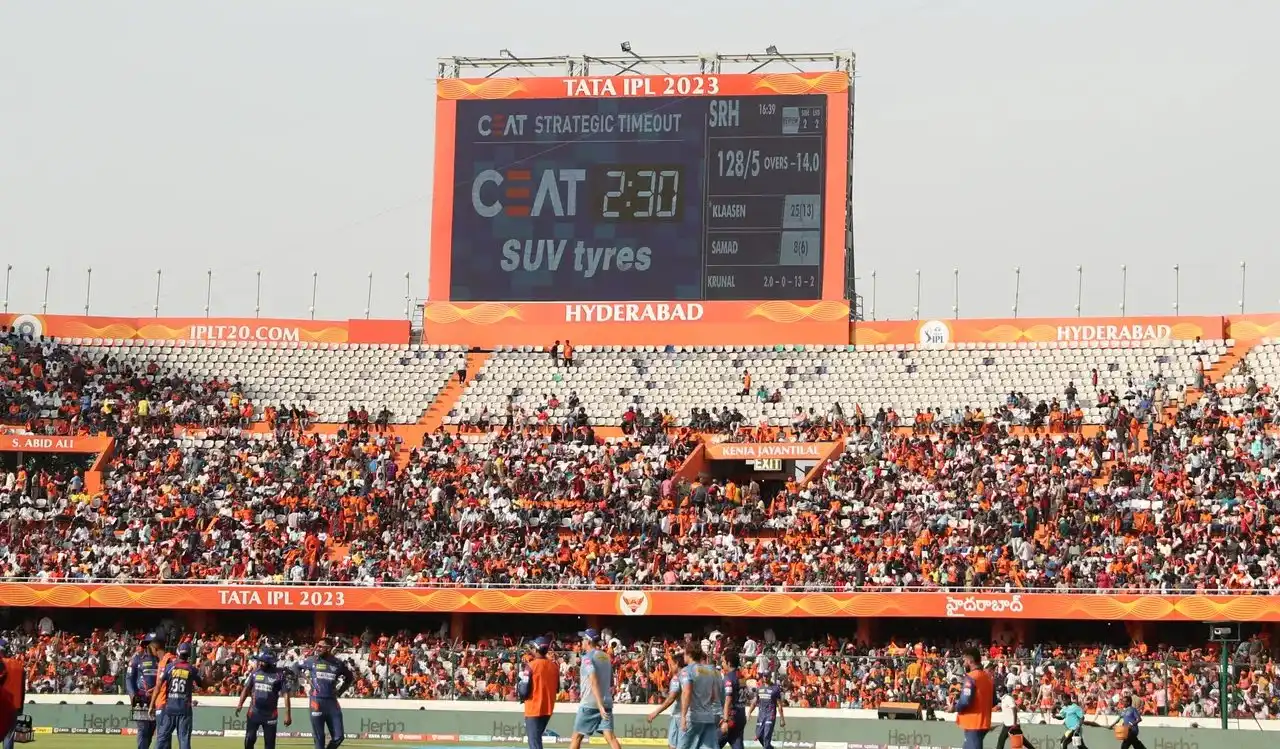 Hyderabad's crowd were seen pelting nuts & bolts at LSG (iplt20.com)
During the clash between Lucknow Super Giants (LSG) and Sunrisers Hyderabad (SRH), the cricketing fraternity became witness to some of the ugliest events ever recorded in the history of IPL in recent times. Controversial no-ball decision being turned down, home crowd pelting nuts and bolts at the LSG dug out, players and coaches blasting the umpires with their provocative gestures, a lot had happened on the field of play which were not supposed to happen.
It all started heating up during the 19th over of the first innings when a highly contentious waist high no-ball was turned down by Yeshwant Barde who was the TV umpire at that time. Avesh Khan bowled a high full toss to Abdul Samad on pads which the latter mistimed. At first glance, the ball indeed looked very high and the on-field umpire made a fair decision to call and signall no-ball due to height.
But the LSG skipper Krunal Pandya decided to have another look at it anyway and called for the help of the TV umpire. Subsequent replays revealed that it was a tight call and Abdul had crouched down a fraction which made the ball go above his waist line.
This decision was certainly not well received by the well wishers of the SRH. The home crowd was absolutely furious with that call and launched a direct attack on the LSG dugout by pelting nuts and bolts at them.
The former legendary Indian batter, Sunil Gavaskar, was very critical of the governing body for allowing such a major lapse on the field of play. He stressed that it is the sole responsibility of the Hyderabad Cricket Association (HCA) to provide safe dug outs for the respective teams and cited that insufficient arrangements to fortify them against such events.
"What's hard to understand is most dugouts have what we call flexi-glass. Here we have beach umbrella kind of thing, which is no protection. Come on, the Hyderabad Cricket Association can provide the proper dugouts rather than these makeshift things you see. Obviously, these are a problem, an issue."
Klassen was later reprimanded by the governing body and was slapped with a fine of 10% of his match fees for his unruly gesture. In the end, LSG completely a comfortable chase and won the game by 7 wickets riding along the heroics of Prerak Mankad who scored 64* (45).