PCB Raises Concerns Over Revenue-Sharing Model, Reveals Condition for World Cup 2023 Participation
---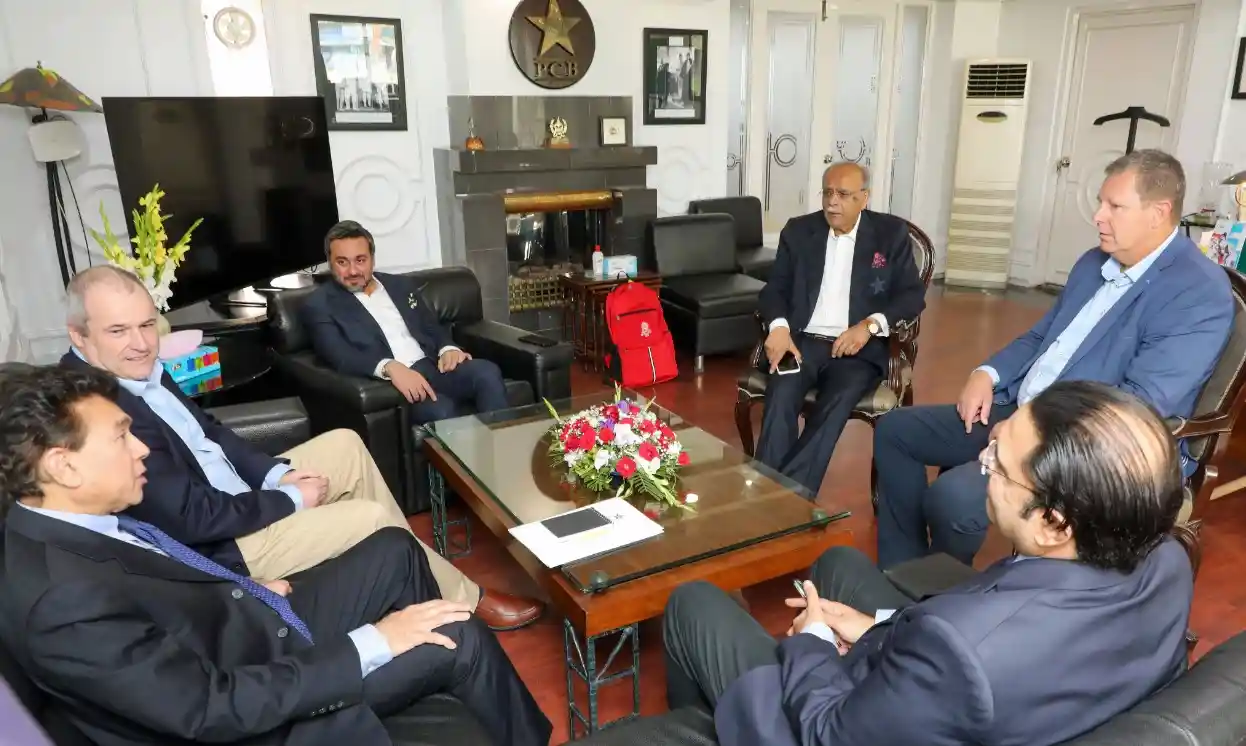 PCB involved in discussions with ICC officials (Pakistan Cricket Twitter)
In a two-day meeting held between the Pakistan Cricket Board (PCB) and the International Cricket Council (ICC) Chairman, Greg Barclay, and Chief Executive, Geoff Allardice, several significant matters were extensively deliberated upon. Discussions revolved around the proposed revenue-sharing model for the 2024-2027 cycle, which the ICC plans to present for voting at its upcoming board meeting in June.
According to a report by cricketpakistan.com, the PCB officials expressed their concerns to the ICC representatives regarding the aforementioned financial model. Emphasizing their stance, the board conveyed its reservations and demanded a more equitable distribution of profits.
Pakistan adamantly highlighted the substantial revenue generated by the highly anticipated Pakistan-India cricket matches, stressing that it is only fair for Pakistan to receive a larger share under the proposed model.
Adding weight to their demands, the Pakistan Cricket Board also officially notified the ICC of their team's intention to participate in the upcoming World Cup scheduled to be held in India later this year, pending approval from the Pakistani government.
PCB demands India's participation in CT '25
However, PCB also requested the ICC to ensure that if Pakistan's team travels to India for the World Cup, India reciprocates by participating in the ICC Champions Trophy to be held in Pakistan in 2025.
Furthermore, the PCB provided a comprehensive briefing to the ICC delegation regarding the preparations for the ICC Champions Trophy 2025, earmarked to be hosted in Pakistan. Additionally, the officials shared their plans for the women's league scheduled to take place in Pakistan later this year, aiming to promote women's cricket in the country.
As per sources, the ICC officials are expected to engage in discussions with their counterparts at theBoard of Control for Cricket in India (BCCI) to address Pakistan's concerns ahead of the World Cup.
The objective is to find a middle ground that ensures Pakistan's participation in the prestigious tournament. Moreover, it is anticipated that the proposed financial model may witness some amendments in the near future to accommodate the concerns raised by the PCB.