Head Coach Darren Sammy Calls Andre Russell, Sunil Narine For WI Comeback
---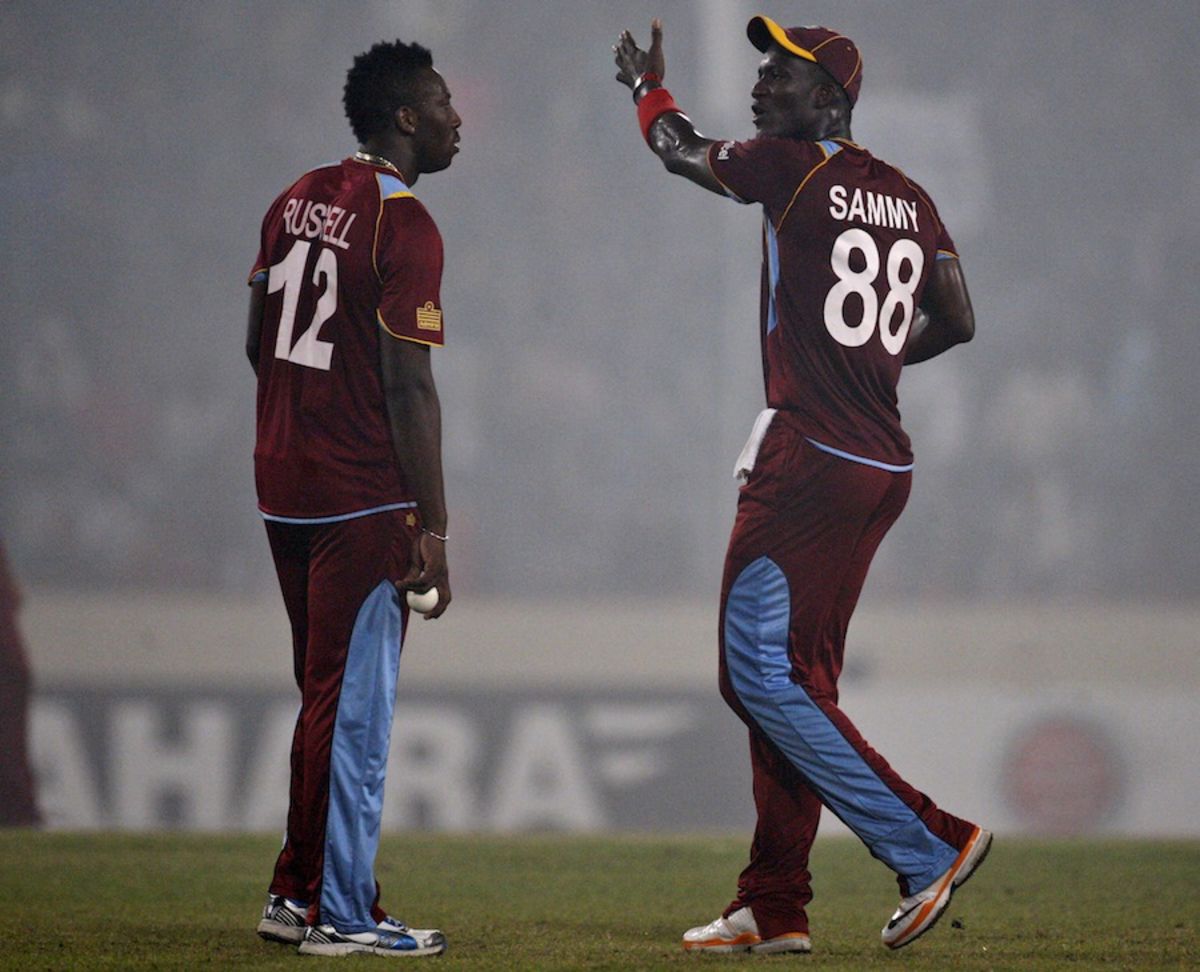 Andre Russell and Darren Sammy [Image- Twitter]
Former West Indies skipper and newly appointed white-ball head coach Darren Sammy has revealed that he has had "in-depth", "honest" conversations with Shimron Hetmyer, Evin Lewis, Andre Russell, and Sunil Narine about their possible reintegration to the national set-up.
West Indies cricket has long suffered from issues between the administration and senior players.
Left-handed batsman Shimron Hetmyer is the latest example. The dynamic basher was omitted from the T20 World Cup squad last winter, and while he made himself available for selection for the upcoming qualifiers, CWI didn't bother picking him despite his brilliant IPL form.
Meanwhile, the likes of Russell and Narine have had long-standing issues with the board. The off-spinner last played for the Men in Maroon in 2019 while Dre Russ hasn't featured in an international fixture in 2021.
Lewis, on the other hand, has made himself unavailable till CPL 2023.
As someone who led the West Indies for a better part of the 2010s, Sammy understands the problem well, and he is open to honest conversations with the senior players.
While speaking to ESPNCricinfo, the former T20 World Cup-winning skipper revealed that the feedback he had received from the likes of Russell, Hetmyer has been very positive.
"I've had conversations with both Hetty [Shimron Hetmyer] and Evin Lewis. Having played not too long ago and understanding the complaints of players - and the lack thereof of communication - I think it's important for us to communicate. It sounds simple but I understand that just clear communication makes the process better and it gives you a better understanding. So, yes, I've had in-depth conversations with Shimron and Evin Lewis about their mindset, their plans, and where they see West Indies cricket in line with themselves in [it],"
"I must tell you that the feedback has been positive and I've also reached out to guys like Andre Russell. I've reached out to Sunil Narine and all these guys, too, to hear what their thoughts are. Because they still take part in some of our domestic competitions. But it takes honest and mature conversations, which is one I'm not afraid to have with the players. I'm encouraged by the discussions that we've had when it comes to West Indies cricket, outlining clear plans as to how we reintegrate because these players….look at the caliber of Shimron…I'm sure it hurts fans to see him perform elsewhere and not in the maroon."
Sammy's first major assignment will be to lead the West Indies in the main draw of the 2023 World Cup by performing well in the upcoming qualifiers in Zimbabwe.