Can Kohli beat Sachin's perfect 100?
---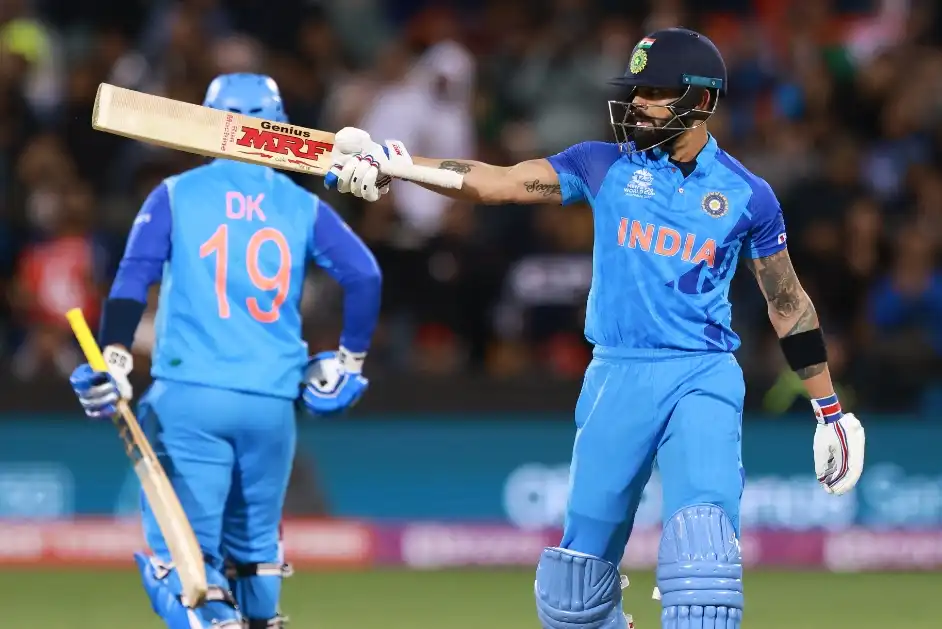 Virat Kohli (Source: AP Newsroom)
Let us go back to an era of Indian cricket, when Sachin Tendulkar was the heart of it. It was the World Cup of 2007, when after an early exit speculations were ripe that 'The God' might hang up his boots. It created a scare among the Indian fans as to who will now be the prime of Indian batting in the master's absence.
While dark clouds were looming over the future of Indian cricket, the next year a young man led the Indian U-19 team to their second World Cup win. A man filled with lots of aggression and passion for the game, Virat Kohli. He worked up the ranks of Indian domestic circuit and made international debut against Sri Lanka in 2008.
Sachin and Kohli played together at the international level for 5 years, till Sachin finally retired in 2013. When the master retired from cricket he had an astonishing record of 100 international centuries and along with that 34,357 international runs.
Since the end of 2011, Kohli gradually started taking the centre stage. By the time Sachin said good bye to international cricket, Virat Kohli had established himself as the main batter of the Indian line-up and people have started talking about if Kohli can break the records of Sachin.
Now, in 2022 time has gone by and Kohli has bounced back from the toughest phase of his cricketing career. He is nearing the level of cricket he used to play when he was at his peak. So, on his birthday it of course becomes a discussion, whether Kohli can beat the perfect 100 of Sachin?
In this article we try to statistically predict Virat's figures when he retires from international cricket.
Retirement Age
The first question arises, when might Virat retire from cricket. Well to answer this let us look at the age at which the top 10 international run scorers from India have hung up their boots.
Average age of top 10 retired run scorers of India
So, from this if conclude that Kohli retires from international cricket at the age of 38 years, then he still has 4 years left .
Now, we will consider the graph of his career till now in order to predict what his numbers would be when he finishes.
ODI Career
In his ODI career Kohli has played 253 innings till now in which he has scored 12,344 runs with 43 centuries and 64 half centuries at an average of 57.68. Let's take a look at how his ODI career has progressed over the years.

Virat Kohli's Run Per innings over the years in ODIs
Now, let us take a look at the rate which he has scored centuries over the years.

Innings Per century for Kohli in ODIs over the years
ODI career analysis
We will analyse and divide his ODI career as per- when he has been at his peak (Average above 50), period when he had been performing average (Average above 40 below 50) and when he has been below his average level (Average below 40).
Years played- 15
Peak Years- 6 Innings-112 Runs- 6858 Runs Per Innings- 61 Innings Per Century- 4
AVG years- 3 Innings-46 Runs- 1941 Runs Per Innings- 42 Innings Per Century- 11
Below AVG- 6 Innings-95 Runs- 3545 Runs Per Innings-37 Innings Per Century- 9
Now, if we consider that the last 4 years of Kohli's career follows the same pattern, then he would have the following numbers in these years.
Innings- 67 Runs- 3,187 RPI- 47.56 100s- 11
If these numbers turn true, Kohli's ODI career will look like: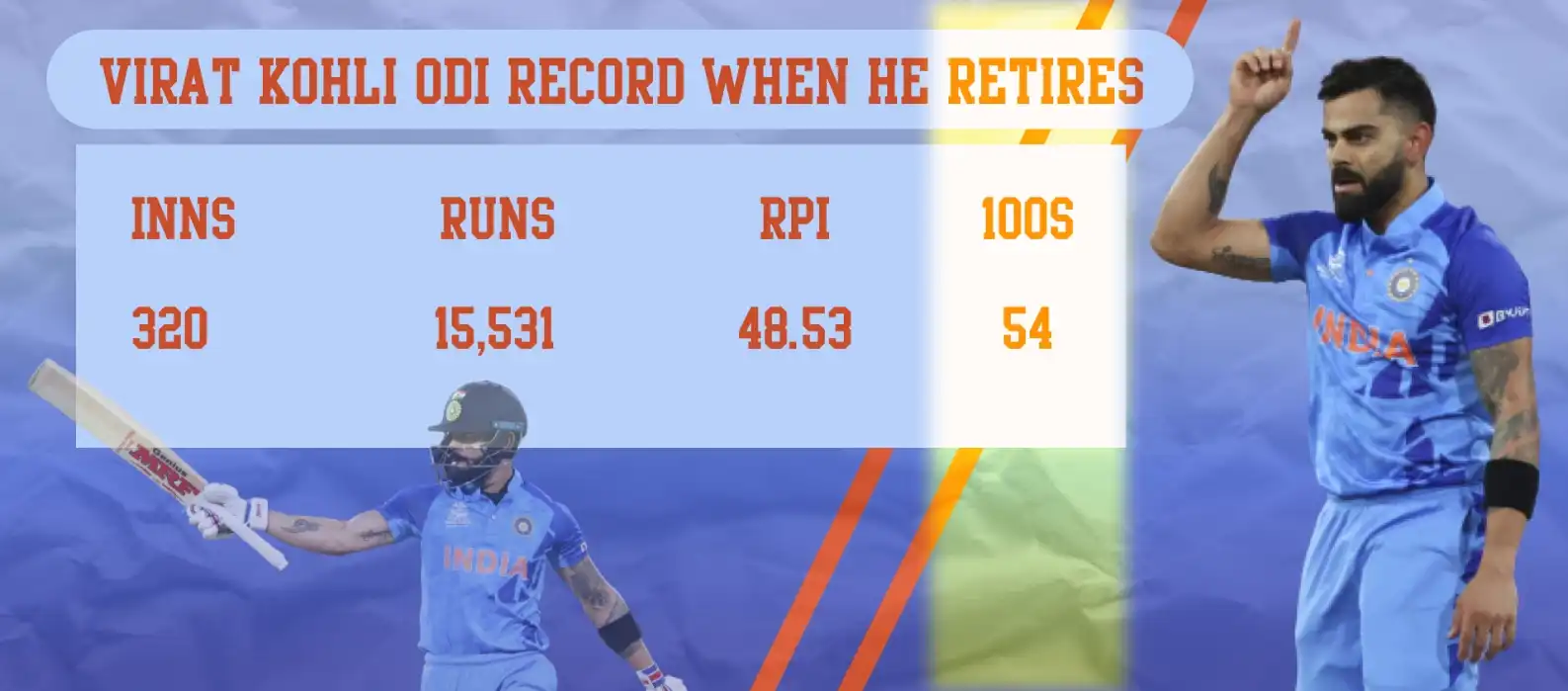 Virat Kohli's probable ODI record if he retires at 38 years
Test Career
In Tests, Virat Kohli has batted in 173 Test innings where he has scored 8074 runs at an average of 49.53, while scoring 27 centuries and 28 half-centuries.

Virat Kohi's RPI in Test across the years
Lets us have a look at his Innings Per Century over the years in Test cricket.

Virat Kohli's Innings Per Century in Tests over the years
Test Career analysis
We will analyse the Test career like we did in case of Virat's ODI career.
Peak ( Batting Average above 50), Average performance (Batting average above 40 but below 50) and below average performance (Batting average below 40).
Years played- 12
Peak Years- 5 Innings-81 Runs- 4824 Runs Per Innings- 60 Innings Per Century- 4.5
AVG years- 3 Innings- 51 Runs- 2176 Runs P er Innings- 42 Innings Per Century- 6
Below AVG- 4 Innings- 41 Runs- 1074 Runs Per Innings-26 Innings Per Century- 0
Kohli's probable numbers in the next four years could be.
Innings- 56 Runs- 2,612 RPI- 46.64 100s- 9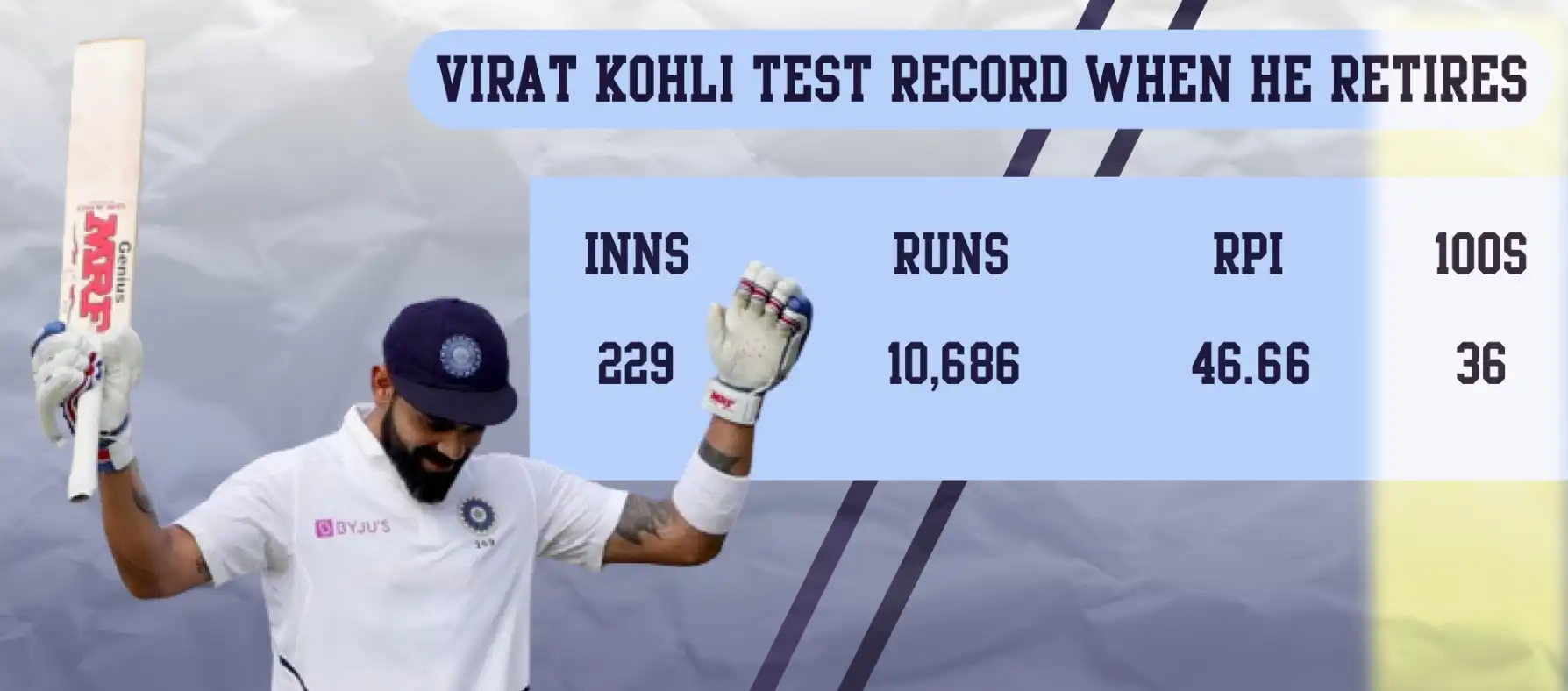 Virat Kohli's probable Test career if he retires at 38 years
T20I Career
In T20Is Virat has played 105 innings, in which he has scored 3932 runs at an average of 53.14. He has 1 century and 36 half-centuries under his belt in the shortest format of the game.

Virat Kohli's T20I career RPI over the years
T20I Career analysis
In case of T20I cricket, the peak years are considered when he had a batting average of over 35, his average years are when he had and average of over 25 but below 35 and in his below average years the batting average is below 25.
Years played- 13
Peak Years- 6 Innings- 68 Runs- 2903 Runs Per Innings- 43 Innings Per Century- 68
AVG years- 4 Innings- 21 Runs- 649 Runs Per Innings- 31 Innings Per Century- 0
Below AVG- 3 Innings- 15 Runs- 294 Runs Per Innings-19.6 Innings Per Century- 0
Kohli's probable numbers in the next 4 years in the T20Is would be
Innings- 31 Runs- 1144 RPI- 31.77 100s- 2 (approx)
Kohli has only 1 century in T20I and hence the sample size is very less to predict how many he will end with when he retires. But considering he is peaking again let's imagine he scores 2 more T20I centuries. Therefore, he would end his career with 3 T20I centuries.
Innings: 136 Runs: 5,076 RPI- 37.32 100s- 3
So, the predicted numbers for Kohli in international cricket when he retires could be.

Virat Kohli probable career numbers if he retires at 38 years
Points to be kept in mind
The numbers predicted are here done by keeping his career pattern till now in mind
He might retire before or after the age mentioned here
Kohli is reaching a second peak in his career and it might be better than the previous one and he can do better than the predicted numbers.
But as far as his career has panned out till now, Kohli will probably end a bit short of the 100 international centuries record of Sachin Tendulkar.
Whatever it might be, there is no arguing the fact that Virat Kohli is the best player of the modern era. As long as he plays, we should all enjoy the genius at work and bow down to the 'King'.
---
Also Read: I want to be good with both new and old ball: Arshdeep Singh