'You Get What You Deserve,' Naveen-ul-Haq Fires Jibe at Virat Kohli
---
Virat Kohli vs LSG (Source: Twitter)
The 43rd match of the IPL edition saw a series of unfortunate events unfold at Bharat Ratna Shri Atal Bihari Vajpayee Ekana Cricket Stadium where Royal Challengers Bangalore locked horns with Lucnkow Super Giants. RCB registered a very astounding victory in a low-scoring thriller beating LSG by 18 runs. But it was not RCB's victory that dominated the headlines.
The great legendary batsman Virat Kohli was embroiled in a heated on-field exchange with the 23-year-old Afghani pacer Naveen Ul Haq and later got himself involved in a full-blown altercation with the LSG mentor Gautam Gambhir. It all started happening in the 17th over of the LSG chase when Kohli and Naveen started exchanging verbal volleys with each other. The exact nature of the conversation is yet to be fully ascertained but Kohli was visibly not pleased with what Naveen said. Kohli later made an obnoxious remark by showing his shoe to Naveen and pointing fingers at him.
Amit Mishra and the on-field umpires quickly jumped into the scene to diffuse the situation and moved the two players apart from each other. The ugly confrontation did not end here. During the customary handshake, Kohli wanted to have a word with the youngster but the latter had another go at Virat and refused to shake hands with him. The match ended on a rather sour note for the former RCB skipper who was fined a whopping 100% of his match fees for breaching IPL's Code of Conduct. Whereas the punishment for Naveen was less severe but he too faced the wrath of the governing body and was fined 50 % of his match fees.
Admist this fiasco, Virat Kohli took to social media to post a cryptic message about his ugly spat with his LSG counterparts by citing a quote from the former Roman Emperor, Marcus Aurelius, who ruled from 161 to 180 AD and was a philosopher as well. As per latest reports, the young Afghanistan fast bowler retaliated by wasting no time and took to his social media handle to take a swipe at RCB's flamboyant batter Virat Kohli.

Naveen Ul Haq wrote,
"You get what you deserve that's how it should be and that's how it goes."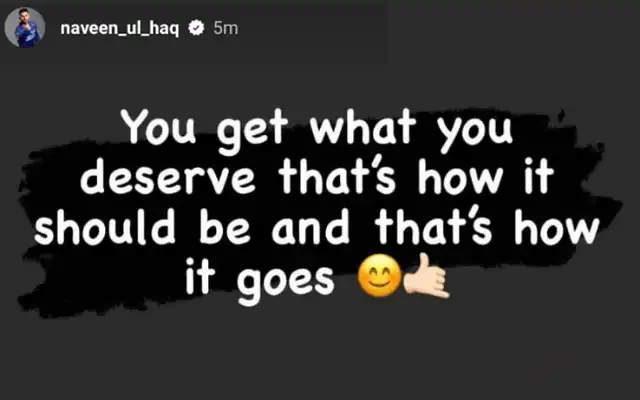 Notably, this is not the first time Naveen has been involved in such a controversy. The Afghanistan pacer also picked up a fight with Mohammad Amir and Shahid Afridi during the inaugural edition of the Lanka Premier League as well.