[WATCH] Naveen-ul-Haq Unleashes Batting Brilliance With Three Sixes In T20 Blast Encounter
---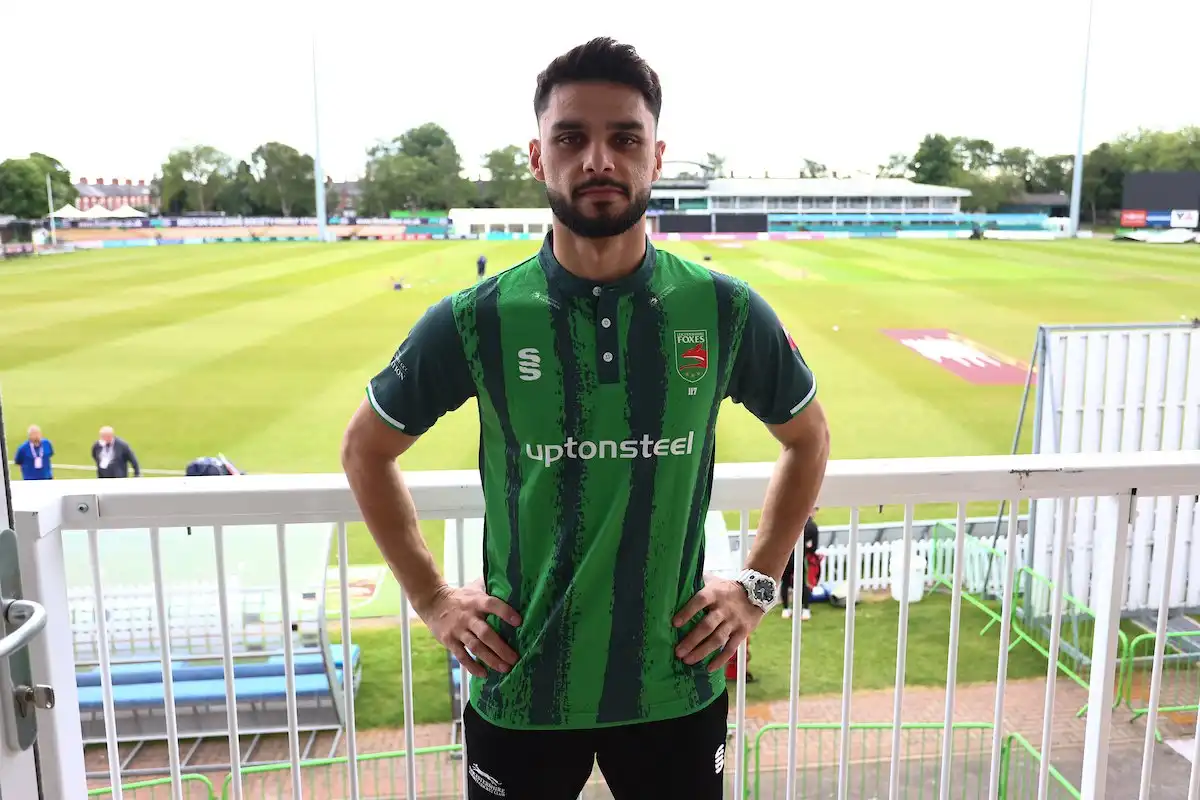 Naveen-ul-Haq for Leicestershire (Twitter)
Afghanistan paceman Naveen-ul-Haq, renowned for his blistering pace bowling, exhibited a surprising exhibition of batting brilliance while representing Leicestershire in a T20 Blast 2023 encounter against Northamptonshire at the County Ground in Northampton.
Arriving at the crease as No. 9 with his team in a precarious position at 134/7 after 18 overs, the Afghan speedster unleashed a whirlwind cameo, smashing a breathtaking 25 runs off a mere eight deliveries.
Naveen's ferocious assault guided his side to a competitive total of 164/8 in their allotted 20 overs. The right-hander's explosive knock was punctuated by three towering sixes, two of which came off the last two balls of the innings.
Naveen-ul-Haq's sixes in T20 Blast clash
However, Naveen ul-Haq's heroic efforts were ultimately in vain, as Northamptonshire mounted a comprehensive chase, securing victory with a commanding eight wickets to spare, thanks to the sheer brilliance of a resurgent Chris Lynn.
The explosive opener, who rediscovered his form at the most opportune moment, unleashed a breathtaking unbeaten century, plundering 110 runs off a mere 68 deliveries to propel Northamptonshire to victory over the winless Leicestershire side.
Entering the match with a paltry 66 runs from his previous four innings in the tournament, Lynn swiftly surpassed that tally, embarking on a ferocious assault en route to notching his fifth T20 century. The Australian stalwart's phenomenal achievement places him in elite company, with only David Warner (8), Aaron Finch (8), and Shane Watson (6) having scored more centuries amongst their compatriots.
Lynn's scintillating knock was punctuated by a measured start, gathering momentum as he progressed. The 33-year-old opener reached his first six from the final delivery of the ninth over, before delivering a devastating onslaught during the 13th over, plundering 20 runs.
The coup de grâce came in the 19th over, as Lynn brought up his century with a thunderous six, followed by a flurry of boundaries that solidified Northamptonshire's victory.
In a valiant effort to stem the onslaught, Leicestershire's bowling attack was led by Naseem Shah and Naveen-ul-Haq, who emerged as the standout performers amidst a relentless barrage of Northamptonshire's batting onslaught.
Shah finished with figures of 1/20, while Naveen notched 1/26. However, their contributions were overshadowed by the remaining bowlers, who were systematically dismantled by Northamptonshire's marauding batsmen, failing to claim any further wickets.