[Watch] MS Dhoni Expresses Gratitude to Fans at 3:30 AM in Stadium; Video Goes Viral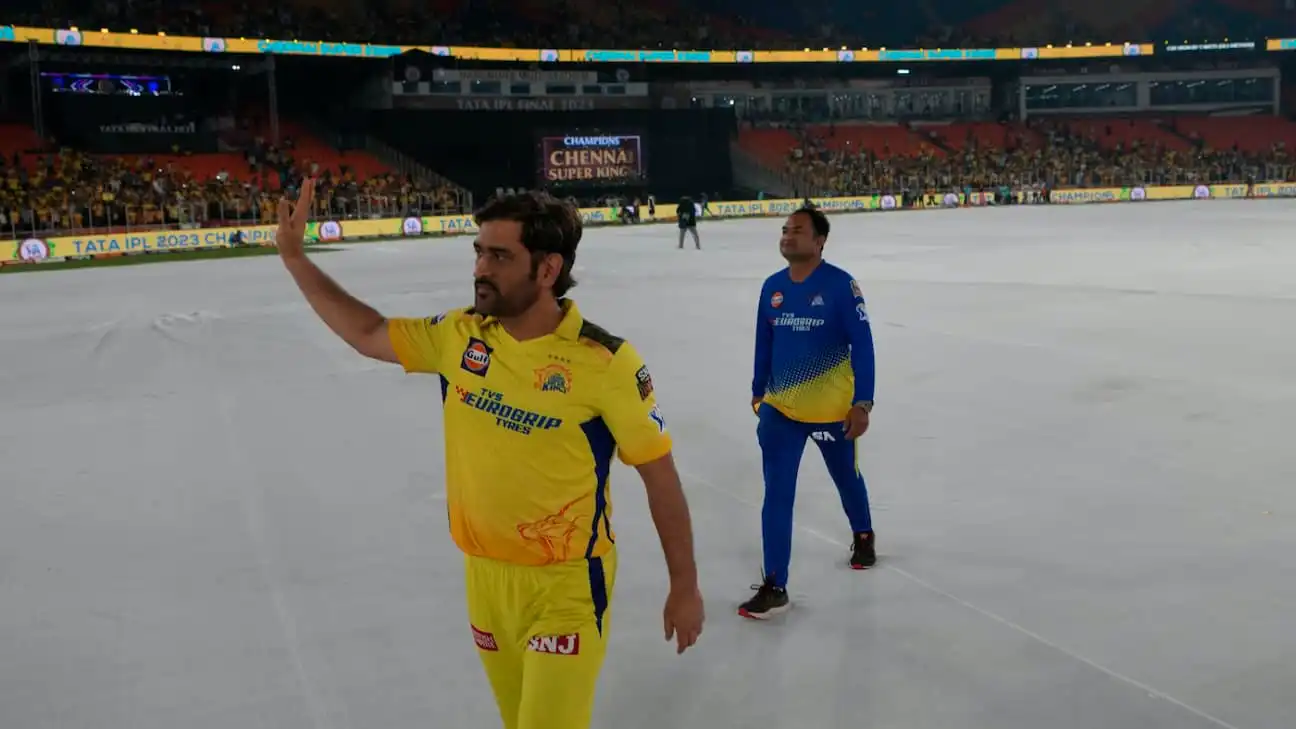 MS Dhoni waving at fans in Narendra Modi Stadium | Source: Twitter
Chennai Super Kings clinched their fifth IPL title on Tuesday, May 30, defeating Gujarat Titans by five wickets in the Indian Premier League 2023 final at Narendra Modi Stadium, Ahmedabad.
The summit clash of the cash-rich league was originally scheduled to be played on Sunday, May 28th. However, due to incessant rain throughout the day, the game couldn't take place, not even the toss.
However, despite the unfavourable weather conditions, the crowd persisted in waiting. They only went back home after receiving official confirmation that the match would not be played and had been rescheduled to the reserve day, which was May 29th.
Later on, multiple videos circulated across social media platforms, capturing the crowd wading through waterlogged streets and illustrating the challenges they faced while making their way home.
Considering the situation, it would be natural to assume that fans might not show up for the match on the reserve day. However, this was not the case for CSK fans, who eagerly made their way back to the reserve day to witness the iconic moment of MS Dhoni lifting the trophy.
Meanwhile, MS Dhoni took it upon himself to ensure his fans didn't leave disheartened. Following CSK's championship victory, Dhoni strolled across the stadium, expressing his heartfelt gratitude to all the dedicated fans who showed up in tha large numbers amid rain.
The video of the same went viral on social media. Take a look:
During the post-match conference, MS Dhoni addressed the most popular query regarding his comeback in the next season. The 41-year-old stated that he will make every effort to come back next season and proudly don the CSK jersey once again.
"Circumstantially if you see, this is the best time to announce my retirement. But the amount of love and affection I have been shown wherever I have been this year, the easy thing would be for me to say "Thank you very much", but the tough thing for me is to work hard for another 9 months and come back and play at least 1 more season of IPL."
Notably, Dhoni played this season with a partially healed knee, and often displayed visible signs of pain while wicket-keeping. However, despite this, he affirmed his commitment to returning for the next season provided he remains in good physical condition.
"A lot depends on the body, I have 6-7 months to decide. It will be more like a gift from my side, it's not easy for me but that's a gift. The way they've shown their love and affection, I think that's something I need to do for them."