Rain makes the World Cup qualifications interesting
---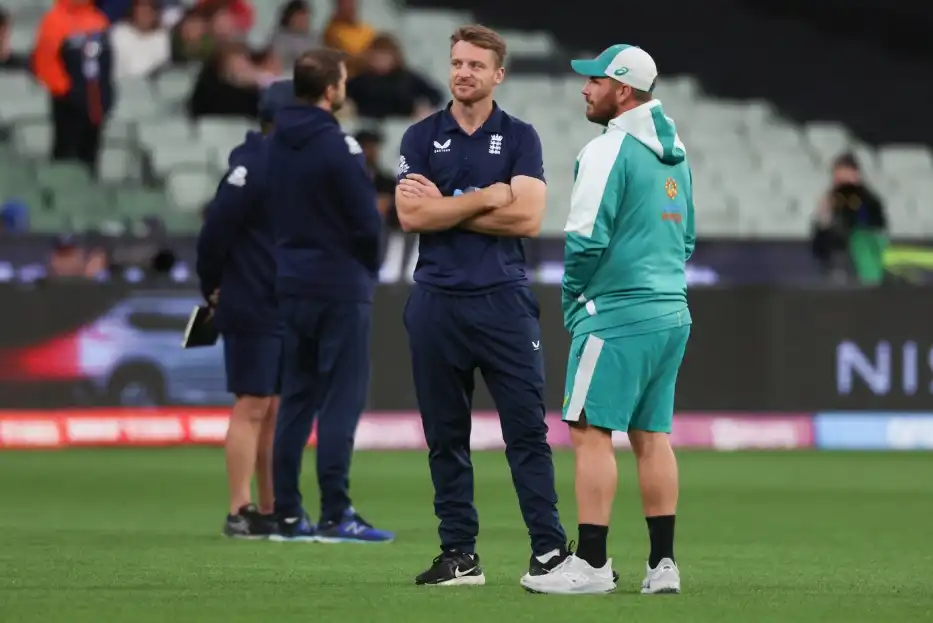 Aaron Finch and Jos Buttler (Source: AP Newsroom)
One more important match in the ICC T20 World Cup 2022 gets washed out. The stage was all set for a high-voltage encounter between England and Australia, with it being a must win affair for both.
But with the match being washed out the equation in Group 1 has got pretty interesting. Let us have a look at the points table in Group 1.
So, what are the dynamics and how could we get the two teams from this group.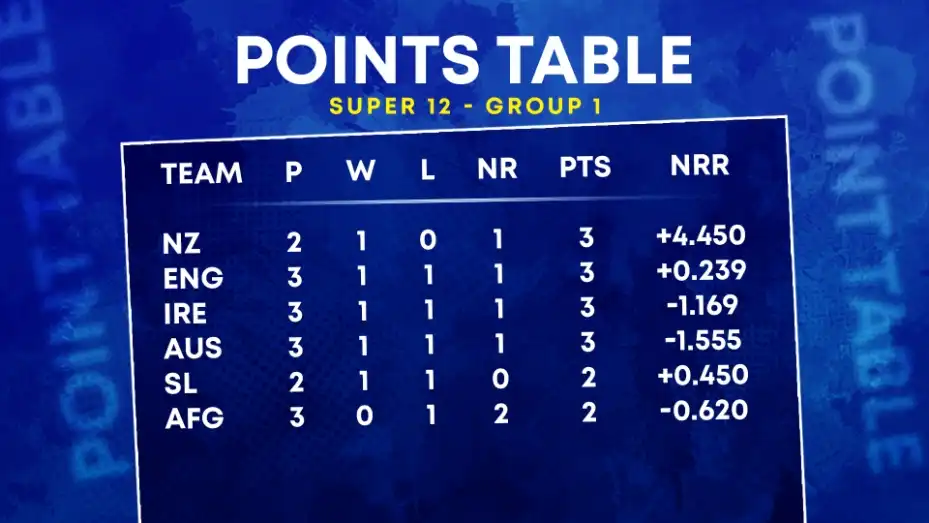 Group 1 points table of ICC T20 World Cup 2022
New Zealand
New Zealand have a great NRR and also having won against Australia is a bonus for them.
Matches left- Sri Lanka, England and Ireland
Even if New Zealand loses against England, wins against Sri Lanka and Ireland will ensure they qualify for the next round.
England
England have a better NRR than Australia. So two wins could make them strong contenders to qualify for the Semis.
Matches left- New Zealand, Sri Lanka
The contests ahead for England will definitely not be a walk in the park for them. A tough road ahead for Jos Buttler's team.
Ireland
Matches Left- Australia, New Zealand
The matches left for Ireland are quite tough. They might pull out an upset, but cricketing sense tells otherwise. Taking into account they lose the next two matches they will be out of the tournament.
Australia
Australia are now the fourth team in the points table. They need to win big in their next two encounters to qualify for the semis.
Matches left- Ireland, Afghanistan
It is their home ground for Australia and the two matches for them might allow them win big and qualify for the next round.
Sri Lanka
Matches Left- New Zealand, Afghanistan, England
The equation for Sri Lanka is the simplest. They have to win all three of their remaining matches to qualify.
Afghanistan
Matches left- Sri Lanka, Australia
Afghanistan has two get two decent wins to qualify. With two matches being abandoned due to rain and the two matches left to be played, Afghanistan's chances to make it to the next round round are very slim.
Now let us move to Group 2.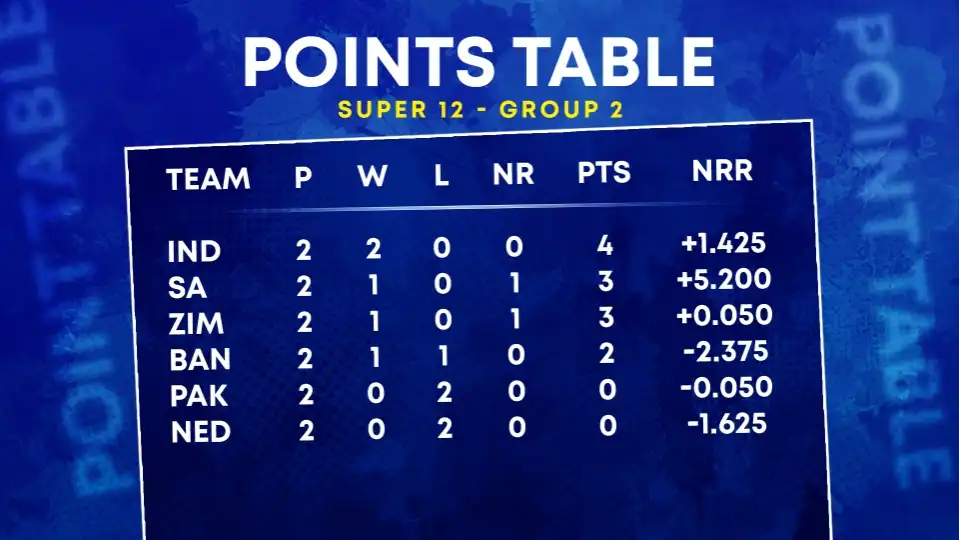 Group 2 points table of ICC T20 World Cup 2022
India
India have won both of their matches and at present are looking comfortable.
Matches left- South Africa, Bangladesh and Zimbabwe.
Two wins out of the next three matches will ensure India's berth in the semis.
South Africa
Matches left- India, Pakistan, Netherlands
South Africa will have to win two matches out of the next three to qualify.
Zimbabwe
Matches left- Bangladesh, Netherlands, India
Much like the above two teams they need at least two wins to qualify for the semis.
Bangladesh
Matches left-

Zimbabwe, India and Pakistan
Three must win games for Bangladesh and that too by big margins
Pakistan
Matches left- Netherlands, South Africa and Bangladesh
Pakistan needs to win all three of their matches by big margins and then wait for the other results to go in their favour.
Netherlands
Matches left- Pakistan, Zimbabwe, South Africa
The equation for Netherlands is similar to Pakistan. They need to win all three of their matches by big margins and wait for the results of the other matches.
---
Also Read: T20 World Cup 2022, AUS vs ENG: Ashes rivals share points as rain plays spoilsport