IPL 2023 Final | Umpires Nitin Menon, Rod Tucker Give Updates From Ahmedabad
---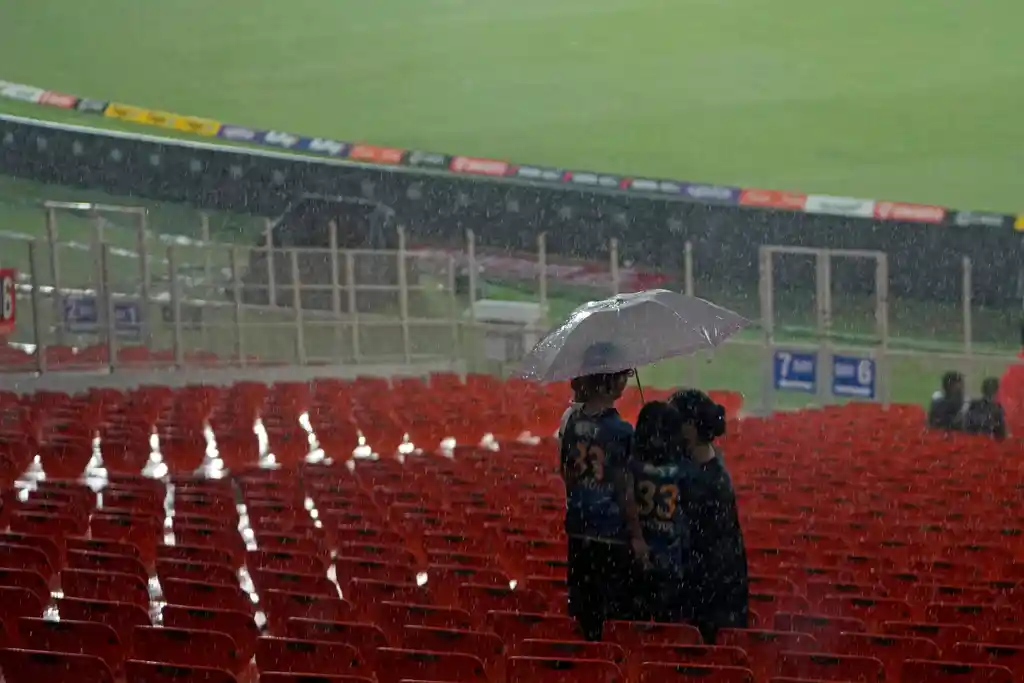 Scenes from Ahmedabad on Sunday for IPL 2023 Final (AP Photo)
Amidst rains at Ahmedabad in the IPL 2023 final fixture between Chennai Super Kings and Gujarat Titans on Sunday, the two match umpires - Nitin Menon and Rod Tucker - gave updates about the playing conditions and how can things are panning forward.
While talking to the host broadcaster, the two umpires seemed hopeful of preparing the conditions for play on Sunday despite the three-hour prolonged rain. They have said that the groundsmen have promised to deliver a field within an hour as soon as the rain stops.
"Yeah, they (groundsmen) have told us that it should be around 60 minutes, for the ground to get ready," Menon said to the broadcasters. "12:06 AM IST is the latest time we can start. The groundsmen have given us a sign if we can run that if the rain stops," he added.

They further elaborated on how the weather drastically changed within a few hours as the sky was clear even a couple of hours before the scheduled toss time.
"We were very surprised that the conditions looked good even after a few hours of rain," Tucker said.
As the whole country is witnessing sudden rain, moving from North to South, and Ahmedabad saw a sudden downpour on Sunday. As of yet, the IPL 2023 final can still get underway on its scheduled date, but it is most likely that the game will move to the reserve day.
Unfortunately, there are rain forecasts for Ahmedabad on Monday as well. There's a 10% chance of rain, but yesterday's forecast for today was pleasing too.