'Batters Take a Lot of Credit...,' Hardik Pandya's Big Remark After Win Over SRH
---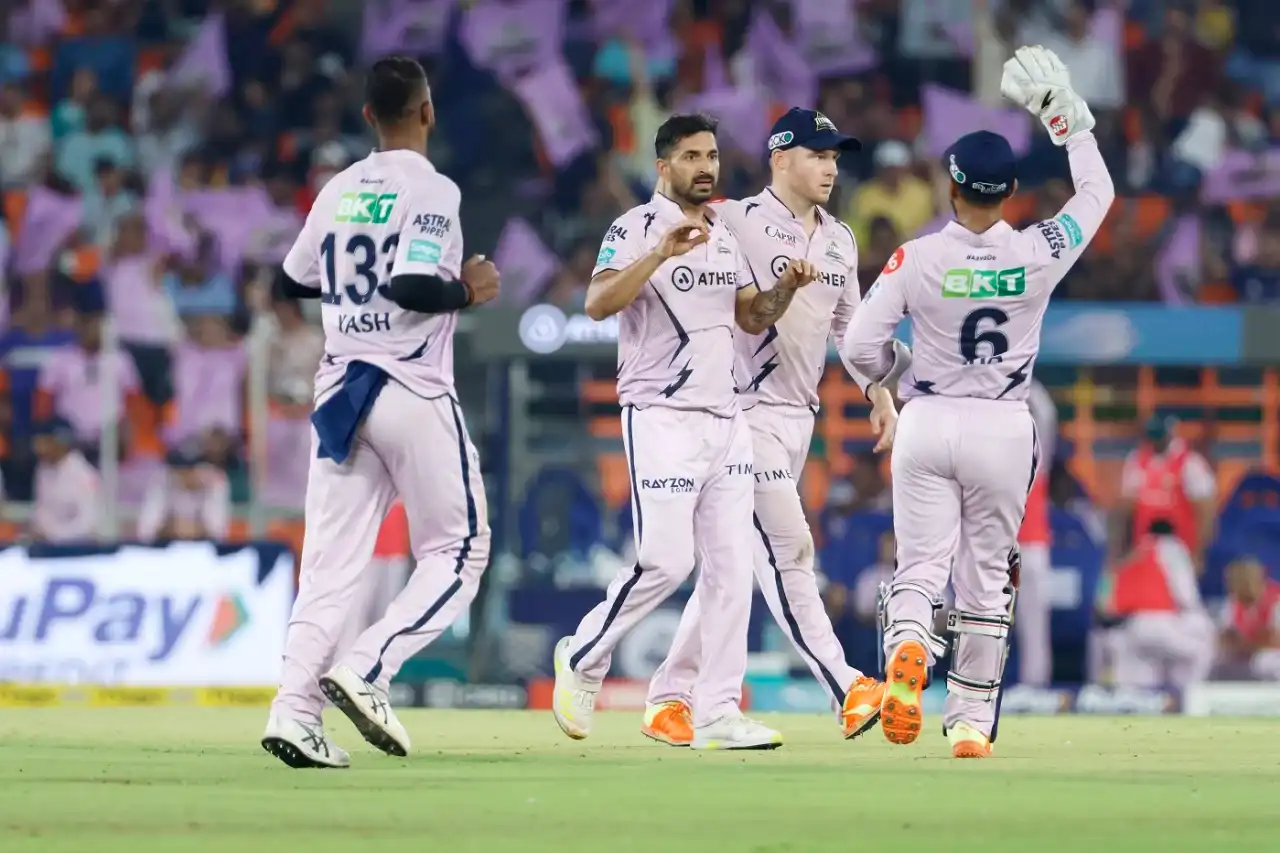 Mohit Sharma celebrates one of his four wickets against SRH (IPLT20.COM)
Gujarat Titans mowed down Sunrisers Hyderabad by 34 runs in match number 62 of the ongoing IPL 2023 season. Capitalising their home advantage at Ahmedabad's Narendra Modi Stadium, the defending champions shot up to 188-9, courtesy of Shubman Gill's dynamic ton at the top of the order.
Later, Titans' speed merchants Mohammed Shami and Mohit Sharma jolted SRH to 59-7, before Heinrich Klaasen's fighting 64 brought down their defeat margin to 34 runs.
After the match, winning skipper Hardik Pandya acknowledged his team's collective efforts throughout the tournament thus far, considering they became the first IPL 2023 side to book a place in the playoffs.
Hardik Pandya says playoffs berth more challenging this year
Hardik Pandya's Gujarat Titans overcame first season jitters last year by lifting the coveted IPL title. The defending champions seems to be matching their groove this time around as well, since they became the first side to punch their tickets for IPL 2023 playoffs.
Skipper Pandya praised his side for reaching the top four with still a league game to spare, and stated that making to the playoffs this season was more challenging than last year. He said:
"Very proud of the boys. Two in two. Last year was different, we knew there'd be a lot of challenges this year. Boys have put their hands up in different situations. I think we've rightly earned the chance of making the playoffs. I spoke about where we stand and that there will be high expectations but we focus within the group,"
The star all-rounder also claimed that the team as a whole has been ticking a lot of good boxes. He added that he considers himself a bowler's captain and ensure his bowlers always get the credit they deserve.
"We tick a lot of good boxes, we made errors in our journeys but were very consistent. Even when we lose, we were in the game and made some mistakes. People were focusing on the right thing, that's why we're here. For me, bowlers are very close to my heart. I sometimes feel batters take a lot of credit. A couple of overs are always important. I'm a bowler's captain and will ensure they're well prepared and always get credit."
Gujarat Titans will now play their final league game on May 21. They are set to face the RCB at the latter's home base in Bengaluru in match number 70 of the tournament. The contest gives Titans some dress rehearsal time before their all-important playoffs challenge.