True Significance Of Glenn Maxwell's 201* For Australia Whose Dream Was Pretty Much Over
---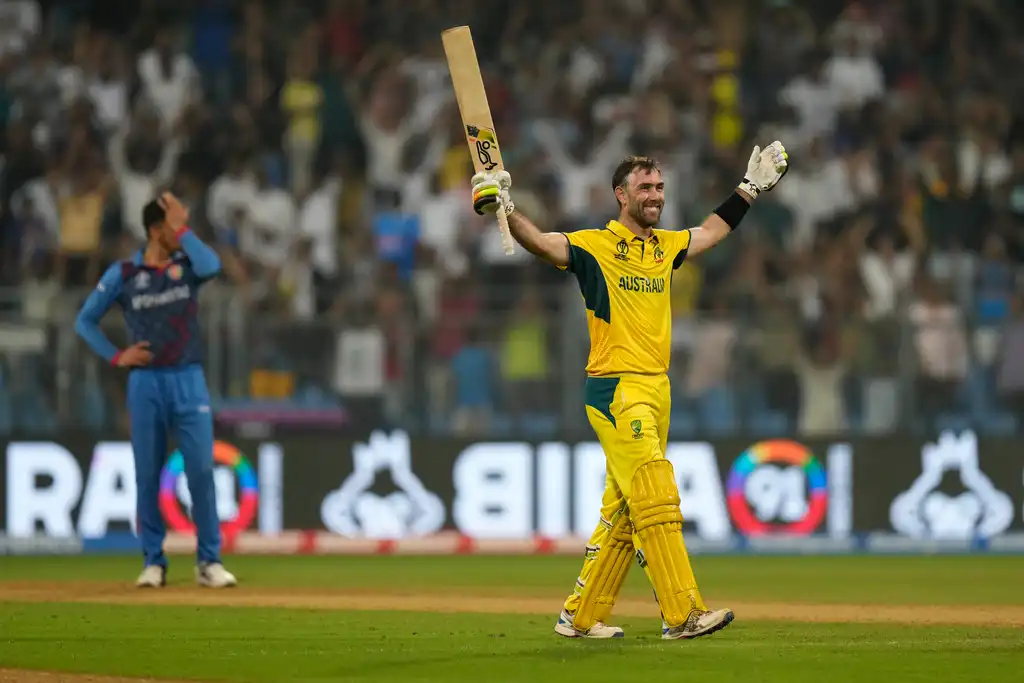 Maxwell's 201* is termed as the greatest ODI innings (AP Photo)
For as long as world cricket remains and continues to be admired by fans around the world, the name of Glenn Maxwell will remain relevant.
For as long as one-day international cricket will be regarded, one will find it extremely relevant to revisit the events that took place on November 7, 2023, and that too amid the biggest cricketing battle of them all: the Men's ODI World Cup.
For as long as the Australian cricket team will be remembered for being a bastion of excellence, a certain Glenn Maxwell will have a chapter based solely on his exploits that came to light on November 7, 2023, and that too, amid the sport's greatest battleground: the One Day World Cup.
For a team that has in Warner, the David that can beat any Goliath of the world, in Starc, a shark of fast bowling, and in Cummins, a leader the world respects, just what does Glenn Maxwell bring to the middle?
Ask not the intrepid cricket fan.
Ask also not those who love batting more than anything else for all you'll get will likely be fanboy answers that are devoted to the colour yellow.
Ask a certain Afghanistan Cricket team that, at the back of scoring 291 runs, which ain't any less by any stretch of the imagination, let alone format, were left stunned by a Glenn Maxwell special that was as brutal in its conception as it was effective. Just that Afghanistan never saw it going out of their hands especially when more than half the side had walked back with the score still reading well under 100.
Alas, the Rashid Khan, Naveen-ul-Haq team and company had no idea what of what was to come.
How and why did Marcus Stoinis play the recklessly careless shot that he did was in no way a sign of botheration for a side that in Maxwell still believed and felt it could find its feet.
Not only did Australia do that; they made the Afghanistan team's skin crawl in sheer disbelief given the way their bowlers floundered under pressure and seemed ever so desperate for a batting overturn that didn't really happen back then.
But even during the most casual or lamest of jokes; there was never any disappointment towards Wankhede game.
Surely, those who saw Glenn Maxwell taking down an eleven member side today, brought curtains to the long lasting-seemingly true belief system that the game was predominantly about Virat Kohli and Rohit Sharma or at best, the other members of the Fab Four.
It also did some damage to the long held belief that the sport was more about the imperious power of the world beating batsman who come up the order or those who take the game away from an opposition at the back of sheer pace or magical spin talent.
Just how often, how very often have we seen a team "NOT" losing a game when it is 91-for-7?
How often, how recurring is that sight in a game where some of the illustrious run makers get to create magic on 22 yards, replacing, as if these were the rules of the game, the magic wand with the bat? Afghanistan weren't in the wrong if they thought the game was in their bag. Who wouldn't have thought so with Marnus Labuschagne out, the last of their most courageous batters on a day where there was no Steven Smith?
Although, that didn't mean that a lonely looking Glenn Maxwell would'nt have done the job.
In an age that's all about AI, it's rare for cricketers, who are humans lest it is forgotten, applying themselves and operating like calm, thinking heads instead of resorting on some external force of influence that can dictate the way their grey cells function.
Perhaps, this is what Maxwell did. He fought alone. Alone did he sail through the tough tides.
Even as many love him, he prefers to be the subject of envy. Not for nothing is "Glenn Maxwell" considered the big show and if there was one that he had to perform, then he decided almost instantly that this was it.
But then to execute a run chase, rather a run heist, should we call it, with the amount of effort he single handedly put, was rather exemplary.
Not that it was going to be any easy for the freewheeling cricketer; Maxwell knew by the time he began experiencing bitter pain that singles won't do the job, nor would the recollection of the very fact that not an awful lot of runs could be scored in ones or twos.
Or maybe that odd boundary?
Perhaps he just knew that if that was to come to keep his side interested in the run chase, then it had by his own doing. Unlike a Virat the other day, he didn't have the luxury of having an Iyer in Marsh or a Rahul in Labuschagne. Both had departed and the pressure was enormous.
And then for the batting all rounder to club his opponent to a state of submission aligning full power to focus was a case study of handling pressure with the backs against the wall.
Maxwell couldn't run as much as he'd have liked to.
He couldn't convert the 1s into 2s, which such a pressure situation warrants.
The big vacant gaps on either side were manned with much intent. Afghanistan gave it all.
The right hander known for his penchant towards the on-side batting had to either stay clear of those ahead of him or make way for the vanquished to last a line or two, at the most.
Grace, it still, ought to be reminded, is such a vital part of the batters who often functions like a carnivore with the willow in hand and as how Afghanistan would discover.
But truth be told, how an inning that may so easily have gone nowhere (given the sheer pressure around it) become a prime example of counterattacking was due to Glenn Maxwell's magic.
He played a valiant and lonely knock proving in the end that the game isn't only reliant on the big names to get the over the line.
And a lot can be achieved by keeping things normal and simple, the very values a certain Dravid swears by and adheres to!
But for all he did and did on his own on a breezy and action-packed Wankhede evening on November 7, deserves to be called a Max-ed out night for Glenn, among the very best hitters of the white ball there's been and there've been quite a few. Forget not, Maxwell ensured his Aussies taste glory when little was going their way.