We blindly trust each other: Mohammad Rizwan on Babar Azam
---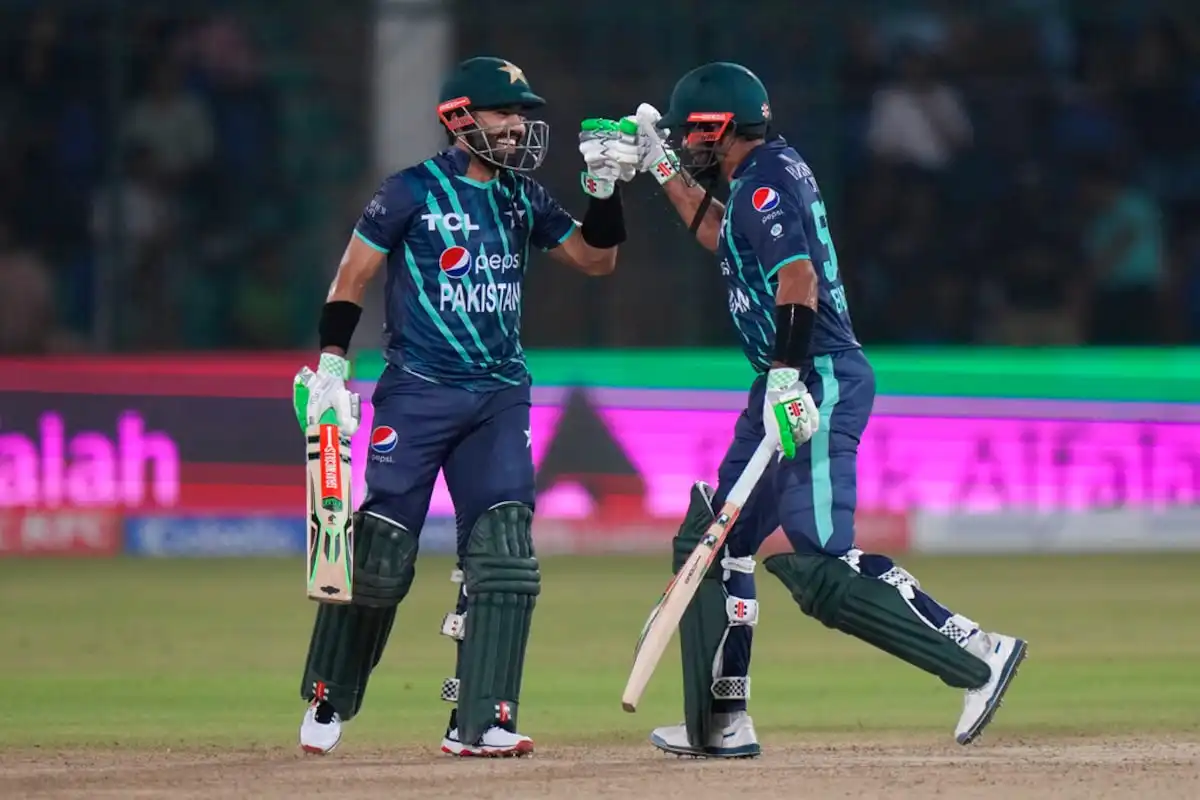 Babar Azam & Rizwan put on a 203-run partnership to help Pakistan win | PC: Twitter
Pakistan captain Babar Azam and his opening deputy Mohammad Rizwan lit up Karachi's National Stadium on Thursday (September 22) as they chased down the humongous target of 200 runs to hand the visitors a humiliating 10 wickets defeat in the second T20I.
The destructive duo put on an unbeaten 203-run partnership and helped Pakistan hunt down the target with three balls to spare. In the meantime, Babar and Rizwan eclipsed their own opening record of 197 runs against South Africa to set the highest partnership for any wicket in a run-chase in T20Is.
Following Pakistan's emphatic win over England on Thursday, the two opened up on their record-breaking partnership. Both the batting maestros conceded that they share great communication and understanding, with Rizwan stating that they blindly trust each other while batting.
Speaking at the post-match conference, here's what Rizwan said about his partnership with skipper Babar Azam:
"We have so much belief in each other that we often blindly trust each other. If he says 'Rizi [Rizwan], you have to hit', then I do."
"Because of the way our communication is, we are always trying to understand that 'okay now he is being able to hit, let him do it now'. Like in today's innings, at first, I was hitting more. Then a time came when he took over and we were able to reach our goal."
---
We play as situation demands: Babar Azam
Rizwan's partner-in-crime, Babar Azam also weighed in on the same and said that they often play according to the situation and try to set the foundation for the incoming batters.
"We play according to the situation and try to build a partnership and set a stage for the middle order such that it is easier for them. We plan it in a way that we score 80-90 in the first 10 overs. We plan things over to over, which over to take risks in and which over to play it safe."
The swashbuckling opener further said that they keep communicating with each other while batting which helps them plan out things from over to over and take the game down to the wire.
"As Rizwan said, sometimes he clicks and I don't and sometimes I click and he doesn't. But when we are both playing well then we have constant communication. We keep talking with each other and that really helps us. And if we take it deep, we know we can hit 10-15 runs per over."
---
ALSO READ: 'We believed that we can change the face of women's cricket' - Jhulan Goswami