The Big Names Fail in England's Defending the Trophy Run - Report Card of England for World Cup 2023
---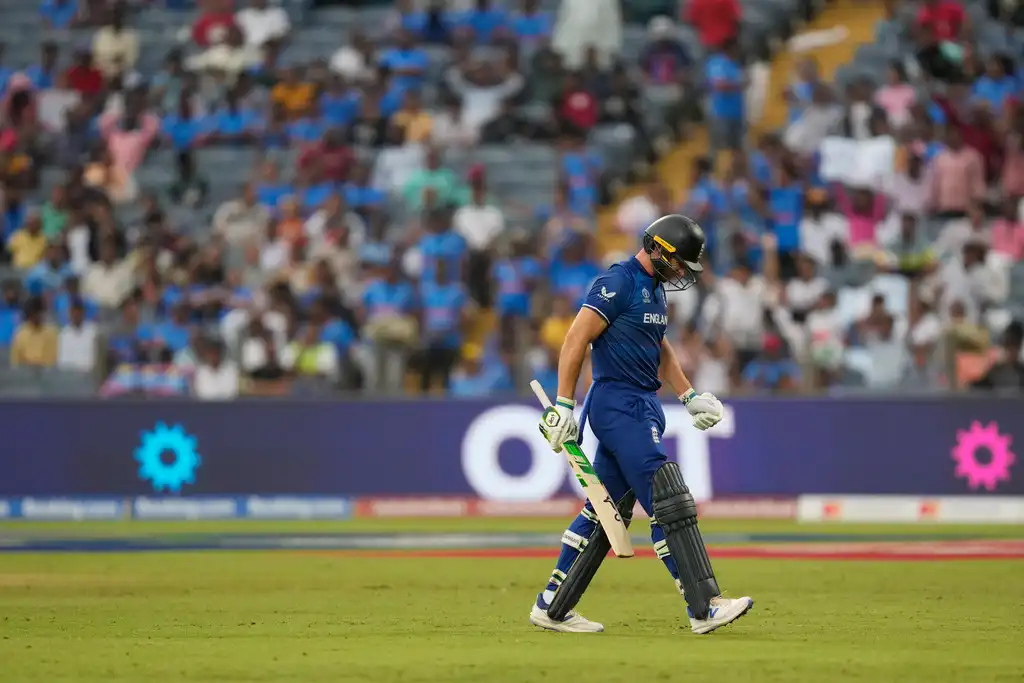 England failed to qualify for the semis in the World Cup 2023 (Source: AP Photos)
England's journey in the 2023 World Cup concluded with only three wins, a far cry from their victorious campaign four years ago. It's puzzling how their attempt to defend the title turned into a bit of a mess. In India, the team seemed to forget how to play cricket, and the struggles on the field were quite apparent. This stark difference from their previous success made the recent campaign a bit tough and confusing for England.
For More Such Reads, Click Here.
Analysing England's Player Rating in the World Cup
Top Order
Jonny Bairstow - 4/10
Jonny Bairstow Struggled with a batting average below 25 as an opener, hitting only 3 sixes and securing 2 fifties, indicating a challenge in capitalizing on the Powerplay, resulting in a 4/10 rating.
Dawid Malan - 7/10
Dawid Malan was impressive with a batting average of 40+, a strike rate of 100+, two fifties, and one hundred, proving himself as a successful opener and earning a commendable 7/10 rating.
Joe Root - 5/10
Joe Root Fell short of expectations with a bat average of 30.6, despite 3 fifties, as he struggled to convert starts into big scores, leading to a moderate 5/10 rating for his performance.
Middle Order
Jos Buttler - 3/10
Jos Buttler Struggled with a batting average below 16, a strike rate below 100, and no half-centuries, leading to a disappointing & challenging performance deserving of a 3/10 rating.
Ben Stokes - 6/10
Ben Stokes Showcased a strong batting average of 50+, with two fifties and a hundred, reflecting consistent and impactful contributions, earning him a solid 6/10 rating.
Harry Brook - 4/10
Harry Brook faced difficulties with a batting average below 30 and just one fifty, indicating a struggle as a middle-order batter, resulting in a 4/10 rating.
Moeen Ali - 3/10
Moeen Ali Experienced a tough run with a bat average below 16 and hitting only one six, signifying a challenging role as a finisher, leading to a 3/10 rating for his performance.
Bowlers
Adil Rashid - 7/10
Adil Rashid was impressive with 15 wickets in 9 games & constant economy rate of 5.1, the standout spinner for England with a solid 7/10 performance rating.
Chris Woakes - 5/10
Chris Woakes Fell short as a new ball bowler, securing only 10 wickets in 8 games with bowling average of 29.8, resulting in a modest 5/10 rating.
Mark Wood - 4/10
Mark Wood Struggled with a below-average bowling average of 58.1, bowling economy rate of 6.46 and 6 wickets in 7 games, earning a 4/10 rating.
David Willey - 6/10
David Willey Showcased strong performance with 11 wickets in 6 games and the lowest bowling average among England bowlers at 23.5, earning a commendable 6/10 rating.
Conclusion
However, England wrapped up their World Cup 2023 journey impressively, showcasing a stellar all-round performance led by Jos Buttler. Securing a spot in the Champions Trophy, they dominated Pakistan, claiming a commanding 93-run victory at the iconic Eden Gardens in Kolkata on Saturday.