Top 5 One-Day International sides in 2000s
---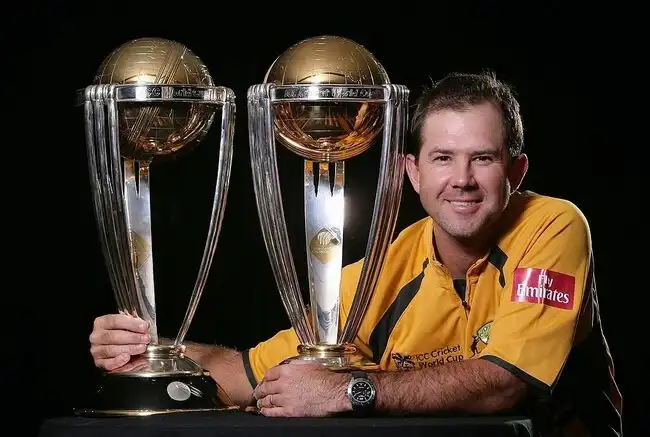 Ricky Ponting captained Australia to 2003 and 2007 World Cup trophies wins [Source: Twitter]
Before there was T20 cricket, One-Day International (ODI) ruled roost, with Test cricket being still revered as the purest form. ODIs took time to come into the limelight, with several changes and tweaks being done to the game, in order to make it more spectator friendly and exciting.
The late 1990s and the 2000s witnessed a rise in ODI viewership, as the game started to evolve towards newer trends and styles, with the old-school approach taking a back seat.
In this article, let us have a look into which teams dominated in the 2000s, which is known as one of the best eras of the 50-overs format.
1. Australia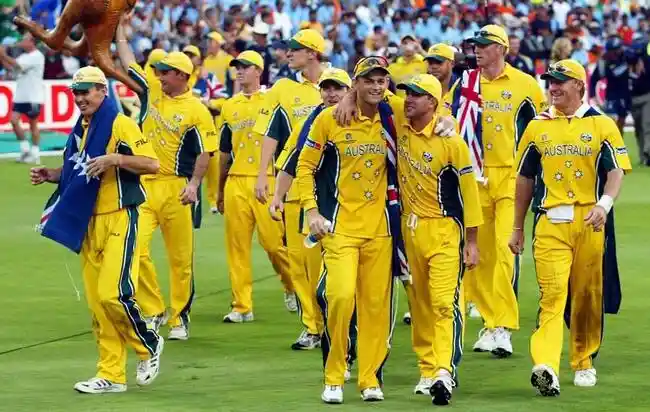 Australia won the ICC WC 2003 trophy [Source: Twitter]
Undoubtedly, the Australian team reined supreme for a decade, winning bilaterals, multi-nation, and global trophies across the globe, wherever they stepped foot. Led by Ricky Ponting, the Australian instilled fear in their opponents' minds by playing aggressive cricket, and employing mental battles on the field as well.
The ODI side consisted of both technical and power-hitting batters, coupled with a bowling attack that had spin and fast bowling capabilities that made them a force to reckon with.
The likes of Matthew Hayden, Adam Gilchrist, Andrew Symonds, Brett Lee, Shane Warne, Glenn McGrath, Michael Hussey and Damien Martyn paved the way for future Australian superstars, who have carried on their rich legacy quite successfully.
Australia won the ICC World Cup 2003 and 07, and ICC Champions Trophy 2006 and 09 titles.
ODI Record (2000-09)
282 matches - 202 wins, 66 losses, and 3 ties.
2. South Africa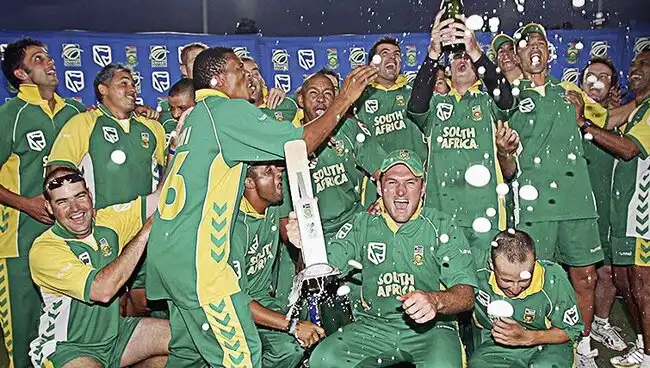 South Africa chased down Australia's 434 run target [Source: Twitter]
The only team that posed any threat to the mighty Australians was South Africa. Led by Graeme Smith, South Africa changed the dynamics of ODI cricket, with several players revolutionising the sport forever.
A team that crushed opponents at home and away consistently, the Proteas had a side, that was one a generation XI, consisting of AB de Villiers, Jacques Kallis, Mark Boucher, Herschelle Gibbs, Dale Steyn and Makhaya Ntini, who took South Africa out of the whole match-fixing tribulation.
Despite now having won any ICC tournament, South Africa remained a fear side, which include them chasing down a world-record 434 runs in 2005/06 against champions Australia.
ODI record (2000-09)
254 matches - 157 wins, 86 losses, 4 ties, and 7 no-result
3. Pakistan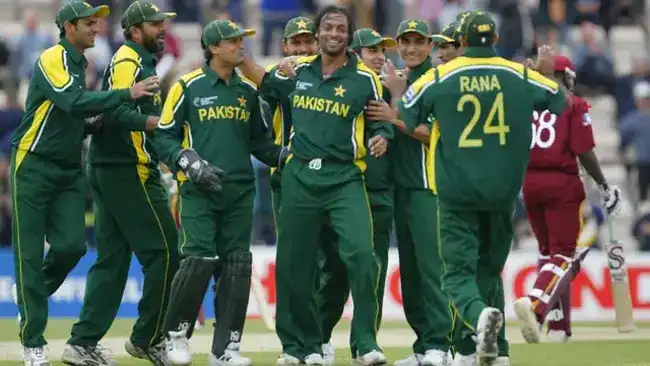 Pakistan finished as semi-finalist in ICC Champions Trophy 200 [Source: 2004]
The ever-mercurial Pakistan side, underwent a hard reset in the early 2000s, with several of their stars retiring, however with the core of strong players they never found a dip in form.
Shoaib Akhtar spearhead Pakistan's bowling attack after Wasim Akram and Waqar Younis faded away, however, that gave rise to the likes of Mohammed Sami, Umar Gul, and Rana Naved-ul-Hasan, who in their own way left a mark on the game.
It was either Pakistan won by an excessive margin or suffered a harrowing defeat, never in between, that kept fans always on the edge of their seats with their fearless approach.
Another reason fans loved the Pakistan side was Shahid Afridi, who showed displayed glimpses of t20 cricket in ODIs, even before the format got into the public eye.
Even with a lack of an ICC trophy, Pakistan beat Australia in Australia (2002), India in India(2004-05), and drew with England in England (2006) in ODIs.
ODI record (2000-09)
267 matches - 151 wins, 111 losses, 19 no-results
4. Sri Lanka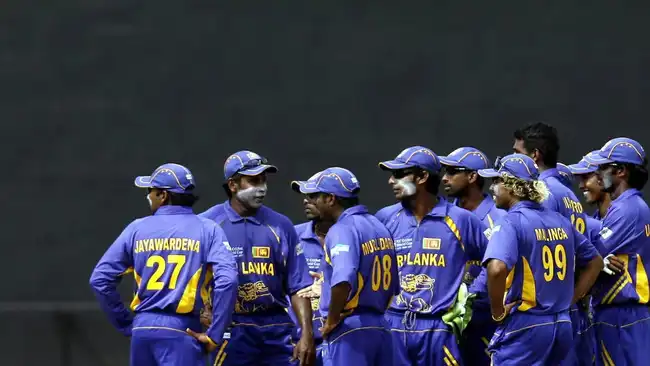 Sri Lanka were the runner's up of ICC World Cup 2007 [Source: Twitter]
1996 World Cup champions, Sri Lanka came into full prominence in the 2000s, when a plethora of talented batters come through the ranks, which laid the foundation for their stronghold in ODI cricket.
Sanath Jayasuriya, who rewrote batting in ODIs in the 96 WC, became the star attraction, while others like Mahela Jayawardene, Kumar Sangakkara, and Tillakaratne Dilshan acted as the backbone of the side.
Chaminda Vaas and Muttiah Muralitharan tormented the opposition, and Lasith Malinga surprised batters with his unique style. Sri Lanka played hard, rigorous, and disciplined cricket, knowing ever well about their limitations in times when the focus was entertainment.
Sri Lanka shared the ICC Champions Trophy with India in 2002 and came second in a rain-marred final of the ICC World Cup 2007.
ODI record (2000-09)
276 matches - 155 wins, 111 losses, 19 no-results
5. India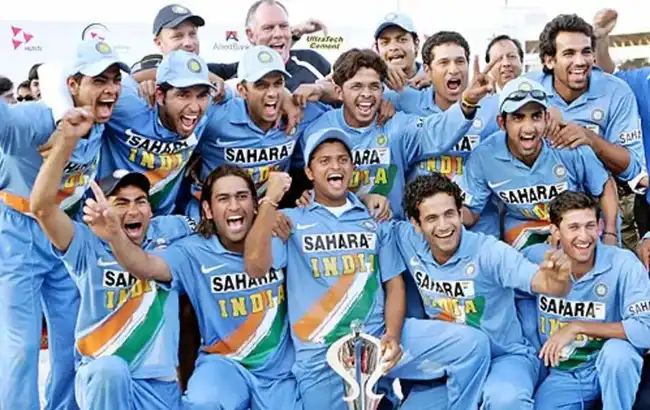 India won back-to-back ODI series in Pakistan [Source: Twitter]
Roughed up from the match-fixing scandals, India were still finding their way into the ODIs. With a new vision and focus on rebuilding new icons, Indian cricket found a leader in Sourav Ganguly, who along with his trusted men craved pathways for the nation in a 50-overs format.
Ganguly brought aggression and fearlessness into the ethos of Indian cricket and started winning in overseas conditions, instilling confidence, which seemed to be missing. The likes of Sachin Tendulkar, Rahul Dravid, Ganguly, and Laxman, joined forces with several upcoming talents like Yuvraj Singh, Virender Sehwag, Suresh Raina, MS Dhoni, Zaheer Khan, and Harbhajan Singh, who later took India to unprecedented heights themselves.
India shared the ICC Champions Trophy in 2002, came second in the 2003 World Cup, won the ODI tri-nation series in England, and won back-to-back consecutive ODI series in Pakistan during this frame.
Sadly, during the same period Indian cricket also underwent one of the darkest chapters during the 2007 World Cup.
ODI record (2000-09)
307 matches - 161 wins, 130 losses, and 16 no-results