From Gabba to Chepauk: Top 5 India vs Australia Tests of All-Time
---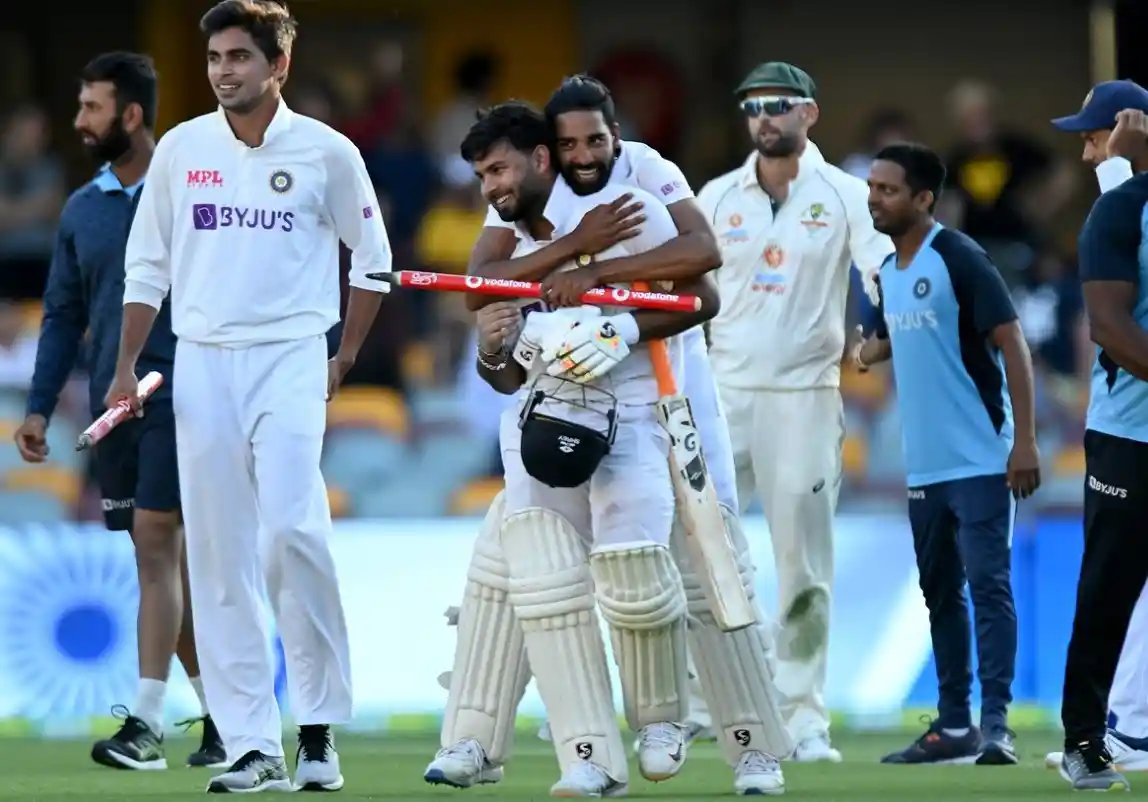 Indian team celebrates after historic win at the Gabba (ICC Twitter)
The Test rivalry forged through the crucible of competition between India and Australia stands resolutely as one of the most fervent and fiercely contested duels in cricket. The hallowed history of this cricketing saga is replete with captivating battles, wherein the two sides have exhibited an unwavering resolve and showcased enthralling performances that have the cricketing community spellbound.
The origin of this epic rivalry can be traced back several decades, during which both cricketing powerhouses have reigned supreme in the esteemed Test format. At the heart of this enduring rivalry lies the captivating contests between India's resolute batting acumen and Australia's formidable bowling artillery.
The epochal encounters, wherein Indian batters like Sachin Tendulkar, Rahul Dravid, VVS Laxman, Ravi Shastri, and Virat Kohli, among others, have locked horns with illustrious bowlers like the legendary Glenn McGrath, Shane Warne, Brett Lee, Mitchell Starc, Nathan Lyon etc. have etched indelible imprints upon the tapestry of this storied rivalry.
Notably, the stormy nature of these contests has occasionally resulted in incendiary on-field confrontations and gripping moments that linger in the collective consciousness. From VVS Laxman's monumental 281 at the Eden Gardens in 2001 to India's recent groundbreaking Test series triumphs on Australian soil in the last two tours, the annals of this rivalry have been embellished with resplendent and unforgettable chapters.
As the two sides prepare to lock horns once again in the high-octane World Test Championship Final, let's take a look at the top five India vs Australia Tests of all-time:
5. India vs Australia: M. Chinnaswamy Stadium , Bangalore - 2017
The Bangalore Test of 2017 between India and Australia was a rollercoaster ride full of twists and turns. After India's disappointing first innings total of 189, Australia seemed to be in control of the Test. However, Ravindra Jadeja's impressive bowling performance helped India dismiss Australia for 276, giving the visitors a healthy 87-run lead.
India fought back valiantly on the third day, with Cheteshwar Pujara anchoring the innings with a resilient 92. Ajinkya Rahane and KL Rahul also contributed with fifties as India were bowled out for 274 and set a target of 188 runs for the Aussies.
Australia's chase began nervously as they lost early wickets. Matt Renshaw was caught, David Warner was given out lbw, and Shaun Marsh didn't use the DRS which could have saved him. The game's pivotal moment came when Steve Smith, feeling uncertain about the decision, looked towards the dressing room for guidance, breaching the rules. The Australian captain was late caught plumb in front. Australia collapsed for 112, allowing India to equalize the series with a stunning 75-run win.
The match showcased the thrilling nature of Test cricket, with both teams displaying moments of brilliance and lapses in judgment. It is a match that is remembered for its intense drama and India's remarkable comeback to level the series.
4. Australia vs India – Sydney Cricket Ground, Sydney – 2008
The 2008 Sydney Test between Australia and India was a highly controversial match that gained significant attention due to several contentious umpiring decisions. The test, which took place from January 2nd to 6th, 2008, saw Australia batting first and posting a formidable total of 463 runs in their first innings. Andrew Symonds scored a century, and captain Ricky Ponting contributed with a half-century.
India began their first innings strongly, with a brilliant century by Sachin Tendulkar and significant contributions from VVS Laxman and Sourav Ganguly. However, the match turned controversial when several umpiring decisions went against India. Several Indian batsmen were given out in questionable circumstances, causing outrage among the Indian team and supporters.
The controversial moment that gained the most attention occurred when Indian spinner Harbhajan Singh was accused of racially abusing Australian all-rounder Andrew Symonds. Harbhajan was initially banned for three matches, but the ban was later overturned on appeal due to lack of evidence.
Despite the controversies, India put up a remarkable fight in the match as they scored 532 in the first innings. In response, Australia declared at 401/7 with Matthew Hayden and Michael Hussey scoring tons and set the visitors a target of 333. However, Indian batters failed to combat the Australian bowlers and the bad umpiring didn't help their cause. They were bowled out for 210, granting the Aussies a 122 run win.
The Sydney Test of 2008 will always be remembered for the heated controversies surrounding umpiring decisions and the racial abuse allegation. It sparked a series of intense discussions about fair play and sportsmanship in cricket and had a lasting impact on the sport.
3. India vs Australia – MA Chidambaram Stadium, Chennai – 1986
In the scorching heat of Chepauk, David Boon and Allan Border played crucial innings of 122 and 106 respectively for Australia. Dean Jones, in only his third Test after a long hiatus, displayed remarkable resilience by scoring a remarkable 210. Australia declared their innings at 574. In response, Kapil Dev's valiant 119 held kept India in the game as they managed a total of 397.
With a lead of 177 runs, Australia set a target of 348 for India. India seemed to be in a difficult position at 253/5, but Ravi Shastri led a rousing comeback with a quick-fire 48 off 40 balls. Despite losing wickets, India reached 331/6, requiring just 17 more runs to win. However, Chetan Sharma was caught on the boundary, followed by Kiran More being dismissed leg-before and Shivlal Yadav getting bowled.
In a nail-biting finale, Maninder Singh joined Shastri at the crease, with India needing four runs from the final over. Shastri managed to score three runs, but Singh was trapped leg-before on the last ball. As a result, the match ended in a tie, becoming only the second-tied Test in history.
2. India vs Australia – Eden Gardens, Kolkata - 2001
The India vs Australia Test at Eden Gardens in 2001 is widely regarded as one of the greatest comebacks in cricket history. Australia batted first and posted a massive total of 445 runs in their first innings, thanks to a brilliant century by Matthew Hayden. In response, India struggled and were bowled out for a paltry 171 runs, with Harbhajan Singh being the only notable contributor with a half-century.
Following on, India faced an uphill battle, trailing by a whopping 274 runs. However, what followed was an extraordinary display of grit and determination. VVS Laxman and Rahul Dravid formed an iconic partnership, each scoring double centuries. Laxman played an extraordinary knock of 281 runs, while Dravid scored 180 runs.
Their partnership of 376 runs rescued India from the brink of defeat and helped them declare their innings at 657 for 7. Australia, needing 384 runs to win, faltered under the immense pressure created by the Indian spinners. Harbhajan Singh wreaked havoc, taking six wickets in the second innings.
In an astonishing turn of events, Australia was bowled out for 212 runs, handing India a remarkable 171-run victory. The win also marked India's first-ever Test victory after following-on.
1. Australia vs India - Gabba, Brisbane - 2021
The Australia vs India Gabba Test in 2021 at the Gabba, was a thrilling and historic match. Australia won the toss and elected to bat first, scoring 369 runs in their first innings. Marnus Labuschagne played a magnificent knock of 108 runs, while debutant Washington Sundar impressed with four wickets for India. In response, India managed to score 336 runs, with Shardul Thakur top-scoring with 67 runs.
Subsequently, the Aussies were bowled out for 294, setting India a target of 328. India, despite facing early setbacks, showcased incredible resilience. Shubman Gill (91) and Cheteshwar Pujara (56) laid a solid foundation, and Rishabh Pant played an aggressive innings, boosting India's chances.
On the final day, Pant's unbeaten 89 runs guided India to a historic three-wicket victory. With this win, India achieved their first-ever Test victory at the Gabba, ending Australia's unbeaten streak of 32 years at the venue. It was also India's second consecutive Test series victory in Australia.