'You Need To Be A Devil...,' Hardik Pandya on MS Dhoni
---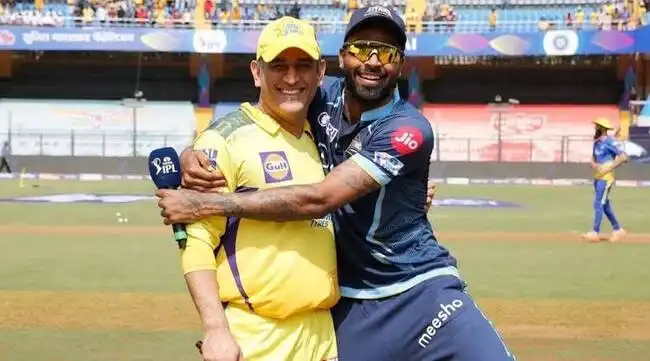 MS Dhoni and Hardik Pandya [Source: Twitter]
Ahead of Qualifier 1 of the ongoing Indian Premier League (IPL) 2023 against Chennai Super Kings (CSK), Gujarat Titans (GT) captain Hardik Pandya praised Mahendra Singh Dhoni and revealed his admiration for the former India skipper. Pandya made his India debut under Dhoni, and since then enjoyed a great rapport with him, calling him his friend, brother, and mentor.
In a video shared on GT's Twitter handle, skipper Pandya maintained that he has forever been Dhoni's fan, and only a proper devil can hate the legend. Dhoni is known to be a fatherly figure around India's cricketing circles, especially during the IPL, when youngsters gather around him post-matches, and gain as much knowledge as possible.
Here's what Pandya said
"A lot of people think Mahi is serious and all that. For me, I crack jokes and I don't see him as Mahendra Singh Dhoni. Obviously, I have learned a lot of things from him, a lot of positive things, which I have learned from just watching, not even much talking. But for me, he is just my dear friend, dear brother, with who I do pranks, who I chill and I will always be a Mahendra Singh Dhoni fan and for so many fans and so many cricket lovers, you need to be the proper devil to hate MS Dhoni."
The defending champions and four-time IPL title holder will clash this evening at the MA Chidambaram Stadium for a place in the final. Interestingly, CSK are yet to beat GT in IPL, having played three matches against each other.