When Sachin Tendulkar Smacked The Aussies To Beat Them In A Final
---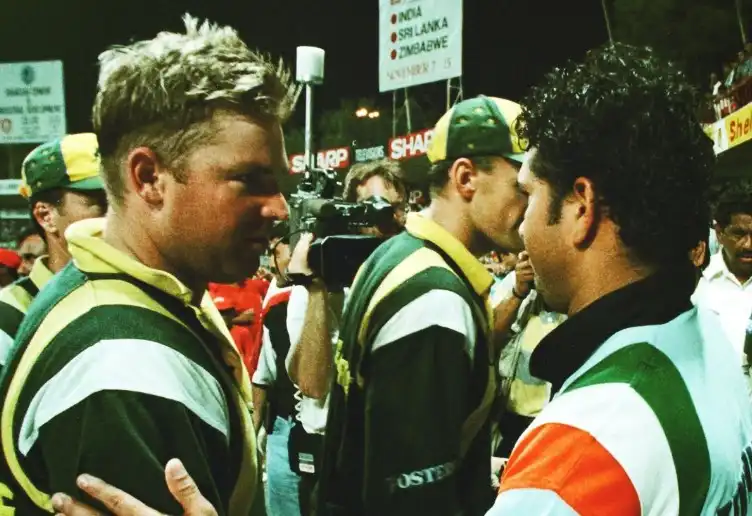 Shane Warner and Sachin Tendulkar after the 'Desert Storm' knock (Twitter)
In April 1998, the legendary Sachin Tendulkar made a massive mark in cricketing history with two extraordinary innings against Australia, famously known as the "Desert Storm" performances. This legendary display occurred during the 1997–98 Coca-Cola Cup held in Sharjah.
The Semifinal – Setting the Stage
On April 22, India faced a formidable Australian team. Australia, batting first, notched a huge total of 284 runs. A sandstorm then dramatically altered the game, revising India's target to 276 runs in 46 overs. However, India's primary goal was to surpass 237 runs to outstrip New Zealand in net run rate and secure a spot in the final.
Amidst these high-pressure circumstances, Tendulkar unleashed a batting spectacle, scoring 143 off 131 balls. His innings was a mix of technical perfection and aggressive intent, highlighted by his characteristic straight drives, powerful sixes, and unstoppable boundaries.
This performance, although not leading India to victory in the match, ensured their qualification for the final, setting the stage for an epic showdown.
The Final – A Birthday Bash
Two days later, on April 24, which also happened to be Tendulkar's birthday, India faced Australia in the final. In a remarkable display of batting, Tendulkar scored another century, 134 off 131 balls, carrying India to a six-wicket victory while chasing a target of 273. This was not just a celebration of his birthday but proof of his cricketing genius.
Throughout these two innings, Tendulkar's approach was marked by a mixture of calculated aggression and flawless execution. The straight drives were textbook-perfect, the sixes cleared the boundary with ease, and his boundaries seemed unstoppable. His performance in the final was a continuation of the brilliance displayed in the semifinal. It was a story of dominance, not just over the opposition bowlers but over the match situation itself.
Tendulkar's back-to-back centuries in the semi-final and final were not just match-winning performances; they were a statement of his class and temperament. These innings were against an Australian team renowned for its dominance in world cricket, making his achievement even more remarkable.
His 143 in the semi-final propelled India to the final against all odds. In the final, his 134 showed his ability to rise to the occasion. These two nights in Sharjah have since become a part of cricketing history, proving Tendulkar's brilliance and his ability to single-handedly turn games around. His performances were not just about the runs scored but the impact they had - inspiring a nation and etching his name as one of the greatest in cricket history.